(PRE ORDER) MEDI PEEL Melanon X Cream 30ml
Regular price

RM 0.00

Sale price

RM 74.60
Share
Shipping Terms
Ready Stock: 3-7 working days
Pre Order: 10-14 working days
Product Description
A miracle brightening spot cream to lighten dark spots and diminish the appearance of the sign of aging revealing a more radiant complexion.
An overnight miracle worker for anyone with dark spots, acne scars or any sun spots.
This powerful brightening cream works while you sleep to resurface, brighten, and detoxify the skin.
Alpha arbutin sweeps away dead skin cells more gently than harsh peels, while Broussonetia extract prevents melanin pigment from depositing on the skin and suppresses the formation of spots and freckles, and acts as a bright and luminous skin tone.
Delivering gradual and continuous exfoliation that reveals new skin, this formula is suitable for all skin types, even the most sensitive.
Dark spots and imperfections fade, the skin texture is refined, and pores are tightened.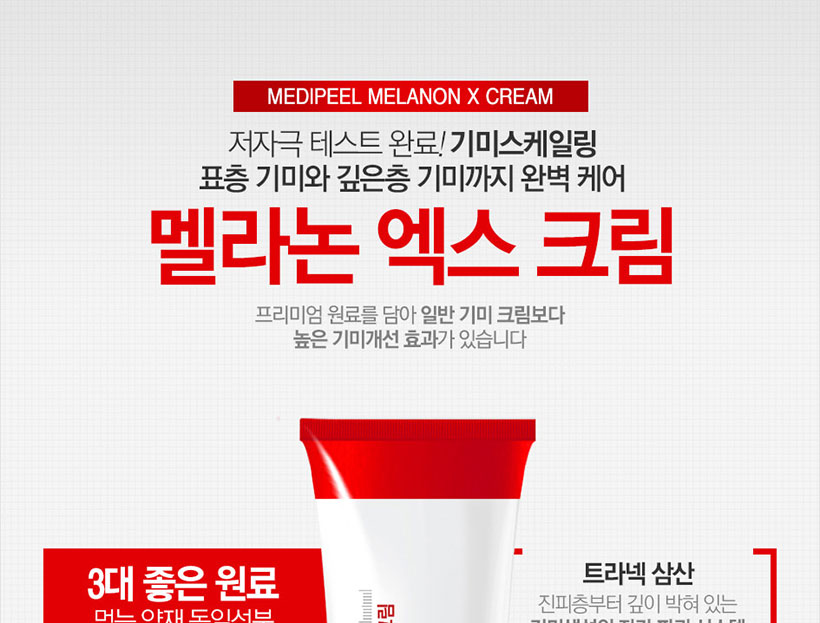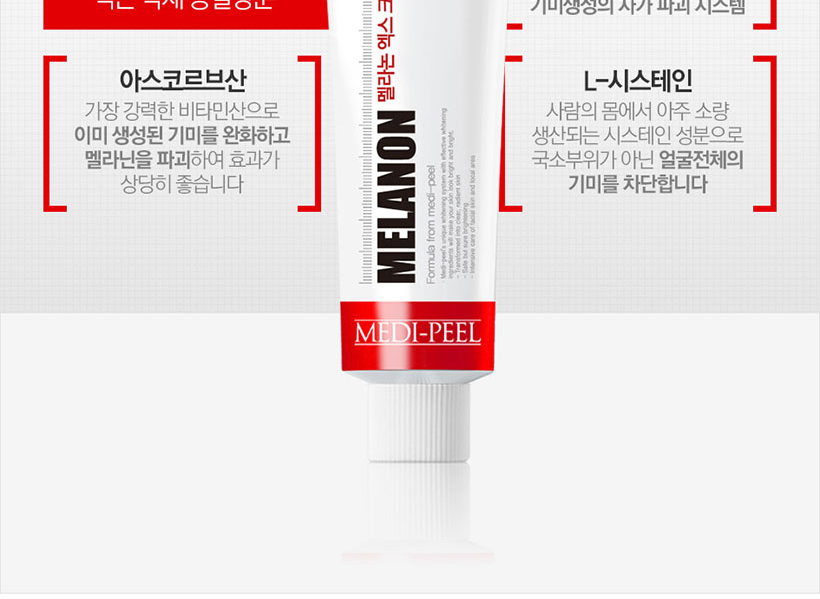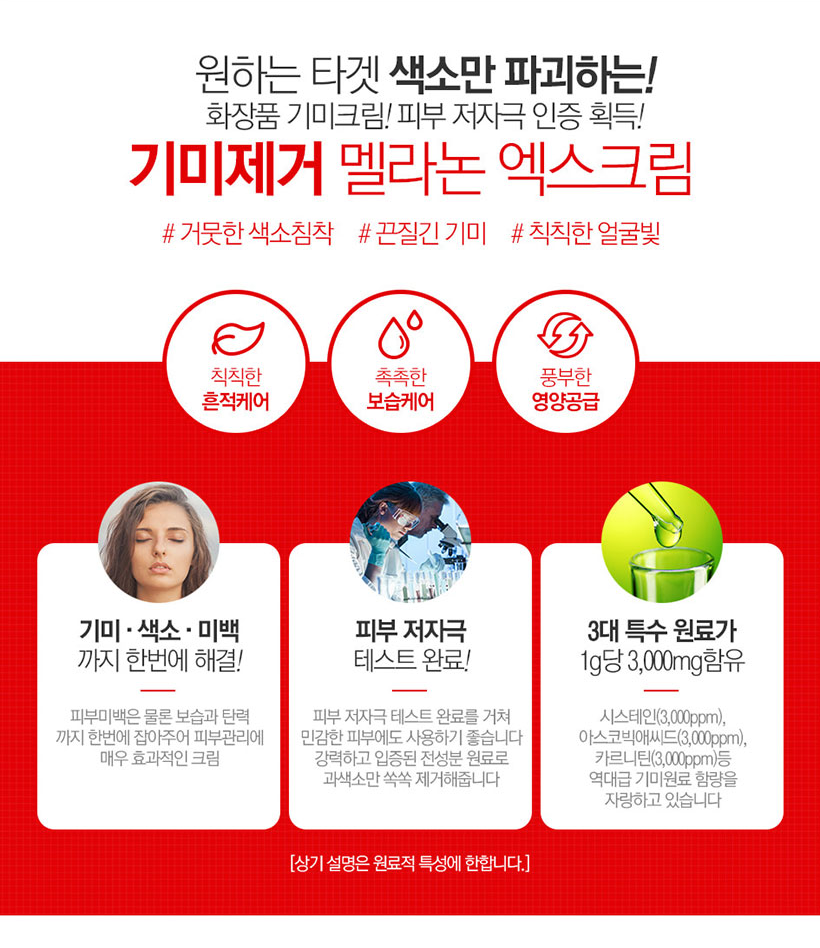 How To Use
Use at the last stage of skincare. Take an appropriate amount and apply to desired areas (or the entire face) thinly.
Ingredients
Water, Butyrospermum Parkii Butter, Butylene Glycol, Caprylic/Capric Triglyceride, Betaine, Hydrogenated Polydecene, Dimethicone, Niacinamide, Polyglyceryl-3 methylglucose distearate, Cetearyl Alcohol, Glyceryl Stearate, Beeswax, Alpha-Arbutin, Magnesium Ascorbyl Phosphate, Glycyrrhiza, PEG-100 Stearate, Dimethicone/, Vinyl Dimethicone Crosspolymer, Sorbitan Stearate, Sucrose cocoate, Cysteine, Ascorbic Acid, Carnitine, Tranexamic Acid, Thuja Orientalis Leaf Extract, Polygonum Cuspidatum Root Extract, Hamamelis Virginiana Extract, Morus Alba Bark Extract, Phyllanthus Emblica Fruit Extract, Trichosanthes kirilowii, Vitis vinifera, Simmondsia Chinensis Seed Oil, Hydroxyacetophenone, Ozokerite, Tocopheryl Acetate, Arginine, Ethylhexylglycerin, Carbomer, Sodium Hyaluronate, SH-Oligopeptide-1, SH-Oligopeptide-2, SH-Polypeptide-1, Sh-polypeptide-3, Adenosine, Xanthan Gum, Disodium EDTA, Fragrance, 1,2-Hexanediol, Glycerin, Propanediol, Broussonetia Extract, Aletris Farinosa Root Extract, Zanthoxylum Schinifolium Leaf Extract, sh-Polypeptide-16
EWG
CIR
Ingredient Name & Cosmetic Functions
Notes

1

Water
(Solvent)



1

A

Butyrospermum Parkii (Shea) Butter


Bad for Oily Skin
Fungal Acne Trigger

1

A

Butylene Glycol
(Solvent,Skin Conditioning,Masking,Fragrance,Humectant,Viscosity Controlling,Viscositydecreasing Agent)

Good for Dry Skin
Comedogenic Rating (1)

1

A

Caprylic/Capric Triglyceride
(Solvent,Skin Conditioning,Masking,Perfuming,Emollient)



1

B

Betaine
(Skin Conditioning,Humectant,Viscosity Controlling,Antistatic Agent,Hair Conditioning)



2

A

Hydrogenated Polydecene
(Solvent,Skin Conditioning,Emollient,Fragrance,Hair Conditioning)



3

A

Dimethicone
(Skin Conditioning,Emollient,Antifoaming Agent,Skin Protecting)

Silicone
Comedogenic Rating (1)

1

A

Niacinamide
(Skin Conditioning,Hair Conditioning,Smoothing)

Brightening
Anti-Aging

1

Polyglyceryl-3 Methylglucose Distearate
(Skin Conditioning,Emollient,Surfactant,Emulsifying)

Fungal Acne Trigger

1

A

Cetearyl Alcohol
(Emollient,Viscosity Controlling,Viscosity Increasing Agent,Emulsion Stabilising,Emulsifying,Opacifying,Foam Boosting,Viscosity Increasingagent - Aqueous)

Comedogenic Rating (2)

1

A

Glyceryl Stearate
(Emollient,Emulsifying)

Fungal Acne Trigger

3

PEG-8 Beeswax
(Surfactant,Emulsifying)



1

Alpha-Arbutin
(Skin Conditioning,Antioxidant)

Brightening

1

A

Magnesium Ascorbyl Phosphate
(Antioxidant)

Brightening
Anti-Aging

Oil Soluble Licorice(Glycyrrhiza) Extract


Acne-Fighting
Brightening

3

A

PEG-100 Stearate
(Surfactant)

Fungal Acne Trigger

3

A

Dimethicone
(Skin Conditioning,Emollient,Antifoaming Agent,Skin Protecting)

Silicone
Comedogenic Rating (1)

1

A

Dimethicone/Vinyl Dimethicone Crosspolymer
(Viscosity Controlling)



1

A

Sorbitan Stearate
(Surfactant,Fragrance,Emulsifying)

Fungal Acne Trigger

1

Sucrose Cocoate
(Skin Conditioning,Emollient,Surfactant,Emulsifying,Antistatic Agent)

Fungal Acne Trigger

1

A

Cysteine
(Masking,Fragrance,Antistatic Agent,Hair Conditioning,Hair Waving Or Straightening,Antioxidant,Reducing,Hair-Waving/Straighteningagent)



1

A

Ascorbic Acid (Vitamin C)
(Skin Conditioning,Masking,Fragrance,Antioxidant,Ph Adjuster,Buffering Agent)

Brightening
Anti-Aging
Good for Dry Skin

1

B

Carnitine
(Skin Conditioning,Viscosity Controlling,Viscosity Increasing Agent,Antistatic Agent,Hair Conditioning,Sufactant,Foam Boosting)



Tranexamic Acid
(Skin Conditioning,Cosmetic Astringent)

Brightening

1

Thuja Orientalis Leaf Extract
(Hair Conditioning,Skin Protecting,Antioxidant,Bleaching)



1

Polygonum Cuspidatum Root Extract
(Antioxidant)



1

Hamamelis Virginiana (Witch Hazel) Extract
(Skin Conditioning,Hair Conditioning,Soothing,Cosmetic Astringent)

Good for Oily Skin

1

Morus Alba Bark Extract
(Skin Conditioning)

Brightening
Good for Dry Skin

1

Phyllanthus Emblica Fruit Extract
(Skin Conditioning,Humectant)



Trichosanthes Kirilowii Stem Juice
(Skin Conditioning)



1

A

Vitis Vinifera (Grape)
(Masking,Skin Protecting)



1

A

Simmondsia Chinensis (Jojoba) Seed Oil
(Skin Conditioning,Emollient,Viscosity Controlling,Hair Conditioning)

Fungal Acne Trigger
Comedogenic Rating (2)

1

Hydroxyacetophenone
(Antioxidant)



1

A

Ozokerite
(Viscosity Controlling,Viscosity Increasing Agent,Emulsion Stabilising,Binding Agent,Binding,Opacifying)



3

A

Tocopheryl Acetate (Vitamin E)
(Skin Conditioning,Antioxidant)

Anti-Aging

1

A

Arginine
(Skin Conditioning,Masking,Fragrance,Antistatic Agent,Hair Conditioning)



1

A

Ethylhexylglycerin
(Skin Conditioning,Deodorant)



1

A

Carbomer
(Viscosity Controlling,Viscosity Increasing Agent,Emulsion Stabilising,Gel Forming)



1

A

Sodium Hyaluronate
(Skin Conditioning,Humectant)

Promotes Wound Healing
Good for Dry Skin

sh-Oligopeptide-1




sh-Oligopeptide-2
(Skin Conditioning,Skin Protecting)



sh-Polypeptide-1
(Skin Conditioning)



sh-Polypeptide-3
(Skin Conditioning)



1

Adenosine
(Skin Conditioning)

Anti-Aging

1

A

Xanthan Gum
(Skin Conditioning,Viscosity Controlling,Viscosity Increasing Agent,Emulsion Stabilising,Binding Agent,Binding,Surfactant -Emulsifying Agent,Gel Forming)



1

A

Disodium EDTA
(Viscosity Controlling,Chelating Agent)



8

Fragrance
(Masking,Perfuming,Deodorant)



1

A

1,2-Hexanediol
(Solvent)



2

A

Glycerin
(Solvent,Perfuming,Fragrance,Humectant,Viscosity Decreasing Agent,Hair Conditioning,Skin Protecting,Denaturant)

Good for Dry Skin

1

Propanediol
(Solvent,Viscosity Controlling,Viscosity Decreasing Agent)



Broussonetia Extract


Brightening

Aletris Farinosa Root Extract
(Skin Conditioning,Antioxidant)



Zanthoxylum Schinifolium Leaf Extract
(Skin Conditioning)



sh-Polypeptide-16
(Skin Protecting)