AXIS-Y Cera-Heart My Type Duo Cream 60ml
Regular price

RM 95.00

Sale price

RM 85.00
Share
Shipping Terms
Ready Stock: 3-7 working days
Pre Order: 10-14 working days
Product Description
HYDRATES & MOISTURIZES
A "U Zone" and "T Zone" cream with two unique formulas that tend to your skin year-round, ever-changing moisturizing needs for a youthful, nourished glow. Hydrates oily skin without a greasy feeling while softens and nourishes dry skin. The core ingredient in U Zone Cream- Ceramide rebuilds the protective skin barrier and prevents signs of aging and moisture loss; Heartleaf in T Zone cream strengthens the skin barrier, prevents sun damage, and defends against bacteria and fungi.
- Two unique formulas for every moisturizing need
- Hydrates oily skin without the greasiness
- Softens and supports dry skin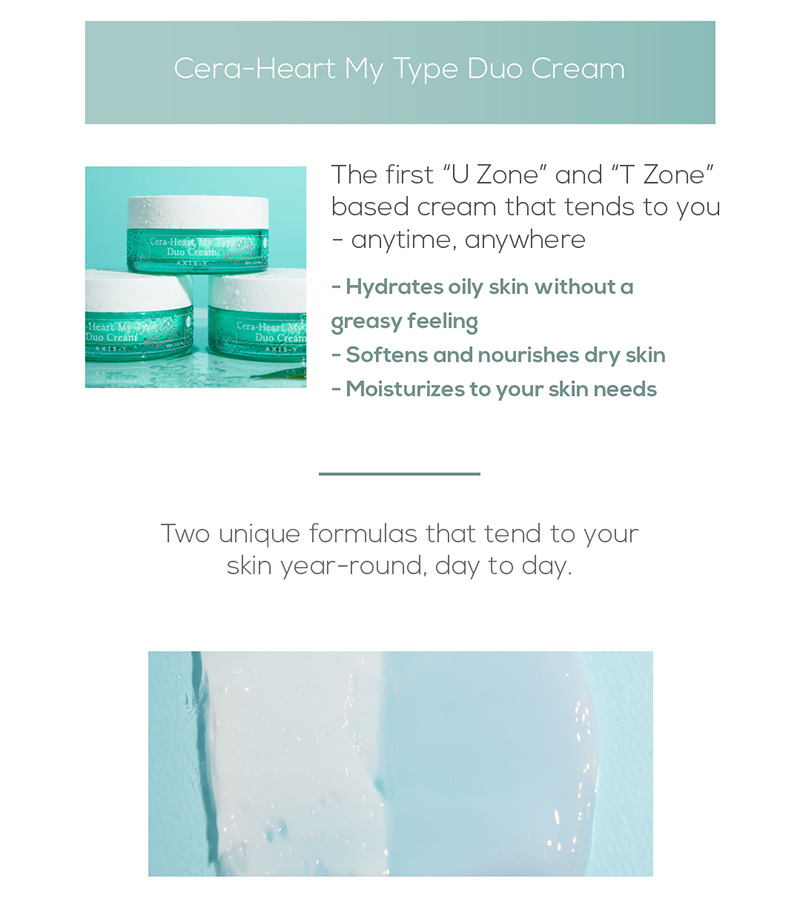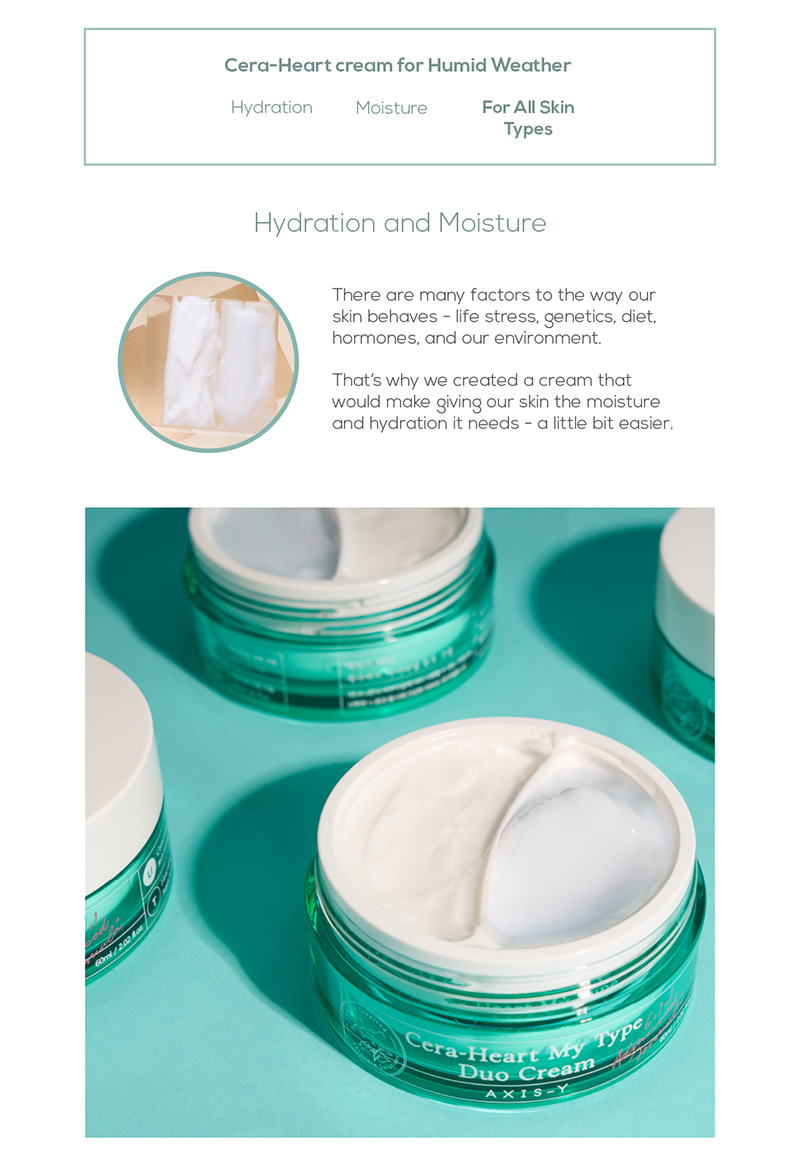 How To Use
*Suggested Application: Use the blue gel-type cream for your T Zone and the white thicker cream on your U Zone
Step 1: Use the provided spatula to scoop the desired cream and apply on the appropriate areas.
Step 2: Apply T-Zone cream for oily areas, U-Zone cream for dry areas, or mix both areas that need moisture or hydration.
Ingredients
T Zone Cream (Blue)
Water, Propanediol, Glycerin, Sodium Hyaluronate, Butylene Glycol, Sorbitol, Isohexadecane, Caprylic/Capric Triglyceride, Houttuynia Cordata Extract, Betaine, Centella Asiatica Extract, Glyceryl Stearate, Salvia Officinalis (Sage) Extract, Glycyrrhiza Glabra (Licorice) Root Extract, Sorghum Bicolor Leaf/Stem Extract, Aspergillus Ferment, Chlorphenesin, Arginine, Acrylates/C10-30 Alkyl Acrylate Crosspolymer, Allantoin, Sorbitan Sesquioleate, Ethylhexylglycerin, Xanthan Gum, Guaiazulene
EWG
CIR
Ingredient Name & Cosmetic Functions
Notes

1

Water
(Solvent)



1

Propanediol
(Solvent,Viscosity Controlling,Viscosity Decreasing Agent)



2

A

Glycerin
(Solvent,Perfuming,Fragrance,Humectant,Viscosity Decreasing Agent,Hair Conditioning,Skin Protecting,Denaturant)
Good for Dry Skin

1

A

Sodium Hyaluronate
(Skin Conditioning,Humectant)
Promotes Wound Healing Good for Dry Skin

1

A

Butylene Glycol
(Solvent,Skin Conditioning,Masking,Fragrance,Humectant,Viscosity Controlling,Viscositydecreasing Agent)
Good for Dry Skin Comedogenic Rating (1)

1

Sorbitol
(Skin Conditioning,Fragrance,Humectant,Flavoring Agent,Plasticizer)



1

B

Isohexadecane
(Solvent,Skin Conditioning,Emollient)



1

A

Caprylic/Capric Triglyceride
(Solvent,Skin Conditioning,Masking,Perfuming,Emollient)



1

Houttuynia Cordata Extract
(Skin Conditioning)



1

B

Betaine
(Skin Conditioning,Humectant,Viscosity Controlling,Antistatic Agent,Hair Conditioning)



1

B

Centella Asiatica Extract
(Skin Conditioning,Cleansing,Soothing,Tonic,Smoothing)
Promotes Wound Healing

1

A

Glyceryl Stearate
(Emollient,Emulsifying)
Fungal Acne Trigger

1

Salvia Officinalis (Sage) Extract



1

Glycyrrhiza Glabra (Licorice) Root Extract
(Skin Conditioning,Perfuming,Humectant,Antioxidant)
Acne-Fighting Brightening

Sorghum Bicolor Leaf/Stem Extract
(Skin Conditioning)



Aspergillus Ferment
(Skin Conditioning)



2

A

Chlorphenesin
(Antimicrobial,Cosmetic Biocide,Preservative)



1

A

Arginine
(Skin Conditioning,Masking,Fragrance,Antistatic Agent,Hair Conditioning)



1

Acrylates/C10-30 Alkyl Acrylate Crosspolymer
(Viscosity Controlling,Emulsion Stabilising,Film Forming)



1

A

Allantoin
(Skin Conditioning,Skin Protecting,Soothing)
Good for Oily Skin Good for Sensitive Skin

1

A

Sorbitan Sesquioleate
(Surfactant,Emulsifying)
Fungal Acne Trigger Comedogenic Rating (1)

1

A

Ethylhexylglycerin
(Skin Conditioning,Deodorant)



1

A

Xanthan Gum
(Skin Conditioning,Viscosity Controlling,Viscosity Increasing Agent,Emulsion Stabilising,Binding Agent,Binding,Surfactant -Emulsifying Agent,Gel Forming)


1

4

Guaiazulene
(Perfuming,Fragrance,Antimicrobial,Cosmetic Colorant)


U Zone Cream (White)
Water, Butylene Glycol, Glycerin, Cetyl Ethylhexanoate, Simmondsia Chinensis (Jojoba) Seed Oil, Caprylic/Capric Triglyceride, Isohexadecane, Sodium Hyaluronate, Ceramide NP, Sorbitan Stearate, Glyceryl Stearate, Microcrystalline Wax, Sorbitol, Centella Asiatica Extract, Candelilla Cera, Sorbitan Sesquioleate, Sorghum Bicolor Leaf/Stem Extract, Aspergillus Ferment, Portulaca Oleracea Extract, Salicornia Herbacea Extract, Phragmites Communis Extract, Chlorphenesin, Arginine, Carbomer, Xanthan Gum, Allantoin, Ethylhexylglycerin
EWG
CIR
Ingredient Name & Cosmetic Functions
Notes

1

Water
(Solvent)



1

A

Butylene Glycol
(Solvent,Skin Conditioning,Masking,Fragrance,Humectant,Viscosity Controlling,Viscositydecreasing Agent)
Good for Dry Skin Comedogenic Rating (1)

2

A

Glycerin
(Solvent,Perfuming,Fragrance,Humectant,Viscosity Decreasing Agent,Hair Conditioning,Skin Protecting,Denaturant)
Good for Dry Skin

1

B

Cetyl Ethylhexanoate
(Skin Conditioning,Emollient)



1

A

Simmondsia Chinensis (Jojoba) Seed Oil
(Skin Conditioning,Emollient,Viscosity Controlling,Hair Conditioning)
Fungal Acne Trigger Comedogenic Rating (2)

1

A

Caprylic/Capric Triglyceride
(Solvent,Skin Conditioning,Masking,Perfuming,Emollient)



1

B

Isohexadecane
(Solvent,Skin Conditioning,Emollient)



1

A

Sodium Hyaluronate
(Skin Conditioning,Humectant)
Promotes Wound Healing Good for Dry Skin

1

Ceramide
Anti-Aging

1

A

Sorbitan Stearate
(Surfactant,Fragrance,Emulsifying)
Fungal Acne Trigger

1

A

Glyceryl Stearate
(Emollient,Emulsifying)
Fungal Acne Trigger

1

A

Microcrystalline Wax



1

Sorbitol
(Skin Conditioning,Fragrance,Humectant,Flavoring Agent,Plasticizer)



1

B

Centella Asiatica Extract
(Skin Conditioning,Cleansing,Soothing,Tonic,Smoothing)
Promotes Wound Healing

1

Candelilla Cera
(Emollient,Film Forming)



1

A

Sorbitan Sesquioleate
(Surfactant,Emulsifying)
Fungal Acne Trigger Comedogenic Rating (1)

Sorghum Bicolor Leaf/Stem Extract
(Skin Conditioning)



Aspergillus Ferment
(Skin Conditioning)



1

Portulaca Oleracea Extract
(Skin Conditioning)



1

Salicornia Herbacea Extract
(Skin Conditioning)



1

Phragmites Communis Extract
(Skin Conditioning)



2

A

Chlorphenesin
(Antimicrobial,Cosmetic Biocide,Preservative)



1

A

Arginine
(Skin Conditioning,Masking,Fragrance,Antistatic Agent,Hair Conditioning)



1

A

Carbomer
(Viscosity Controlling,Viscosity Increasing Agent,Emulsion Stabilising,Gel Forming)



1

A

Xanthan Gum
(Skin Conditioning,Viscosity Controlling,Viscosity Increasing Agent,Emulsion Stabilising,Binding Agent,Binding,Surfactant -Emulsifying Agent,Gel Forming)



1

A

Allantoin
(Skin Conditioning,Skin Protecting,Soothing)
Good for Oily Skin Good for Sensitive Skin

1

A

Ethylhexylglycerin
(Skin Conditioning,Deodorant)