Shipping Terms
Ready Stock: 3-7 working days
Pre Order: 10-21 working days
Product Description
It's Time for REAL Intensive Skin Care!
Function - #Elasticity #Firming
Formulated with collagen and berry extracts, this firming serum helps improve skin elasticity and provides a dose of nutrients to offer your skin the ultimate revitalizing solution for young, healthy skin.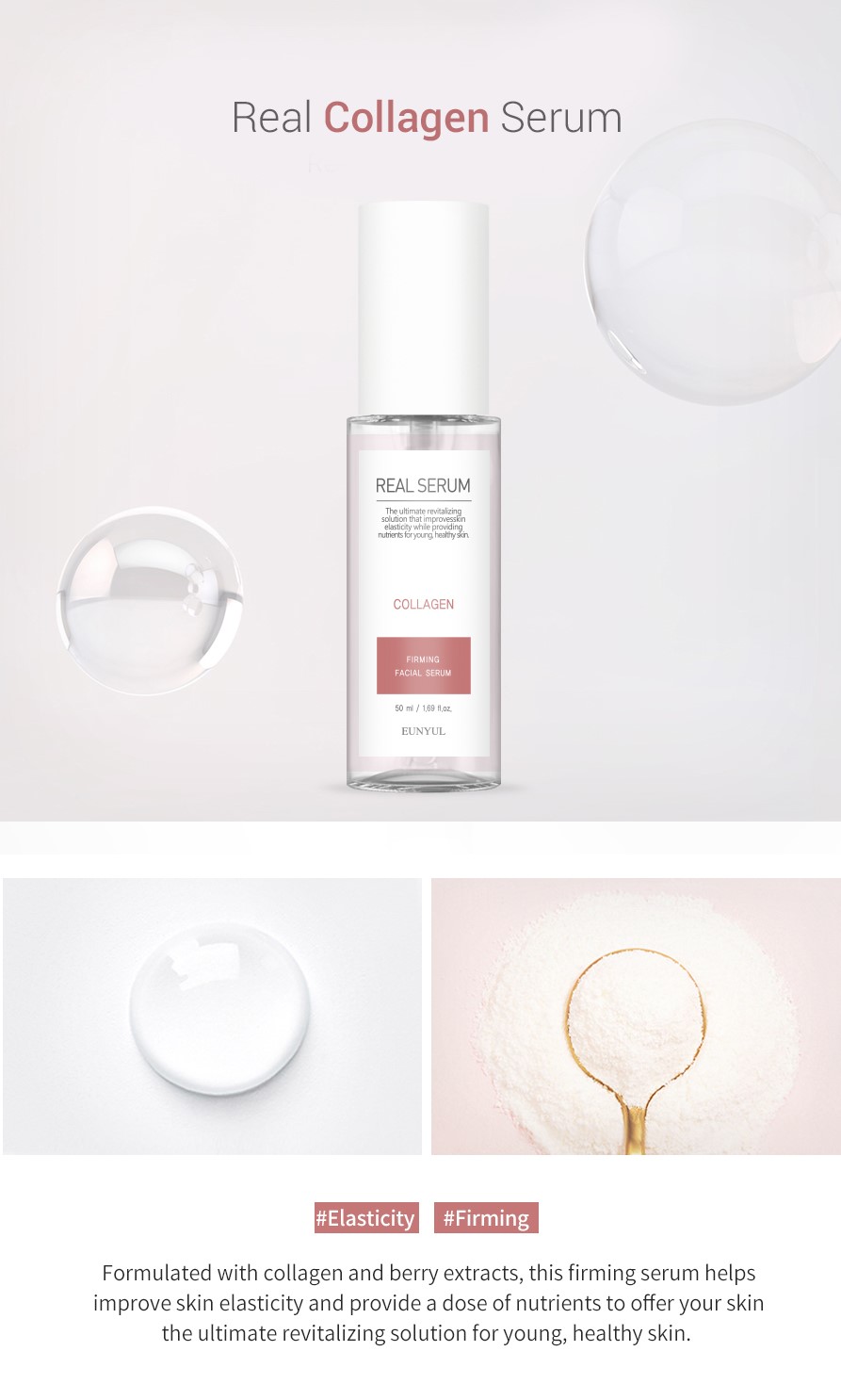 How To Use
After cleansing, take an appropriate amount of the ampoule and massage the ampoule into your skin.
Ingredients

Water, Dipropylene Glycol, Glycerin, Betaine, Hydrolyzed Collagen, Arctostaphy-los Uva-Ursi Leaf Extract, Fragaria Chiloensis (Strawberry) Fruit Extract, Rubus Idaeus (Raspberry) Fruit Extract, Vaccinium Angustifolium (Blueberry) Fruit Extract, Rubus Faiticosus (Blackberry) Fruit Extract, Aloe Barbadensis Leaf Extract, Beta-Glucan, PEG-60 Hydrogenated Castor Oil, Carbomer, Hydroxyethylcellu-lose, Glyceryl Acrylate/Acrylic Acid Copolymer, Sodium Hyaluronate, Panthenol, 1,2-Hexanediol, Triethanolamine, Disodium EDTA, Ethylhexylglycerin, Phenoxyethanol, Fragrance
EWG
CIR
Ingredient Name & Cosmetic Functions
Notes

1

Water
(Solvent)



1

A

Dipropylene Glycol
(Solvent,Masking,Fragrance,Viscosity Controlling,Viscosity Decreasing Agent)



2

A

Glycerin
(Solvent,Perfuming,Fragrance,Humectant,Viscosity Decreasing Agent,Hair Conditioning,Skin Protecting,Denaturant)
Good for Dry Skin

1

B

Betaine
(Skin Conditioning,Humectant,Viscosity Controlling,Antistatic Agent,Hair Conditioning)



1

A

Hydrolyzed Collagen
(Skin Conditioning,Emollient,Humectant,Antistatic Agent,Hair Conditioning,Film Forming,Nail Conditioning Agent)



1

Arctostaphylos Uva Ursi Leaf Extract
(Skin Conditioning)
Brightening

1

Fragaria Chiloensis (Strawberry) Fruit Extract




1

Rubus Idaeus (Raspberry) Fruit Extract
(Skin Conditioning)



1

Vaccinium Angustifolium (Blueberry) Fruit Extract




1

Rubus Fruticosus (Blackberry) Fruit Extract
(Masking,Fragrance,Tonic,Astringent)


1

3

B

Aloe Barbadensis Leaf Extract
(Skin Conditioning,Emollient,Humectant)
Good for Sensitive Skin

1

A

Beta-Glucan
(Skin Conditioning,Bulking Agent)
Good for Dry Skin

3

B

PEG-60 Hydrogenated Castor Oil
(Surfactant,Fragrance,Sufactant)
Fungal Acne Trigger

1

A

Carbomer
(Viscosity Controlling,Viscosity Increasing Agent,Emulsion Stabilising,Gel Forming)



1

A

Hydroxyethylcellulose
(Viscosity Controlling,Viscosity Increasing Agent,Emulsion Stabilising,Binding Agent,Binding,Stabilising,Film Forming)



1

Glyceryl Acrylate/Acrylic Acid Copolymer
(Humectant,Viscosity Controlling)



1

A

Sodium Hyaluronate
(Skin Conditioning,Humectant)
Promotes Wound Healing Good for Dry Skin

1

A

Panthenol
(Skin Conditioning,Antistatic Agent,Hair Conditioning)
Promotes Wound Healing Good for Dry Skin

1

A

1,2-Hexanediol
(Solvent)



5

B

Triethanolamine
(Masking,Surfactant,Fragrance,Emulsifying,Ph Adjuster,Buffering Agent)
Comedogenic Rating (2)

1

A

Disodium EDTA
(Viscosity Controlling,Chelating Agent)



1

A

Ethylhexylglycerin
(Skin Conditioning,Deodorant)



4

A

Phenoxyethanol
(Fragrance,Preservative)



8

Fragrance
(Masking,Perfuming,Deodorant)