INNISFREE My Makeup Cleanser - Micellar Oil Water 50ml
Regular price

RM 0.00

Sale price

RM 18.90
Share
Shipping Terms
Ready Stock: 3-7 working days
Pre Order: 10-14 working days
Product Description
1. A gentle cleanser
The mild micellar water is added with an oil-drop layer, providing gentle cleansing that removes waterproof makeup effectively.

2. Cleans with just one cotton pad
Micellar water meets oil to powerfully remove everything with one cotton pad.

3. Cleansing power combined with a refreshing finish
Enjoy the cleansing power of oil and the brisk finish of micellar water at the same time.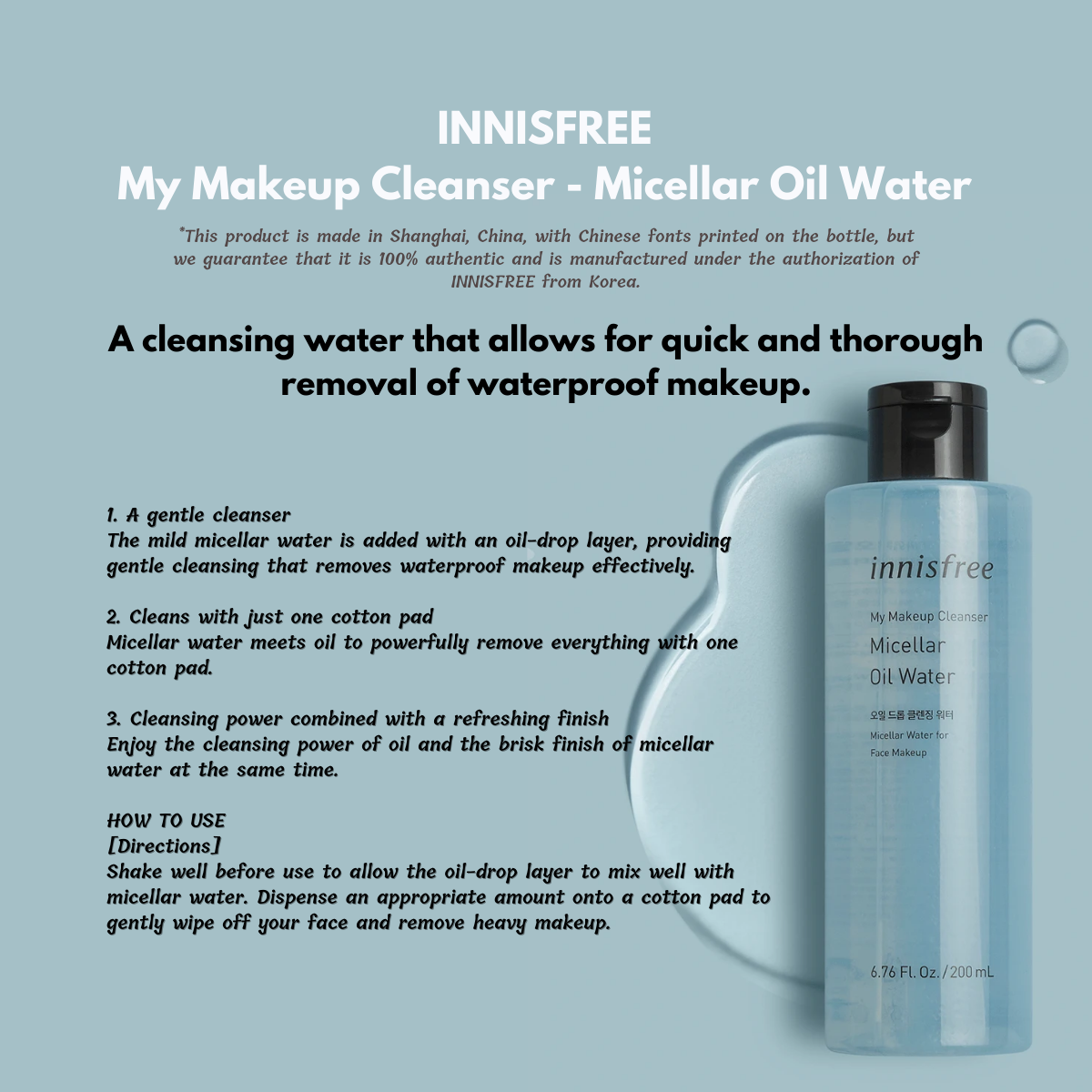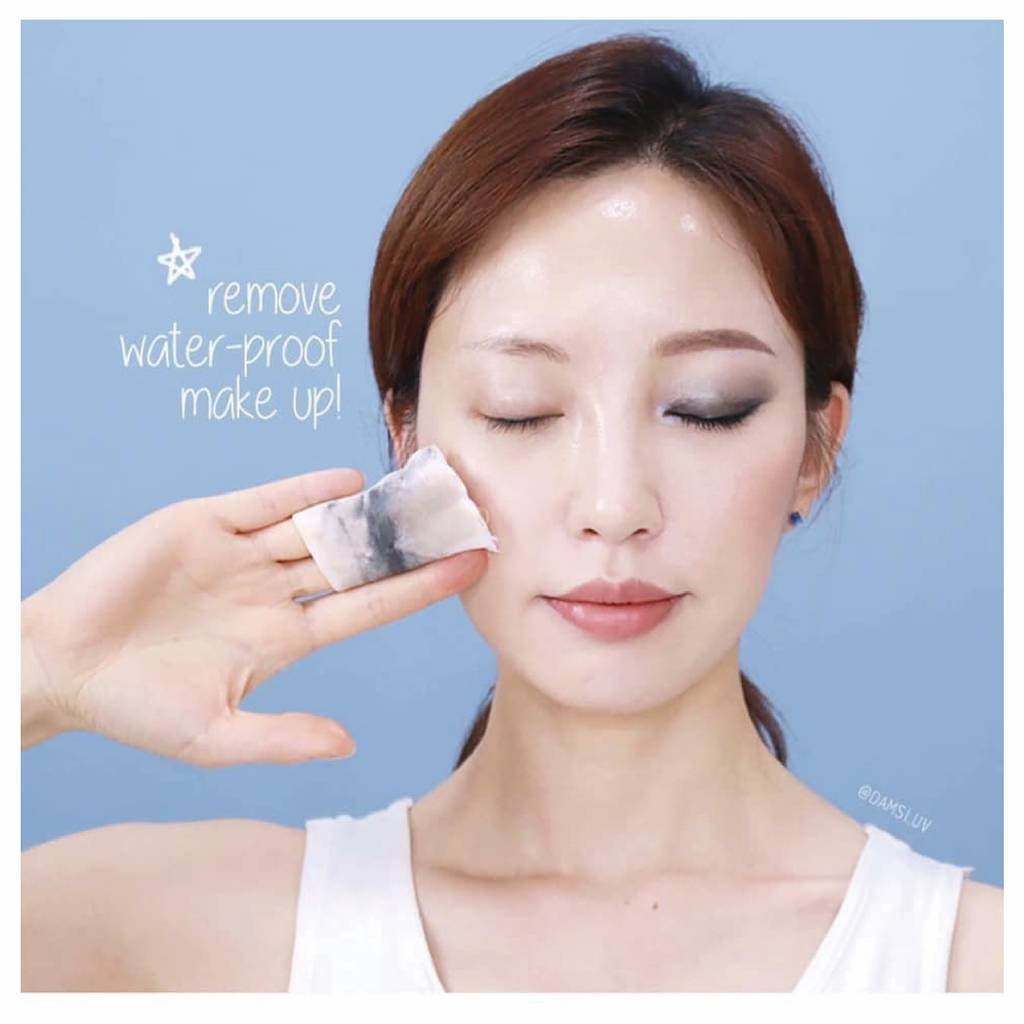 How To Use
Shake well before use to allow the cleansing oil to mix well with micellar water.
Dispense an appropriate amount onto a cotton pad to remove your makeup.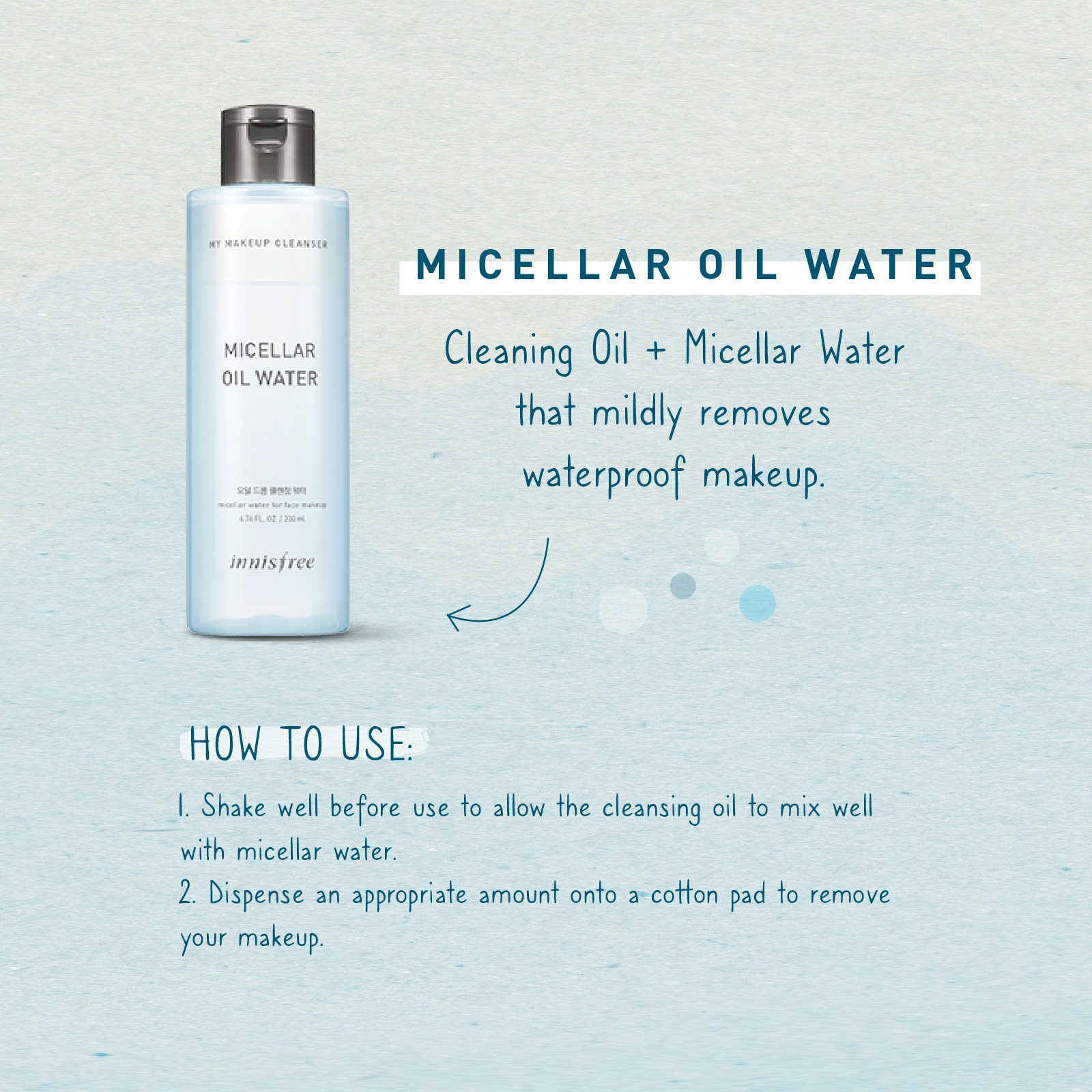 Ingredients
EWG
CIR
Ingredient Name & Cosmetic Functions
Notes

1

A

1,2-Hexanediol
(Solvent)



1

C18-21 Alkane
(Solvent)



1

A

Disodium EDTA
(Viscosity Controlling,Chelating Agent)



1

B

Dipotassium Phosphate
(Ph Adjuster,Buffering Agent,Anticorrosive)



1

Lauryl Methyl Gluceth-10 Hydroxypropyldimonium Chloride
(Antistatic Agent,Hair Conditioning)



1

B

Citrus Aurantium Bergamia (Bergamot) Fruit Extract
(Perfuming)



1

Sodium Chloride
(Masking,Viscosity Controlling,Bulking Agent)



1

A

Ethylhexylglycerin
(Skin Conditioning,Deodorant)



1

B

Citrus Aurantium Dulcis (Orange) Fruit Extract
(Skin Conditioning,Masking,Fragrance)

Bad for Sensitive Skin

1

Water
(Solvent)



1

Acorus Calamus Root Extract
(Skin Conditioning,Perfuming)



1

Caprylyl Glucoside
(Sufactant)



1

A

Butylene Glycol
(Solvent,Skin Conditioning,Masking,Fragrance,Humectant,Viscosity Controlling,Viscositydecreasing Agent)

Good for Dry Skin
Comedogenic Rating (1)

2

A

Glycerin
(Solvent,Perfuming,Fragrance,Humectant,Viscosity Decreasing Agent,Hair Conditioning,Skin Protecting,Denaturant)

Good for Dry Skin

1

Citrus Tangerina (Tangerine) Extract
(Tonic)



1

B

Potassium Phosphate
(Ph Adjuster,Buffering Agent)



1

Propanediol
(Solvent,Viscosity Controlling,Viscosity Decreasing Agent)



1

A

Hexylene Glycol
(Solvent,Skin Conditioning,Perfuming,Surfactant,Fragrance,Viscosity Decreasing Agent,Emulsifying)

Comedogenic Rating (2)

1

A

Ascorbic Acid (Vitamin C)
(Skin Conditioning,Masking,Fragrance,Antioxidant,Ph Adjuster,Buffering Agent)

Brightening
Anti-Aging
Good for Dry Skin

1

Tocopherol (Vitamin E)


Anti-Aging
Good for Dry Skin
Comedogenic Rating (3)

2

A

Citric Acid
(Masking,Fragrance,Chelating Agent,Ph Adjuster,Buffering Agent)

Anti-Aging
Bad for Sensitive Skin

2

B

Citrus Paradisi (Grapefruit) Fruit Extract
(Skin Conditioning)



1

B

Camellia Sinensis Leaf Extract
(Skin Conditioning,Masking,Emollient,Humectant,Antimicrobial,Skin Protecting,Uv Absorber,Antioxidant,Tonic,Astringent)

Good for Oily Skin

4

B

Lactic Acid
(Skin Conditioning,Fragrance,Humectant,Ph Adjuster,Buffering Agent,Exfoliant,Skin-Conditioning Agent -Humectant)

Anti-Aging
Bad for Sensitive Skin

4

A

Phenoxyethanol
(Fragrance,Preservative)



8

Fragrance
(Masking,Perfuming,Deodorant)


1

3

B

Aloe Barbadensis Leaf Extract
(Skin Conditioning,Emollient,Humectant)

Good for Sensitive Skin