Shipping Terms
Ready Stock: 3-7 working days
Pre Order: 10-14 working days
Product Description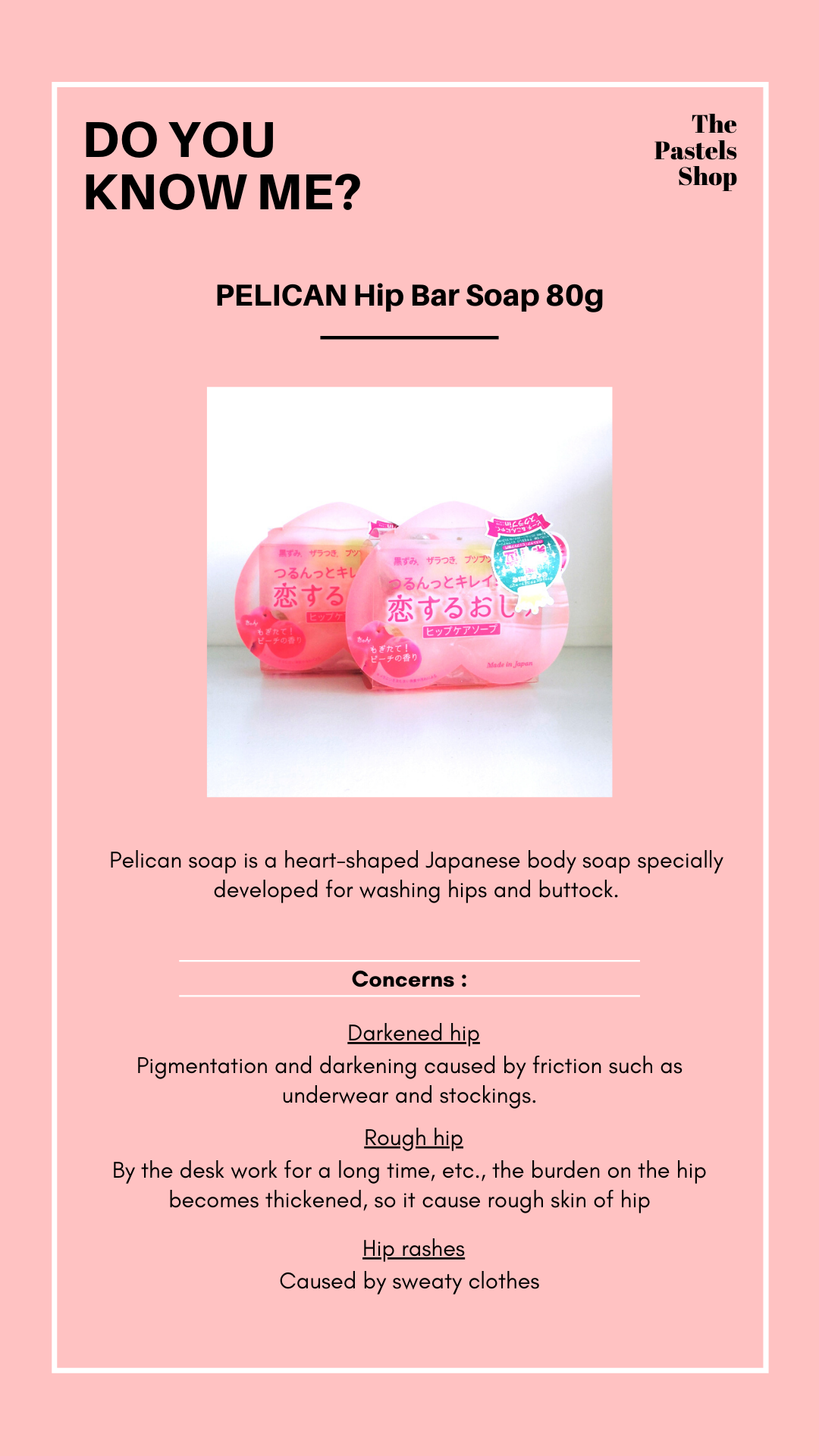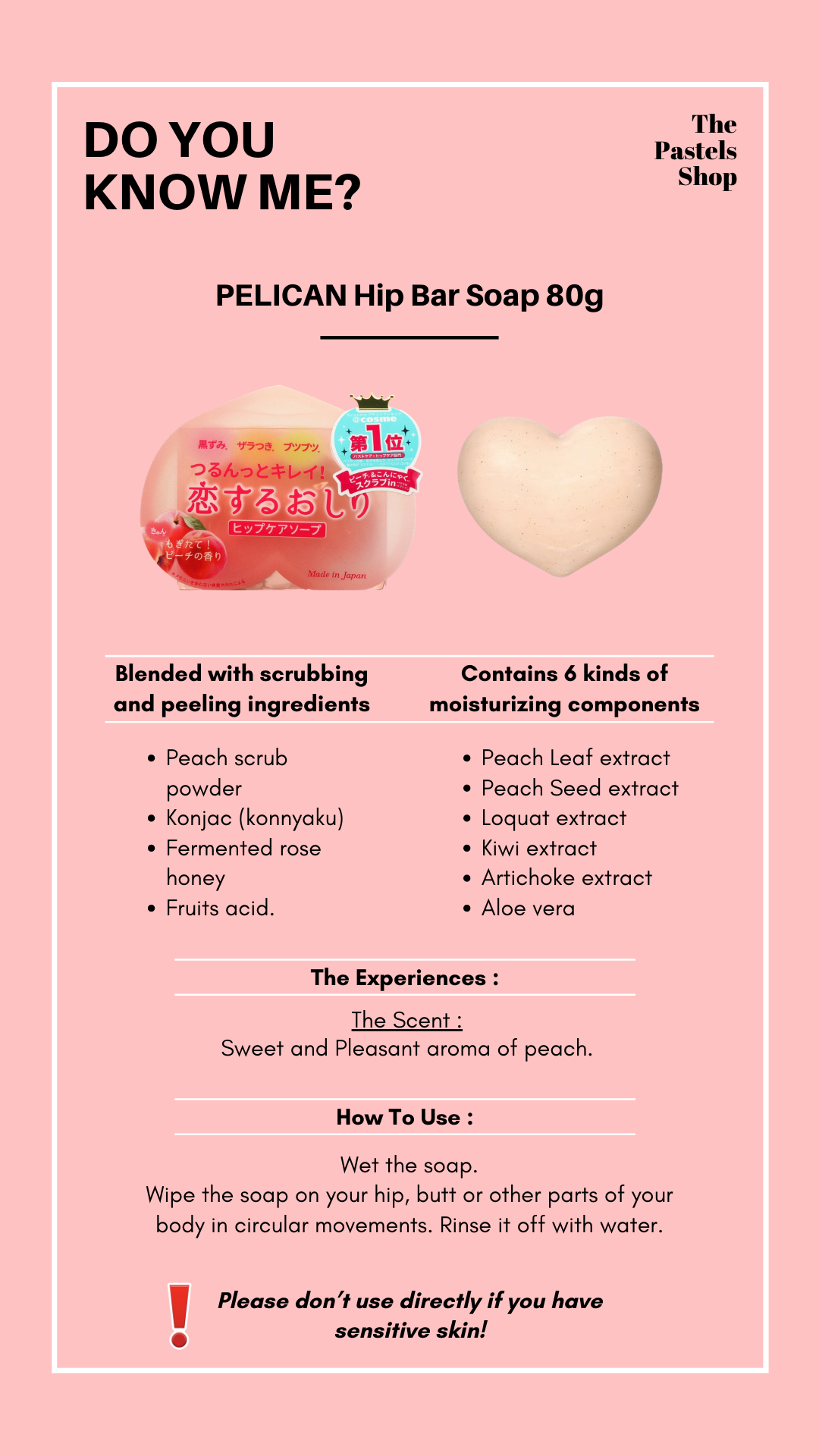 How To Use
Wipe the soap thoroughly, and when you spin the parts of the posterior thighs and thighs, carefully slide it so that you draw a circle.
After that, rinse with lukewarm water.
Ingredients
soap base, water peach kernel, mannan, gluconobacter/ honey fermented liquor, malic acid, lactic acid, citrus acid, peach leaf extract, peach seed extract, biwa leaf extract, kiwi extract, arch chalk leaf extract, aloe vera sap, glucose, chaba extract, glycerin, NaCl chloride, BG, EDTA - aNa, etidronic acid, etidronic acid 4Na, iron oxide, flavoring.
EWG
CIR
Ingredient Name & Cosmetic Functions
Notes

Soap Base




1

A

Prunus Persica (Peach) Kernel Oil
(Skin Conditioning,Emollient)

Fungal Acne Trigger

1

A

Mannan
(Film Forming)


3

4

B

Malic Acid
(Fragrance,Ph Adjuster,Buffering Agent)



4

B

Lactic Acid
(Skin Conditioning,Fragrance,Humectant,Ph Adjuster,Buffering Agent,Exfoliant,Skin-Conditioning Agent -Humectant)

Anti-Aging
Bad for Sensitive Skin

2

A

Citric Acid
(Masking,Fragrance,Chelating Agent,Ph Adjuster,Buffering Agent)

Anti-Aging
Bad for Sensitive Skin

1

Prunus Persica (Peach) Leaf Extract




Pyrus Communis (Pear) Seed Extract




Beta Vulgaris (Beet) Leaf Extract




Actinidia Chinensis (Kiwi) Fruit Extract




1

Angelica Archangelica Leaf Extract
(Cosmetic Astringent,Tonic)


1

3

Aloe Barbadensis (Aloe Vera) Gel
(Skin Conditioning)



1

A

Glucose
(Humectant,Flavoring Agent,Skin-Conditioning Agent- Miscellaneous)



Charcoal Extract




2

A

Glycerin
(Denaturant,Fragrance,Hair Conditioning,Humectant,Skin Protecting,Viscosity Decreasing Agent,Perfuming,Solvent)

Good for Dry Skin

4

Zinc Chloride
(Soothing,Cosmetic Astringent,Cosmetic Biocide)



1

A

Butylene Glycol
(Solvent,Skin Conditioning,Masking,Fragrance,Humectant,Viscosity Controlling,Viscositydecreasing Agent)

Good for Dry Skin
Comedogenic Rating (1)

2

A

EDTA
(Chelating Agent)



2

Etidronic Acid
(Chelating Agent)



2

Etidronic Acid
(Chelating Agent)



2

Iron Oxides
(Colorant,Cosmetic Colorant)



4

Flavor