Shipping Terms
Ready Stock: 3-7 working days
Pre Order: 10-14 working days
Product Description
In your first step of skincare routine, start with this Secret Key Black Out Pore Clean Toner. Its ingredients include white clay which absorbs excessive sebum and helps the skin to be clean and pure. Its charcoal ingredients help to remove the sebum and impurities effectively.
This toner removes dead skin cells and tightens pores with brown sugar and rice extracts for smoothing skin surface; while the fermented plant complex extracted water and papaya extracts tighten pores.
The toner also contains fermented garlic, black soybean and black sesame which helps skin to be elastic and smooth. It also calms irritated skin with witch-hazel and Centella extracts.
Black Out Pore Clean Toner uses natural ingredients such as charcoal, black sugar and black garlic botanicals to eliminate pore-clogging impurities while reducing redness and irritation. Natural ingredients help balance oil production as botanical.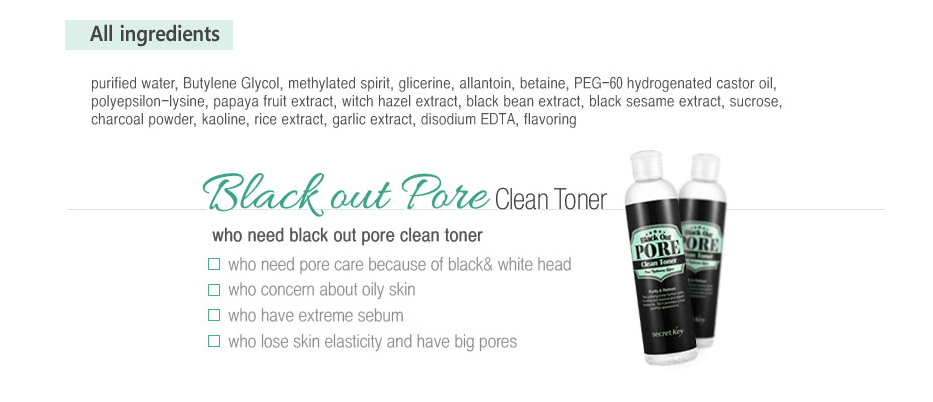 How To Use
Dispense an appropriate amount of this toner onto a cotton ball or your hand and apply it over the skin. Pat gently to improve absorption.
Ingredients
Sesamum Indicum (Sesame) Seed Extract, Disodium EDTA, Allium Sativum (Garlic) Bulb Extract, Betaine, Centella Asiatica Extract, Charcoal Powder, Sucrose, Water, Kaolin, Butylene Glycol, Glycerin, Tosylamide/Epoxy Resin, Carica Papaya (Papaya) Fruit Extract, Glycine Max (Soybean) Seed Extract, Oryza Sativa (Rice) Extract, PEG-60 Hydrogenated Castor Oil, Allantoin, Alcohol Denat, Fragrance, Hamamelis Virginiana (Witch Hazel) Extract


EWG
CIR
Ingredient Name & Cosmetic Functions
Notes

1

Sesamum Indicum (Sesame) Seed Extract



1

A

Disodium EDTA
(Chelating Agent,Viscosity Controlling)



1

Allium Sativum (Garlic) Bulb Extract



1

B

Betaine
(Hair Conditioning,Humectant,Antistatic Agent,Skin Conditioning,Viscosity Controlling)



1

B

Centella Asiatica Extract
(Cleansing,Skin Conditioning,Smoothing,Soothing,Tonic)
Promotes Wound Healing

1

Charcoal Powder
(Abrasive,Absorbent,Colorant,Opacifying,Cosmetic Colorant)



1

A

Sucrose
(Flavoring Agent,Humectant,Skin Conditioning,Soothing)



1

Water
(Solvent)



1

A

Kaolin
(Abrasive,Absorbent,Anticaking Agent,Bulking Agent,Opacifying,Skin Protecting,Slip Modifier)



1

A

Butylene Glycol
(Fragrance,Skin Conditioning,Solvent,Viscositydecreasing Agent,Humectant,Masking,Viscosity Controlling)
Good for Dry Skin Comedogenic Rating (1)

2

A

Glycerin
(Denaturant,Fragrance,Hair Conditioning,Humectant,Skin Protecting,Viscosity Decreasing Agent,Perfuming,Solvent)
Good for Dry Skin

1

Tosylamide/Epoxy Resin
(Film Forming,Plasticizer)



1

Carica Papaya (Papaya) Fruit Extract
(Skin Conditioning)



1

Glycine Max (Soybean) Seed Extract
Anti-Aging Good for Dry Skin

2

A

Oryza Sativa (Rice) Extract
(Hair Conditioning,Skin Conditioning,Emollient)



3

B

PEG-60 Hydrogenated Castor Oil
(Fragrance,Sufactant,Surfactant)
Fungal Acne Trigger

1

A

Allantoin
(Skin Conditioning,Skin Protecting,Soothing)
Good for Oily Skin Good for Sensitive Skin

4

Alcohol Denat.
(Antifoaming Agent,Antimicrobial,Astringent,Masking,Solvent,Viscosity Controlling)
Bad for Dry Skin Bad for Sensitive Skin Alcohol

8

Fragrance
(Deodorant,Masking,Perfuming)



1

Hamamelis Virginiana (Witch Hazel) Extract
(Cosmetic Astringent,Skin Conditioning,Hair Conditioning,Soothing)
Good for Oily Skin