THE ORDINARY Glycolic Acid 7% Toning Solution 240ml
Regular price

RM 0.00

Sale price

RM 69.00
Share
Shipping Terms
Ready Stock: 3-7 working days
Pre Order: 10-21 working days
Product Description
An exfoliating toning solution with seven percent glycolic acid, amino acids, aloe vera, ginseng, and tasmanian pepperberry.
This 7% Toning Solution offers mild exfoliation for improved skin radiance and visible clarity. The formula also improves the appearance of skin texture with continued use.

Which skin type is it good for?
✔ Normal
✔ Oily
✔ Combination
✔ Dry
✔ Sensitive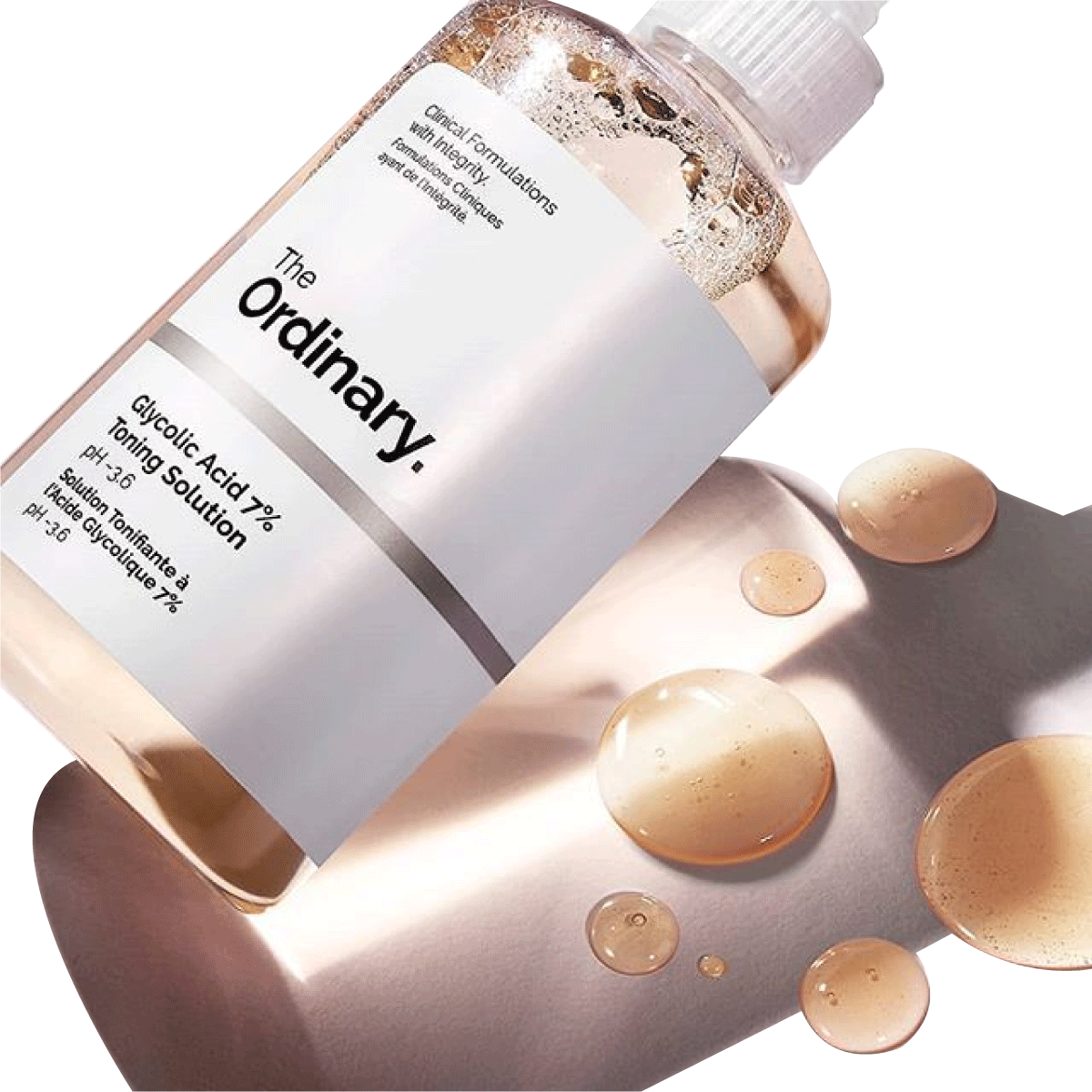 How To Use
-Use ideally in the PM, and do not exceed once-daily use.
-After cleaning, saturate a cotton pad with the formula and sweep across face and neck.
-Do not rinse off.
-Continue with additional skin treatments as needed.
Ingredients
Aqua (Water), Glycolic Acid, Rosa damascena flower water, Centaurea cyanus flower water, Aloe Barbadensis Leaf Water, Propanediol, Glycerin, Triethanolamine, Aminomethyl Propanol, Panax Ginseng Root Extract, Tasmannia Lanceolata Fruit/Leaf Extract, Aspartic Acid, Alanine, Glycine, Serine, Valine, Isoleucine, Proline, Threonine, Histidine, Phenylalanine, Glutamic Acid, Arginine, PCA, Sodium PCA, Sodium Lactate, Fructose, Glucose, Sucrose, Urea, Hexyl Nicotinate, Dextrin, Citric Acid, Polysorbate 20, Gellan Gum, Trisodium Ethylenediamine Disuccinate, Sodium Chloride, Hexylene Glycol, Potassium Sorbate, Sodium Benzoate, 1,2-Hexanediol, Caprylyl Glycol.
EWG
CIR
Ingredient Name & Cosmetic Functions
Notes

1




Water
(Solvent)



4

B

Glycolic Acid
(Ph Adjuster,Buffering Agent,Exfoliant)
Anti-Aging Good for Oily Skin Bad for Sensitive Skin

1




Rosa Damascena Flower Water
(Skin Conditioning,Masking,Skin Protecting)



1




Centaurea Cyanus Flower Water
(Skin Conditioning)


1

3

B

Aloe Barbadensis Leaf Water
(Masking)
Good for Sensitive Skin

1




Propanediol
(Solvent,Viscosity Controlling,Viscosity Decreasing Agent)



2

A

Glycerin
(Solvent,Perfuming,Fragrance,Humectant,Viscosity Decreasing Agent,Hair Conditioning,Skin Protecting,Denaturant)
Good for Dry Skin

5

B

Triethanolamine
(Masking,Surfactant,Fragrance,Emulsifying,Ph Adjuster,Buffering Agent)
Comedogenic Rating (2)

3

A

Aminomethyl Propanol
(Ph Adjuster,Buffering Agent)



1

A

Panax Ginseng Root Extract
(Emollient,Hair Conditioning,Skin Protecting,Tonic)









Tasmannia Lanceolata Fruit Extract
(Skin Conditioning)



1

A

Aspartic Acid
(Skin Conditioning,Masking,Fragrance,Antistatic Agent,Hair Conditioning)



1

A

Alanine
(Skin Conditioning,Masking,Fragrance,Antistatic Agent,Hair Conditioning)



1

A

Glycine
(Skin Conditioning,Fragrance,Antistatic Agent,Hair Conditioning,Buffering Agent,Skin-Conditioning Agent -Miscellaneous)



1

A

Serine
(Skin Conditioning,Masking,Fragrance,Antistatic Agent,Hair Conditioning)



1

A

Valine
(Skin Conditioning,Masking,Fragrance,Antistatic Agent,Hair Conditioning)



1

A

Isoleucine
(Skin Conditioning,Fragrance,Antistatic Agent,Hair Conditioning)



1

A

Proline
(Skin Conditioning,Fragrance,Hair Conditioning)



1

A

Threonine
(Skin Conditioning,Fragrance,Antistatic Agent,Hair Conditioning,Hair Waving Or Straightening)



1

A

Histidine
(Skin Conditioning,Fragrance,Humectant,Antistatic Agent,Hair Conditioning)



1

A

Phenylalanine
(Skin Conditioning,Fragrance,Hair Conditioning)



1

A

Glutamic Acid
(Fragrance,Humectant,Antistatic Agent,Hair Conditioning)



1

A

Arginine
(Skin Conditioning,Masking,Fragrance,Antistatic Agent,Hair Conditioning)



3

B

PCA
(Humectant,Moisturising)



1

B

Sodium PCA
(Skin Conditioning,Humectant,Antistatic Agent,Hair Conditioning)
Good for Dry Skin

3

B

Sodium Lactate
(Humectant,Buffering Agent,Exfoliant,Keratolytic)



1

A

Fructose
(Humectant,Flavoring Agent)



1

A

Glucose
(Humectant,Flavoring Agent,Skin-Conditioning Agent- Miscellaneous)



1

A

Sucrose
(Skin Conditioning,Humectant,Flavoring Agent,Soothing)



3

A

Urea
(Skin Conditioning,Humectant,Antistatic Agent,Buffering Agent)



1




Hexyl Nicotinate
(Skin Conditioning,Emollient,Antistatic Agent)



1

A

Dextrin
(Viscosity Controlling,Viscosity Increasing Agent,Binding Agent,Binding,Absorbent,Bulking Agent)



2

A

Citric Acid
(Masking,Fragrance,Chelating Agent,Ph Adjuster,Buffering Agent)
Anti-Aging Bad for Sensitive Skin

3

B

Polysorbate 20
(Surfactant,Emulsifying)
Fungal Acne Trigger

1

A

Gellan Gum
(Viscosity Controlling,Viscosity Increasing Agent,Emulsion Stabilising,Film Forming)



1




Trisodium Ethylenediamine Disuccinate
(Chelating Agent)



1




Sodium Chloride
(Masking,Viscosity Controlling,Bulking Agent)



1

A

Hexylene Glycol
(Solvent,Skin Conditioning,Perfuming,Surfactant,Fragrance,Viscosity Decreasing Agent,Emulsifying)
Comedogenic Rating (2)

3

A

Potassium Sorbate
(Fragrance,Preservative)



3

A

Sodium Benzoate
(Masking,Fragrance,Preservative,Anticorrosive)



1

A

1,2-Hexanediol
(Solvent)



1

A

Caprylyl Glycol
(Skin Conditioning,Emollient,Humectant,Hair Conditioning)