THE PASTELS SHOP "CYMBO" Cleansing Balm 15ml
Regular price

RM 19.00

Sale price

RM 9.00
Share
Product Description
Lemongrass-based cleansing balm that has amazing cleansing & microbial properties. Effectively remove sunscreen, waterproof makeup, and stubborn oil on the skin. Follow up with a water-based gentle cleanser for the double cleansing method.
Experience the luxury of effective and gentle cleansing with THE PASTELS SHOP "CYMBO" Cleansing Balm. This 15ml travel-sized gem is a powerful yet nourishing makeup remover and cleanser, designed to dissolve impurities, makeup, and daily grime while leaving your skin feeling soft and refreshed. Elevate your skincare routine with this essential product.
Key Features:
Efficient Makeup Remover: "CYMBO" Cleansing Balm effortlessly melts away makeup, including stubborn waterproof mascara and long-lasting lipstick. Say goodbye to harsh rubbing and tugging on your delicate skin.
Deep Cleansing: The balm-based formula deeply cleanses your pores, removing dirt, oil, and environmental pollutants that can accumulate throughout the day. Enjoy a thorough, refreshing cleanse.
Nourishing Ingredients: Enriched with skin-loving ingredients, including botanical oils and extracts, this cleansing balm not only cleanses but also nourishes your skin. It helps maintain your skin's natural moisture balance.
Hydrating and Softening: Experience the balm's hydrating properties as it leaves your skin feeling soft, supple, and comfortable, never tight or dry.
Travel-Friendly: The 15ml size is perfect for on-the-go use, making it an ideal companion for your travels or daily gym sessions.
Suitable for All Skin Types: "CYMBO" Cleansing Balm is gentle enough for all skin types, including sensitive skin. It's free from harsh chemicals and fragrances that can irritate your skin.
Cruelty-Free: We prioritize ethical beauty practices, and our cleansing balm is cruelty-free, ensuring no harm to animals during its production.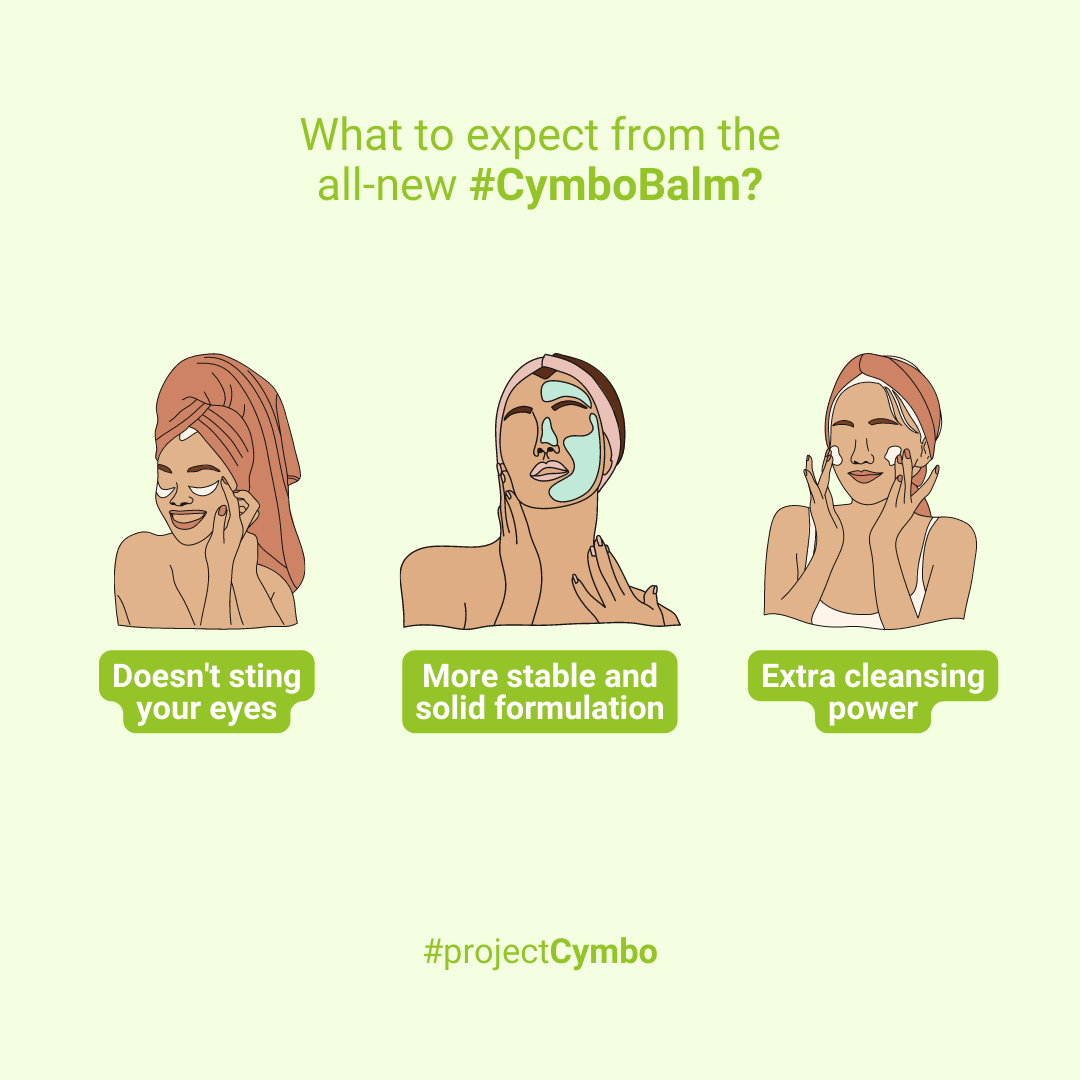 How To Use
Scoop out a small amount of the cleansing balm with clean fingers or a spatula.
Gently massage the balm onto dry skin, including your face and neck, in a circular motion.
Rinse off with lukewarm water or remove with a damp, soft cloth or cotton pad.
Follow with your regular skincare routine, including toner, serum, and moisturizer.
Ingredients
Cymbopogon Schoenanthus (Lemongrass) Oil, Vitis Vinifera (Grape) Seed Oil, Triticum Vulgare (Wheat) Germ Oil, Emulsifying Wax NF, 1-Hexadecanol (Jojoba) Seed Oil, Tocopheryl Acetate (Vitamin E), Polysorbate 80
EWG


CIR


Ingredient Name & Cosmetic Functions


Notes


4

Cymbopogon Schoenanthus Oil (Masking,Fragrance,Tonic)

Bad for Sensitive Skin



1

A
Vitis Vinifera (Grape) Seed Oil (Skin Conditioning,Emollient)

Promotes Wound Healing

Good for Oily Skin

Fungal Acne Trigger




1


A

Triticum Vulgare (Wheat) Germ Oil (Skin Conditioning,Emollient)



Bad for Oily Skin


Fungal Acne Trigger


4



A

Emulsifying Wax





1




A

Simmondsia Chinensis (Jojoba) Seed Oil (Skin Conditioning,Emollient,Viscosity Controlling,Hair Conditioning)

Fungal Acne Trigger

Comedogenic Rating (2)



3




A

Tocopheryl Acetate (Vitamin E)(Skin Conditioning,Antioxidant)

Anti-Aging




3





B

Polysorbate 80 (Surfactant,Emulsifying,Denaturant)

Fungal Acne Trigger