Pernah tak korang rasa teruja nak pakai produk yang bau dia sedap, terutamanya bau makanan? Ya, pasti terus terasa lapar kan menghidu bau produk tu. Baru-baru ni Ein cuba beberapa produk badan yang berasaskan Koko. Hmmmm, bayangkan bau coklat tu buat badan kita bau sedap. Best nya, Ein suka! Cocoa Paradise adalah salah satu jenama lokal yang menyediakan produk-produk yang mengandungi ekstrak Koko yang diketahui umum sebagai anti-oksidan yang sangat bagus untuk kulit kita, terutamanya kulit kering.
Dalam blog post yang pertama ni, Ein nak kongsi pengalaman menggunakan skrub badan dari jenama ni, iaitu Smoothing Body Scrub.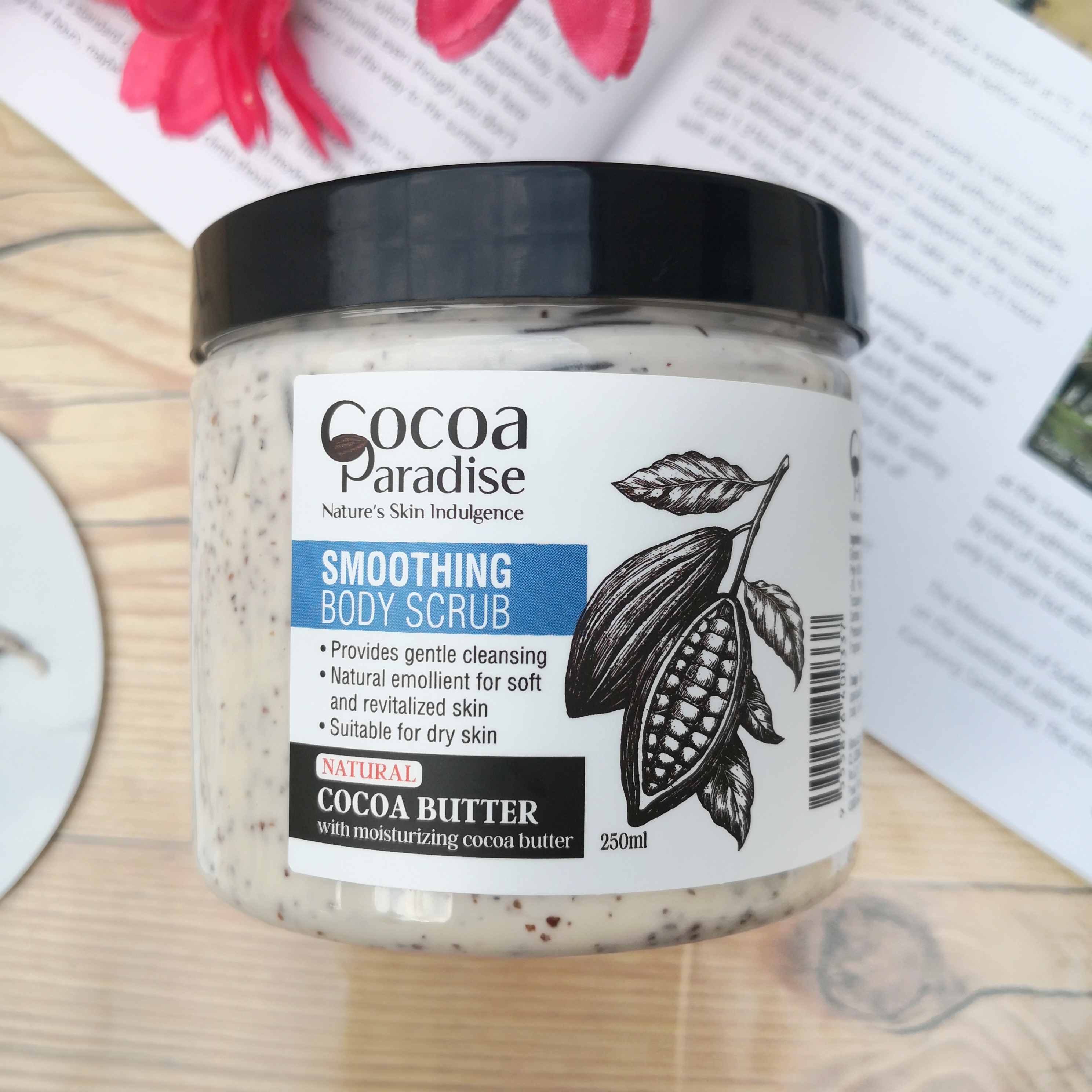 Deskripsi Produk:
Body scrub ini sangat lembut dengan kulit, tetapi after effect nya sangat best!
Di dalamnya terdapat kulit koko asli yang dapat melembutkan dan membersihkan kulit dengan baik. Produk berkualiti hasil kolaborasi teknologi dari Lembaga Koko Malaysia! Paling best, bau sangatlah seperti coklat!
Tidak menggunakan sebarang pewarna/haruman tiruan, ia menggunakan gentle surfactant yang tidak mengeringkan.
Ia mengandungi ekstrak cocoa yg mengandungi natural tannin, membersihkan kulit dengan sangat baik, dan bersifat anti oksida.
Cara Pemakaian:
Semasa mandi, ambil jumlah secukupnya dan letakkan di atas tapak tangan anda. Urut secara perlahan ke semua bahagian badan. Untuk hasil yang lebih berkesan, gunakan sedikit tekanan di bahagian yang lebih kasar seperti siku, tumit kaki dan lutut. Cuci skrub dengan menggunakan air. Gunakan 2 kali seminggu untuk hasil yang lebih optimum.
Harga : RM 35.00 / 250ml
Highlighted Ingredients yang adalah seperti di bawah;
●Theobroma Cacao (Cocoa) Seed Butter – contains high levels of antioxidants called flavonoids, great for protecting the skin from free radicals
●Theobroma Cacao (Cocoa) Extract – contains omega-6 fatty acids that improves the skin's complexion; more plump, dewy and hydrated
●Dimethicone - Skin Conditioning,Emollient,Antifoaming Agent,Skin Protecting
●Tocopheryl Acetate (Vitamin E) - Anti-Aging
●Allantoin - Skin Conditioning,Skin Protecting,Soothing
●BHT - Masking,Fragrance,Antioxidant
●Fragrance- Masking,Perfuming,Deodorant
Packaging:
This body scrub comes in a jar, seperti selalu produk skrub badan yang dijual di dalam pasaran di Malaysia. Design ia pun minimal , dengan label produk yang padat dengan important informations that I need to know . Since the jar is made from plastic, kita dapat nampak bagaimana rupa skrub itu daripada luarannya. Quite travel-friendly sebab ia bukannya diperbuat dari kaca.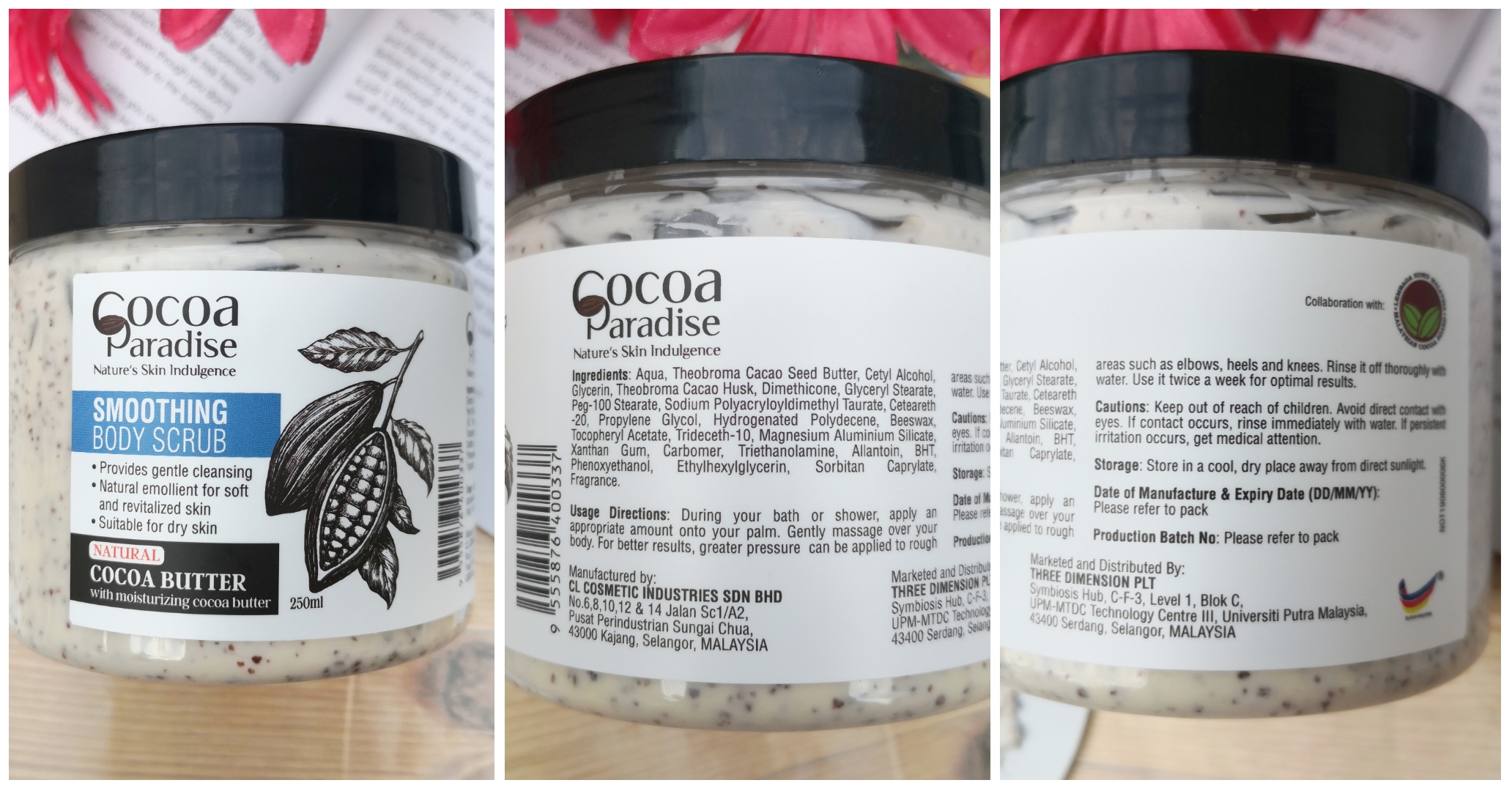 Texture:
Masa mula-mula buka seal skrub ni, nampak seperti keras je skrub tu, tapi apabila Ein scoop it out pakai jari and spread it onto my skin, I am amazed that it's quite buttery.From the look of the scrub in the jar, it reminds of Cookies and Cream ice-cream. Nyum Nyum!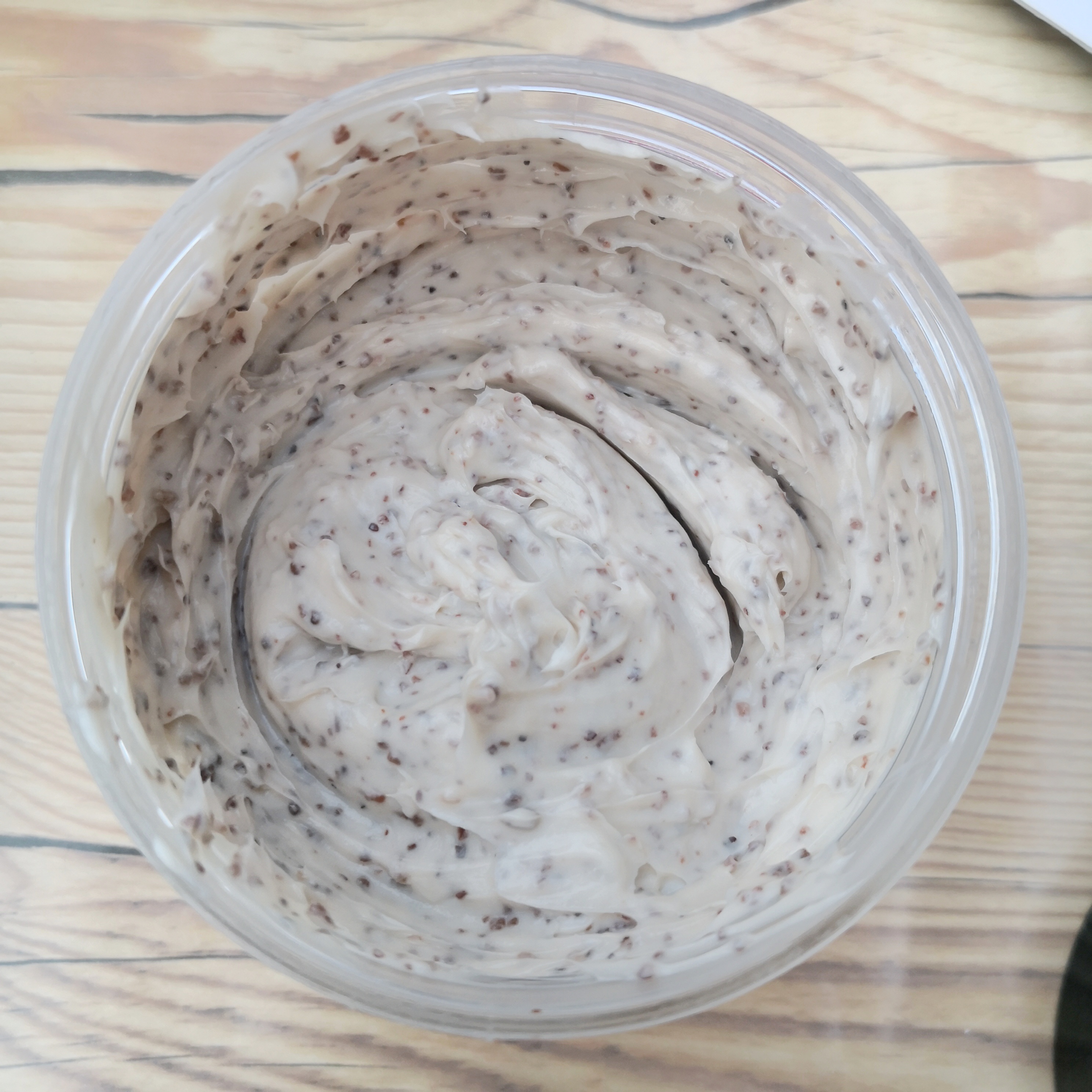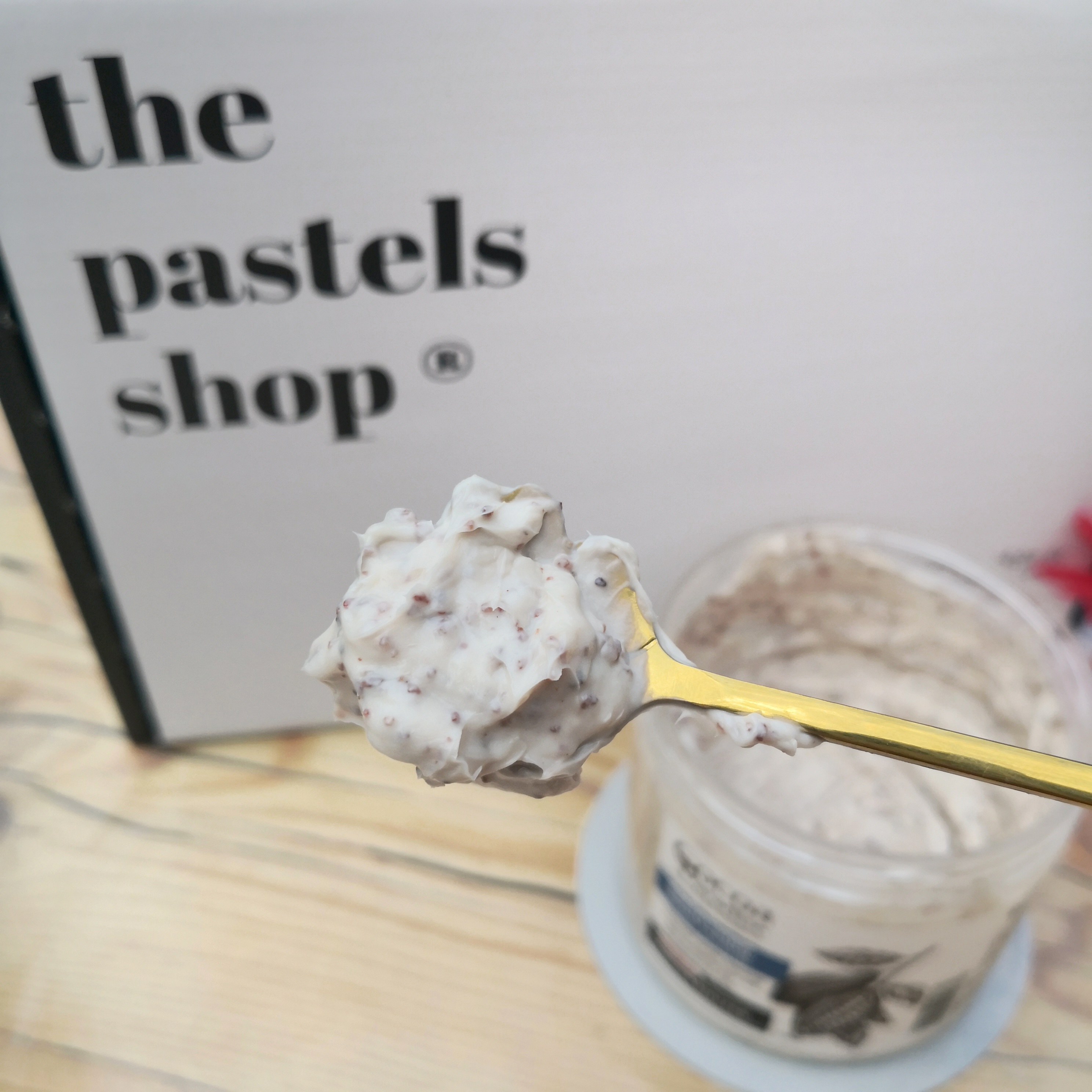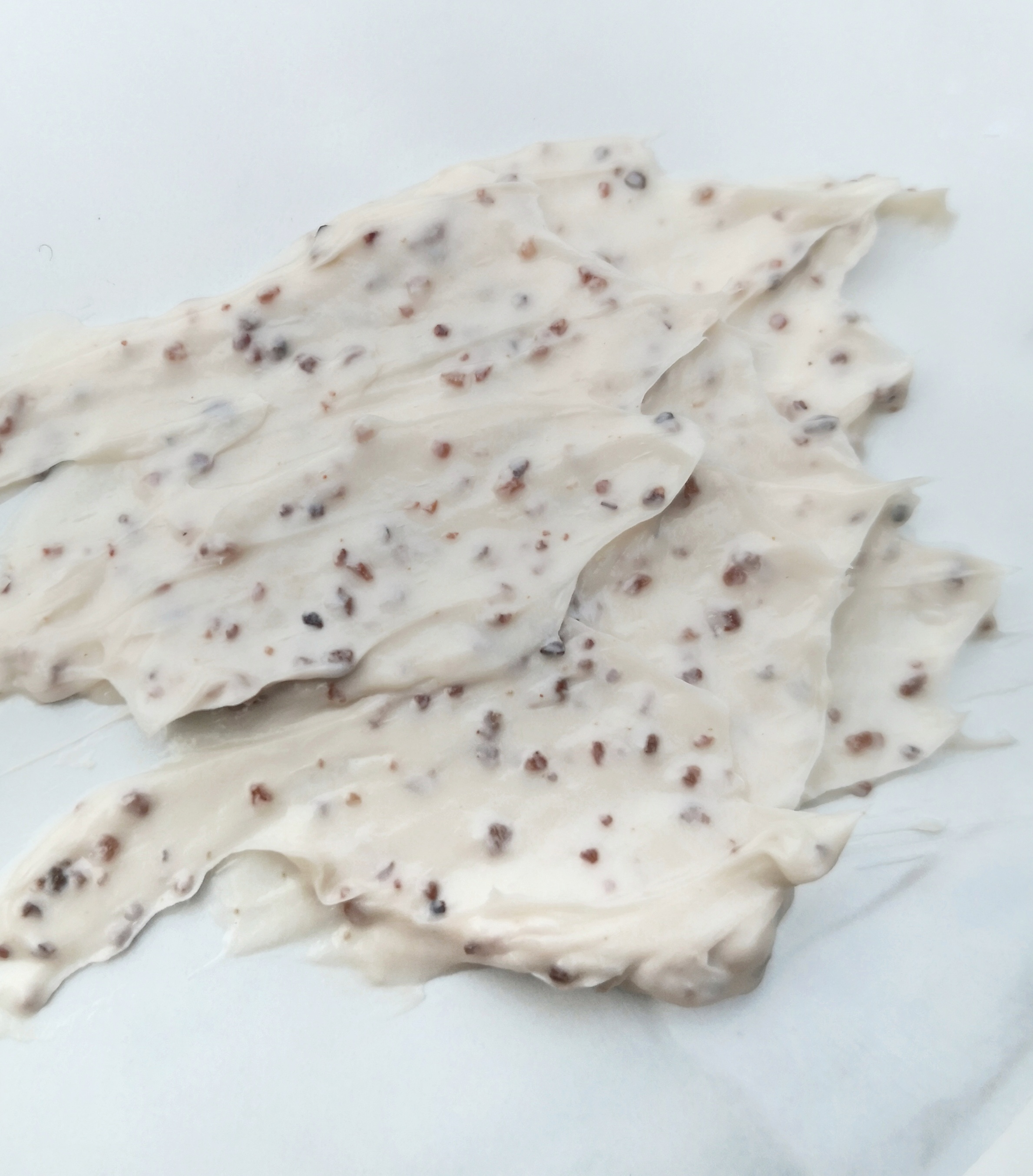 Scent:
Mild white chocolate scent
Thoughts:
I am someone who enjoys body care products that has pleasant scent. Since the texture of the scrub is buttery, it spreads easily and the Cocoa shell dalam skrub itu berfungsi sebagai mild exfoliator. Jangan risau kerana bit-bit kulit koko tu tak terasa tajam di kulit.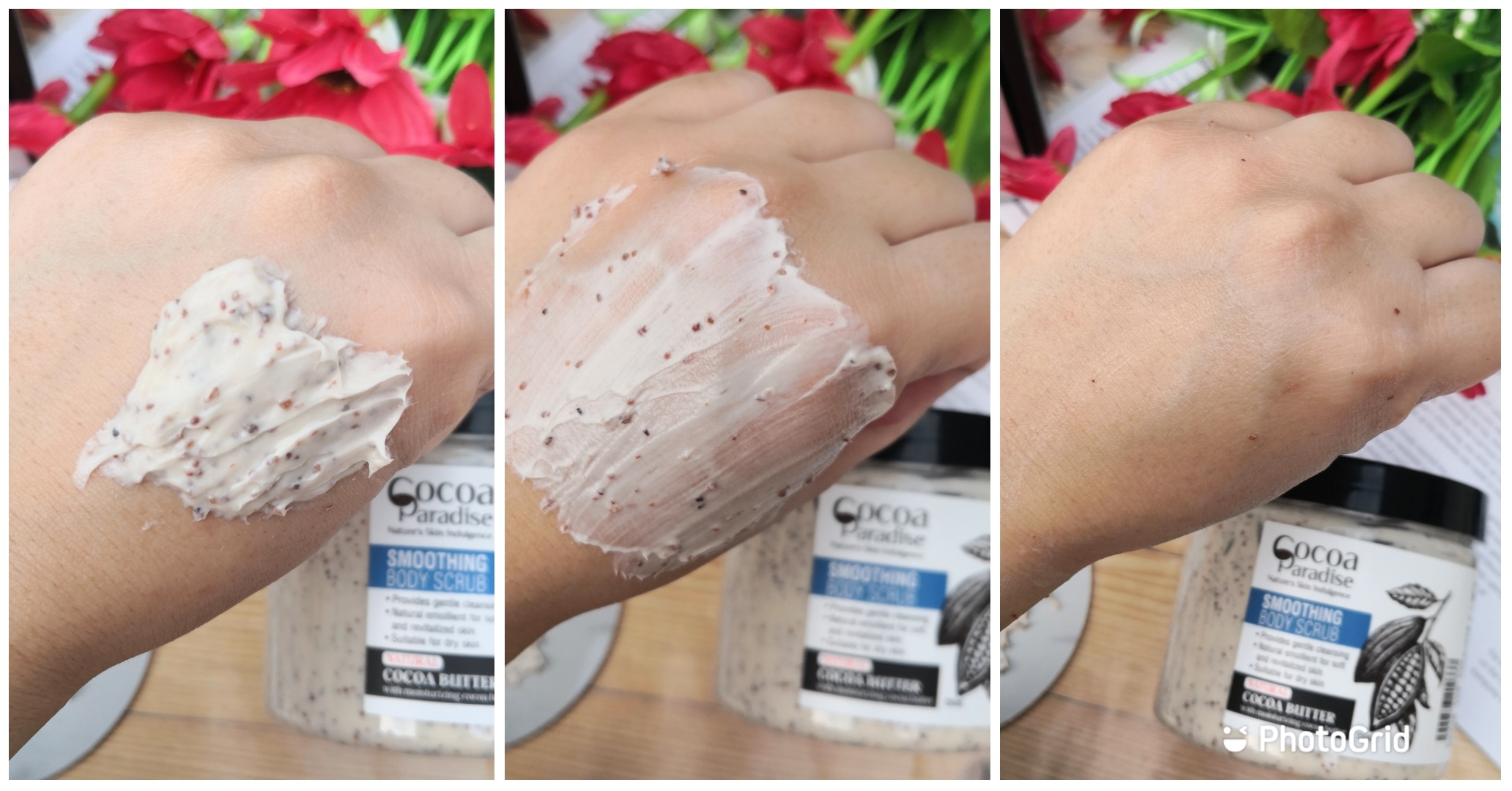 Ein cuba pakai skrub ni di bahagian pelipat (siku, bawah lutut, ketiak) dan nampak hasil ia memudarkan hitam dan menghilangkan daki di bahagian tu. Ini adalah antara sebab kita perlu skrub di bahagian pelipat tu kan, sebab those areas are prone untuk kering, hitam dan berdaki. Best nampak hasil yang kita nak.
It is easy to wash off using water. I don't need to rinse it vigorously. I love how fresh and clean my skin feels everytime after I rinse the scrub off. My skin feels soft and smooth.Kulit pun tak rasa kering selepas habis sesi mandi.
The scent lingers for a while which makes me feel like it could help to cover mild body odour. Kalau siapa-siapa yang ada bau badan , mungkin anda boleh cuba skrub ini untuk bantu bersihkan badan dan dapat sekali pakej bau badan wangi coklat.
Recommended untuk awak cuba. Cuba dulu baru tau best. Harga ia pun berbaloi sebab 1 jar ni tahan berbulan-bulan, yela kita kan pakai 2-3 kali seminggu je.
Where to Buy: