Organically Moi face serum is specifically designed to protect, repair and rehydrate your skin. Feel instantly calm and rested.
Full ingredients
Sweet almond oil, Certified Pure Therapeutic Grade lavender, Geranium, Tea Tree, Vitamin A & Vitamin E.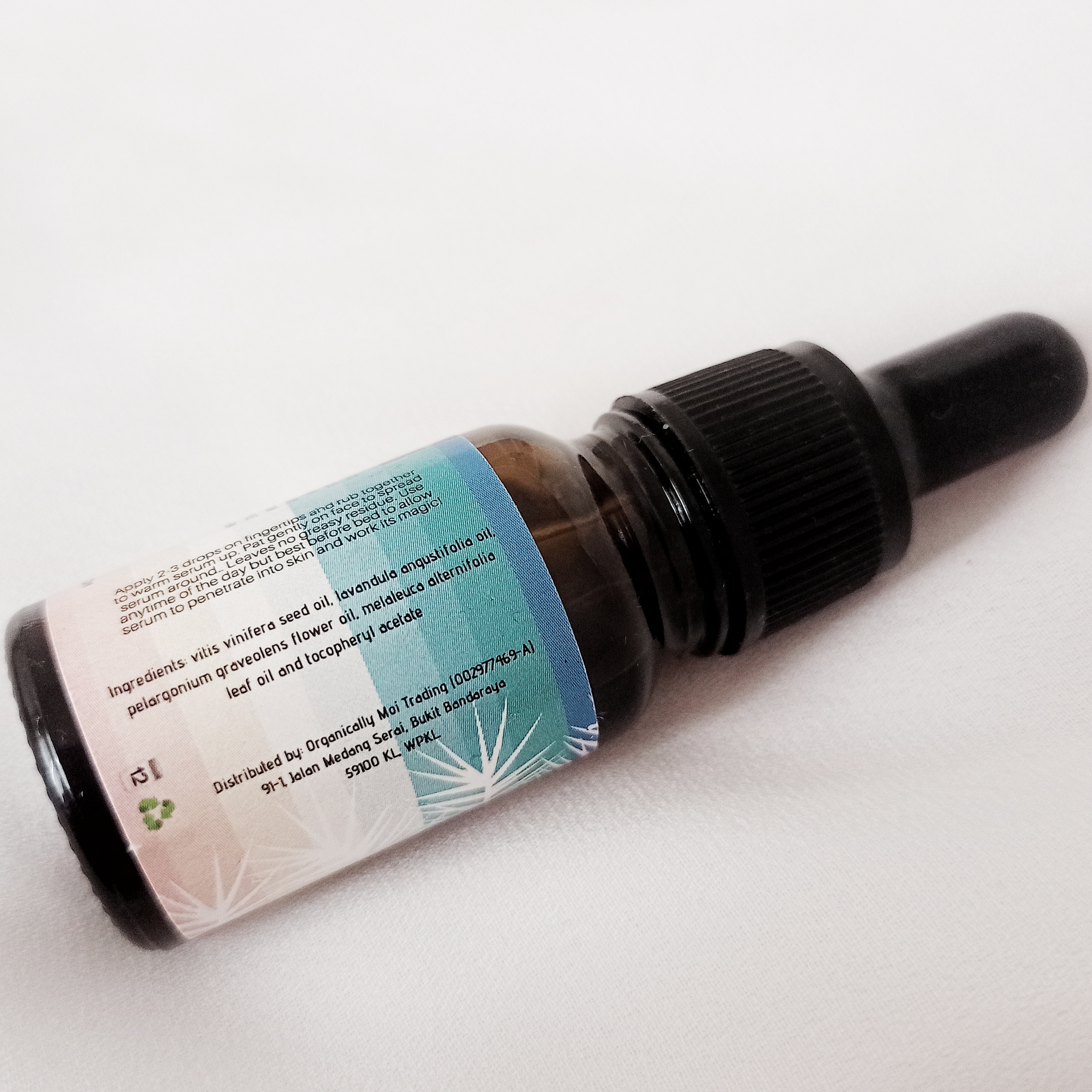 Product features
Texture
Light concentrated oil texture as the main oil is Sweet Almond oil.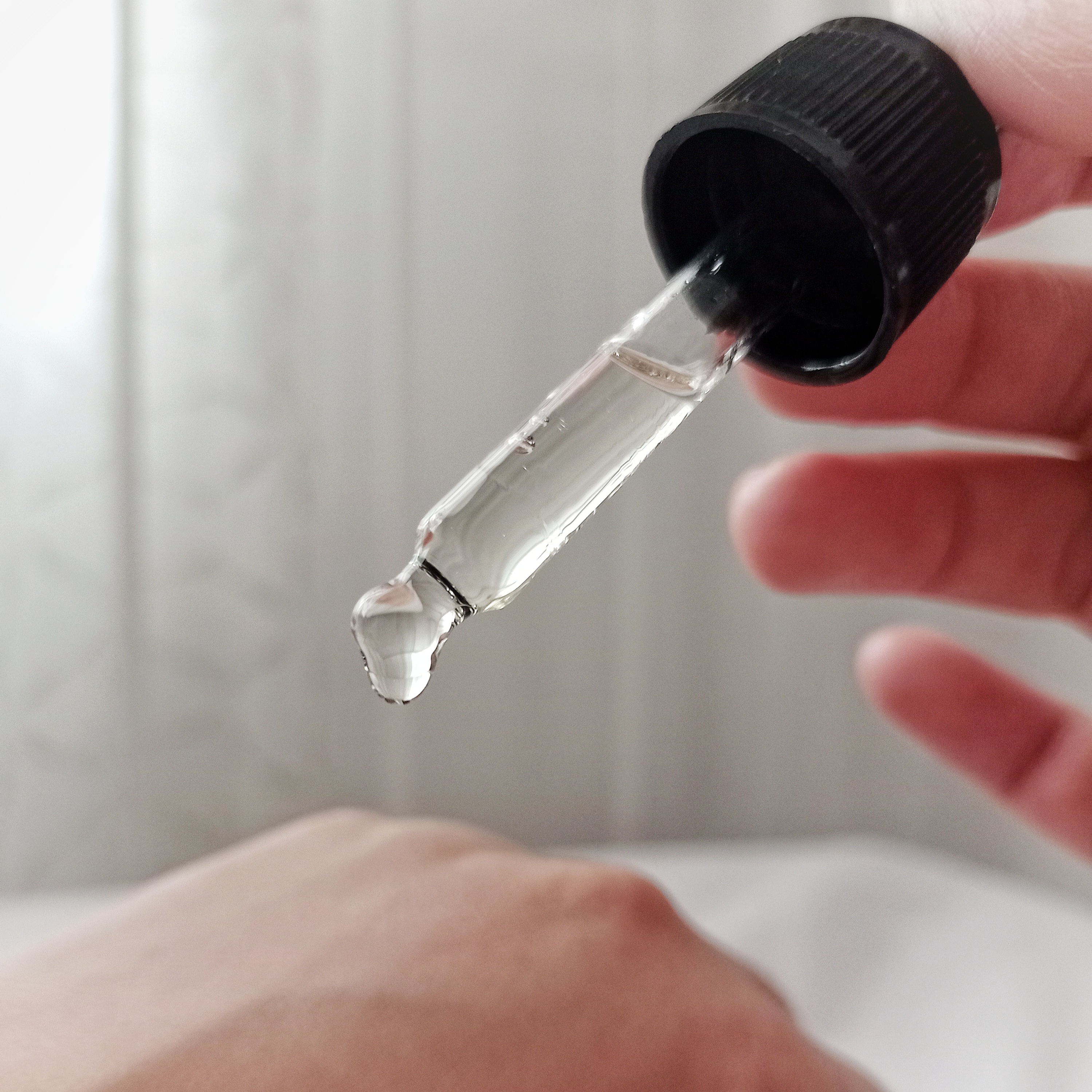 Scent
Light citrusy scent, might comes from the mixture of lavender and tea tree oil.
Packaging
It comes in two different amount; 10ml and 30ml packaging. Both come in glass bottles with droppers.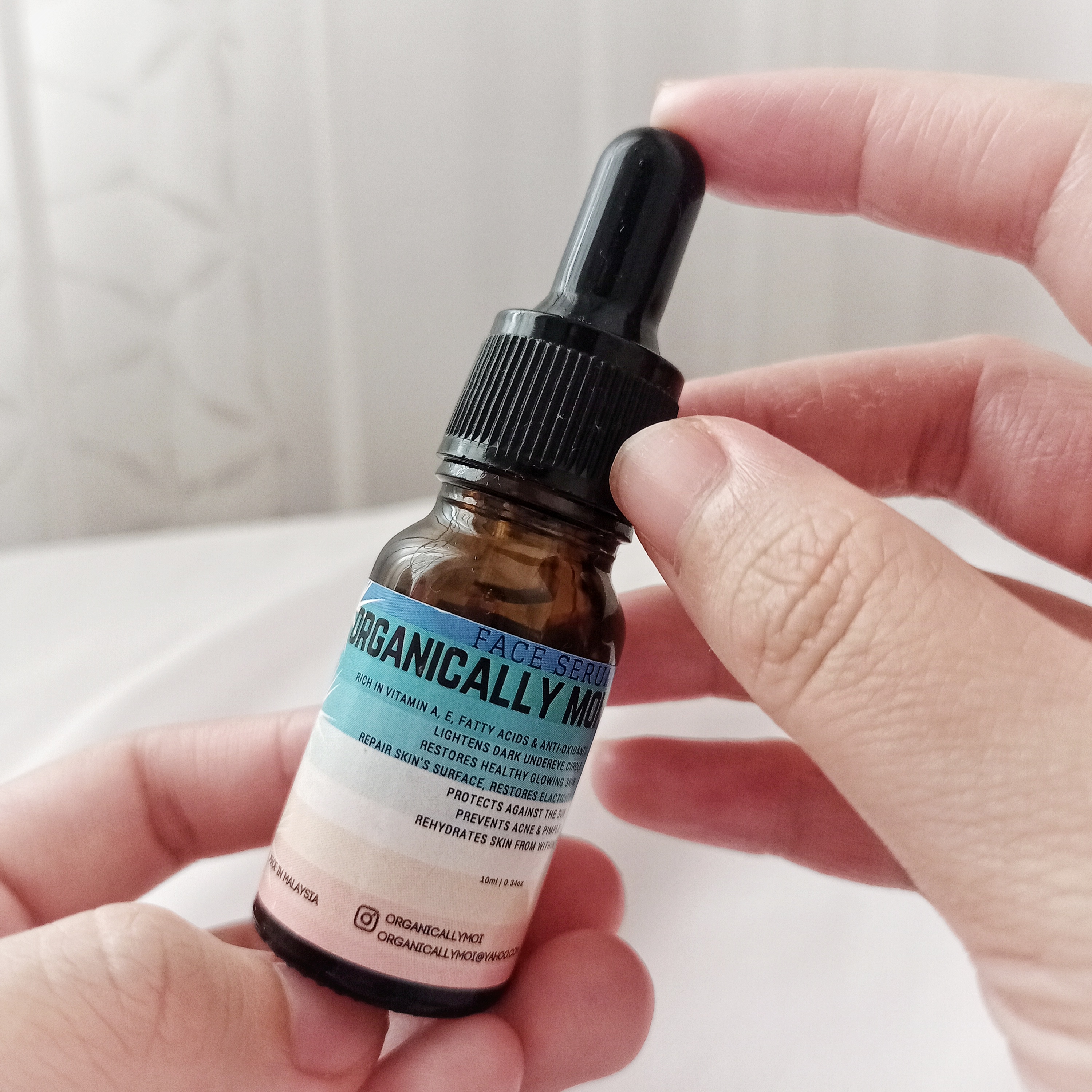 Price: 10ml- RM30; 30ml- RM79
Key ingredients
Vitamin A, E, fatty acids and anti-oxidants; lightens appearance of pigmentation and dark circles, repairs skin from within and restores its elasticity.
Tea tree prevents acne and pimple from popping out.
Direction of Use:
Use before makeup or at night before sleep. Apply 2-4 drops on face and massage gently. Can also be used on arms, legs and hair.
Thoughts
First of all, my skin is actually sensitized with tea tree oil. So, I don't give any hope for this oil as I had many bad experiences with products that contain tea tree oil.
I did patch testing about 1 week around my jaws to neck areas. Along that period I actually didn't experience any itchiness. The oil is lightweight, easily absorbed without feeling greasy.
Since I need to give you guys my honest review which is actually limited because my skin cannot tolerate with tea tree oil, I apply the face oil into my face and guess what, I got new acnes at the most unusual part of my face.
Sorry if my review is so limited this time, this product might not suitable for me, but if you can tolerate with the ingredients in the product, you should try it, YMMY 💕💖
You may purchase this oil on the link below 💕
https://www.thepastelsshop.com/products/organically-moi-face-serum-10ml
Thank you for reading 🥰
Do follow my instagram account (@zyaskinthoughts) to read more updates for my pastelspals blog post & beauty products review.
Love & care,
Aziah Syaffa
Instagram: @zyaskinthoughts