Exfoliate? Hmm, selalu kan dengar perkataan ni? 🤔

Exfoliation merupakan salah satu langkah penting dalam rutin penjagaan kulit. Ia berfungsi untuk menyingkirkan sel kulit mati, seterusnya membantu penyerapan produk lain ke dalam kulit. Selain itu, rutin ini membantu membersihkan liang pori, mengawal kehadiran jerawat, membentuk tona sekata, dan merangsang penghasilan sel kulit baru ✨

Terdapat dua jenis exfoliator iaitu Physical dan Chemical Exfoliator. Yang mana satu menjadi pilihan anda semua? Physical exfoliator atau Chemical exfoliator?
Balas komen di bawah ini dengan sebab pilihan anda. 😇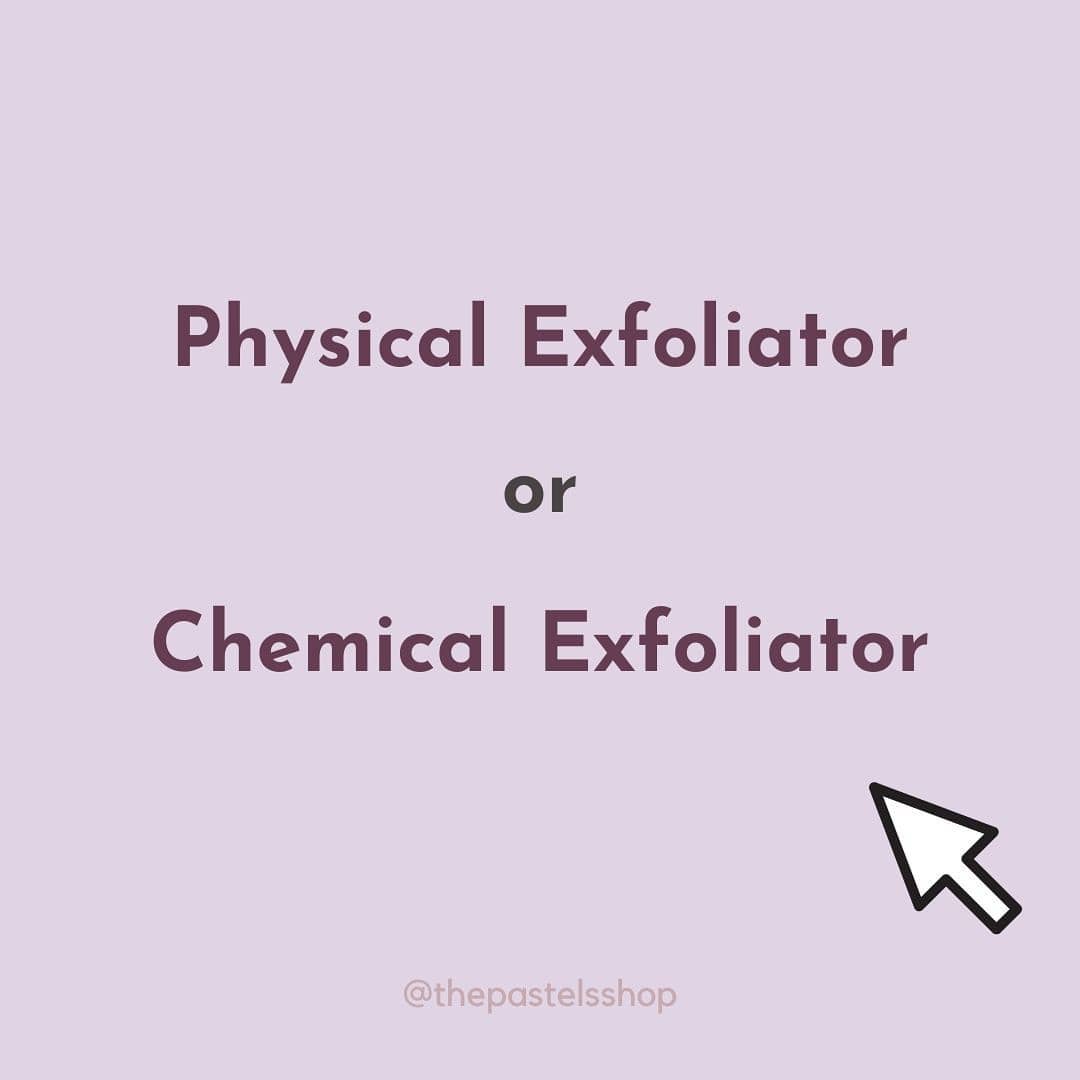 𝗣𝗵𝘆𝘀𝗶𝗰𝗮𝗹 𝗘𝘅𝗳𝗼𝗹𝗶𝗮𝘁𝗼𝗿 𝘃𝘀 𝗖𝗵𝗲𝗺𝗶𝗰𝗮𝗹 𝗲𝘅𝗳𝗼𝗹𝗶𝗮𝘁𝗼𝗿 🤔

Pada posting sebelum ini, Anna ada bertanya tentang exfoliator pilihan anda semua. Kebanyakannya memilih chemical exfoliator. Mari kita lihat apakah perbezaan di antara kedua exfoliator ini.

Secara ringkasnya, Physical exfoliator adalah sejenis exfoliator yang berfungsi secara fizikal seperti skrub, clay mask dan alat/peranti kecantikan (seperti konjac sponge/foreo/moreo). Physical exfoliator bertindak di luar lapisan kulit untuk menyingkirkan sel kulit mati dan kotoran di atas kulit. Antara manfaat penggunaan physical exfoliator adalah, mengurangkan interaksi kimia ke atas kulit dan menunjukkan hasil yang cepat. ✨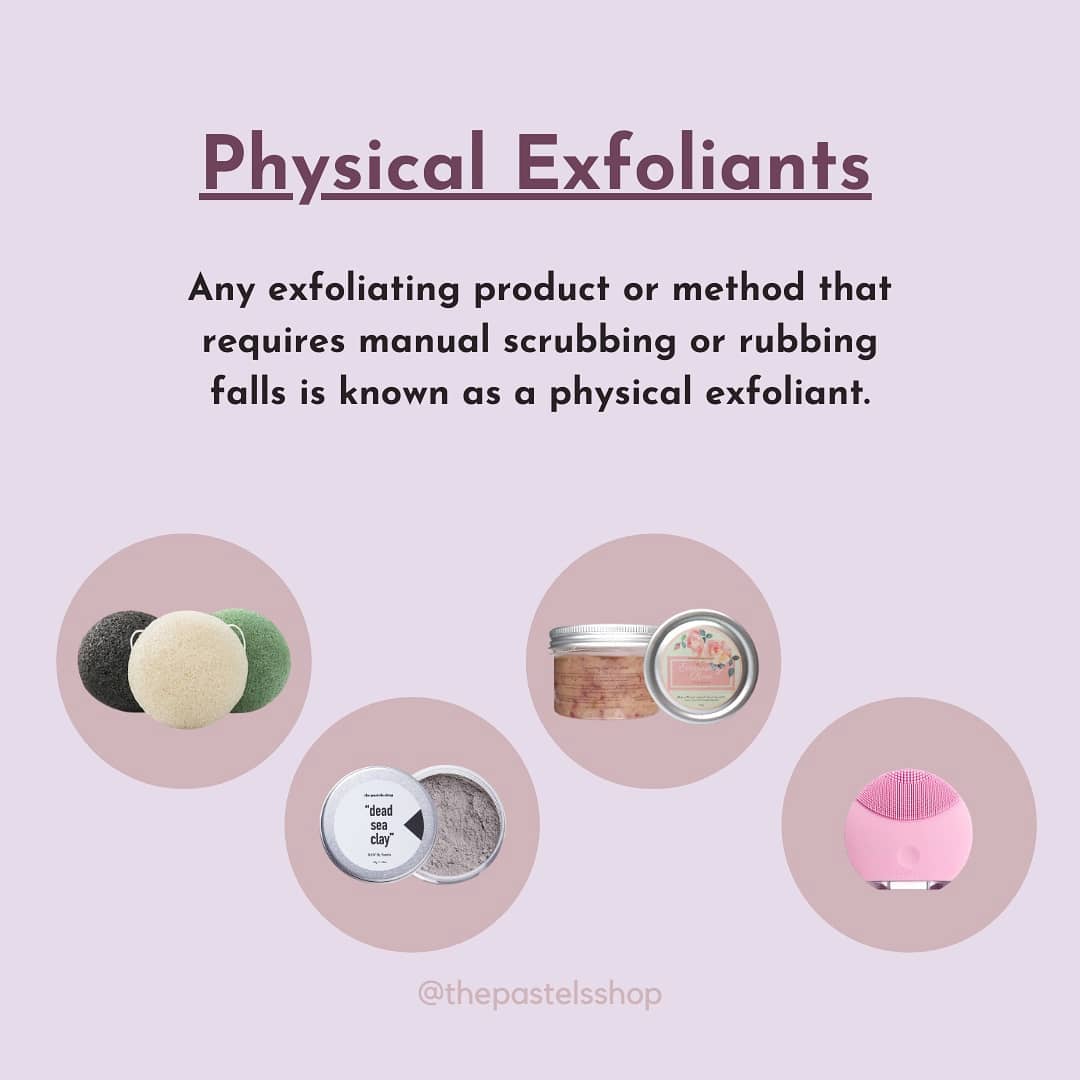 Manakala, Chemical exfoliator pula adalah sejenis exfoliator dalam bentuk asid/bahan aktif. Chemical exfoliator terbahagi kepada dua, iaitu Alpha Hydroxy Acids (AHA) dan Beta Hydroxy Acids (BHA). AHA lebih mesra digunakan untuk kulit yang kering kerana ia berfungsi untuk memisahkan ikatan di antara sel kulit mati. BHA pula berfungsi dengan cara menembusi liang pori dan mengawal pertalian minyak, sesuai untuk kulit yang mempunyai masalah jerawat. Kedua-dua chemical exfoliator ini lebih lembut di atas kulit.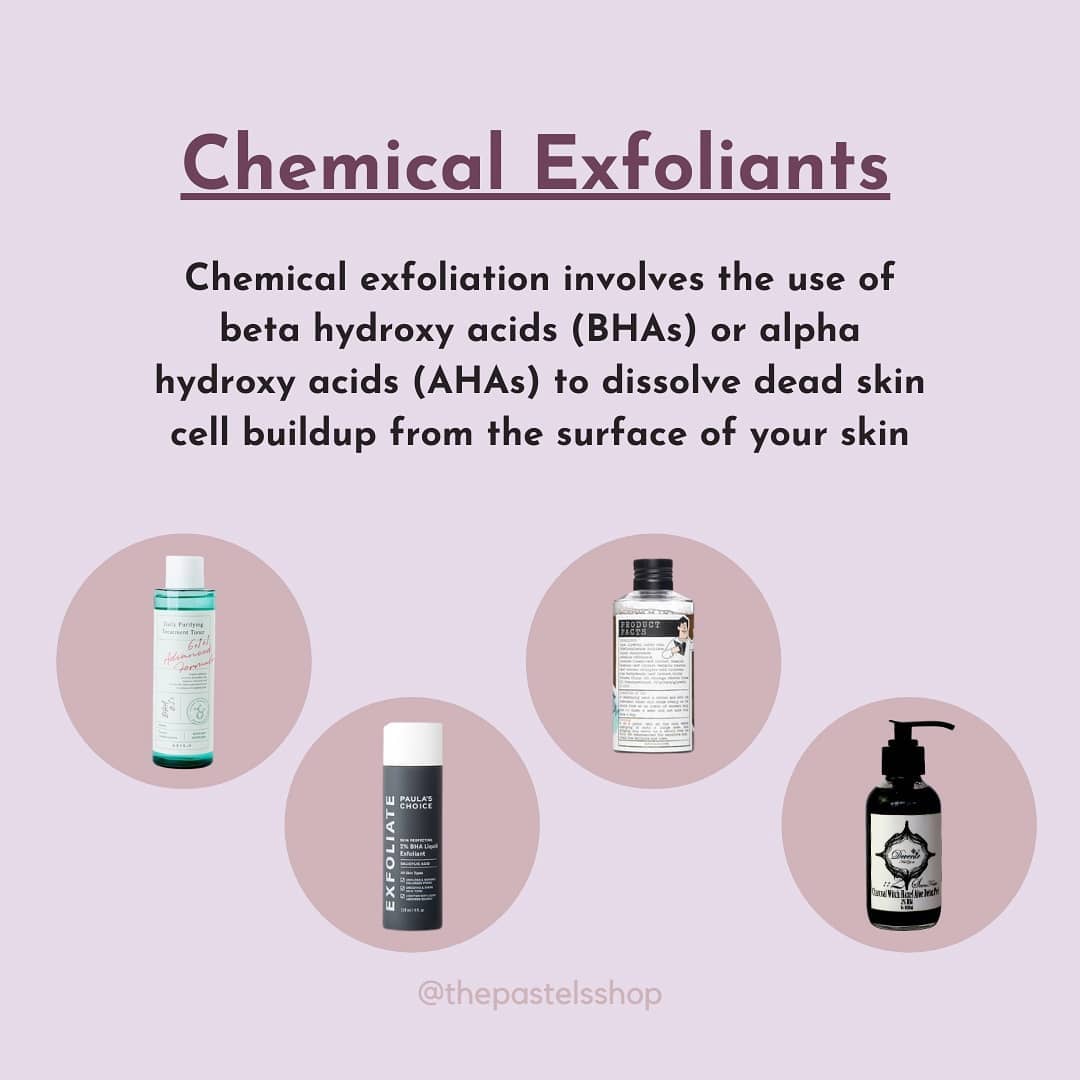 𝗔𝗛𝗔 𝗮𝘁𝗮𝘂 𝗕𝗛𝗔? 🤔

Keliru nak guna yang mana satu? Walaupun kedua-duanya mempunyai fungsi yang sama, iaitu pengelupasan (exfoliating), kedua-duanya bertindak dengan cara yang berbeza. Kondisi kulit juga perlu diambil kira dalam pemilihan "chemical exfoliant"

𝗔𝗛𝗔 bermanfaat bagi kulit yang mempunyai masalah seperti parut jerawat, jeragat, whitehead, kulit kasar & penampakan pori yang jelas. Ia membantu mengurangkan garisan halus serta kedutan pada muka. AHA lebih sesuai bagi kondisi kulit 𝗻𝗼𝗿𝗺𝗮𝗹 dan 𝗸𝗲𝗿𝗶𝗻𝗴 ✨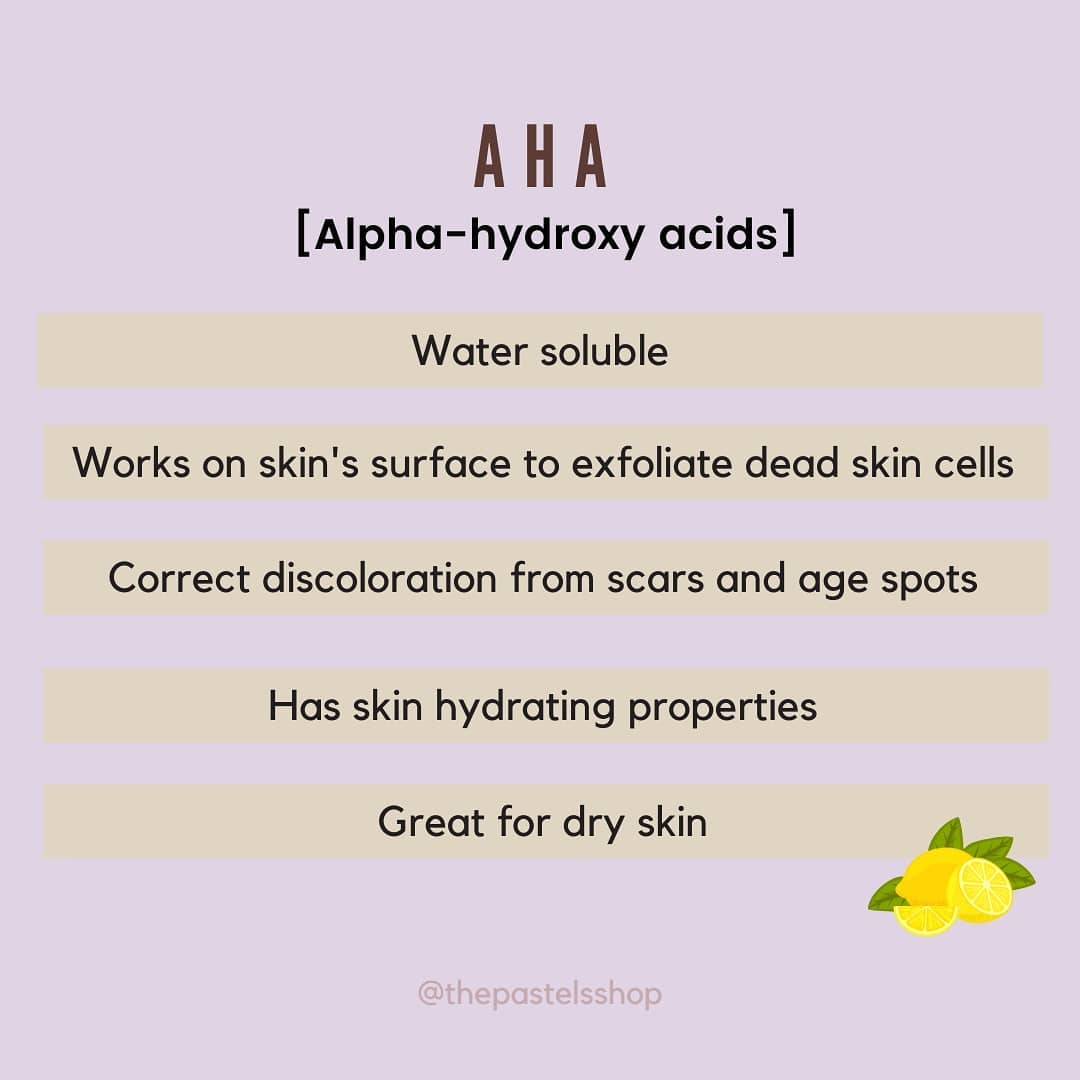 𝗕𝗛𝗔 pula membantu masalah seperti jerawat, blackheads, cela (blemishes), keradangan dan pori-pori tersumbat. Bukan itu sahaja, ia juga membantu memperbaiki tekstur kulit. BHA lebih sesuai digunakan oleh mereka yang berkondisi kulit 𝗯𝗲𝗿𝗺𝗶𝗻𝘆𝗮𝗸 ✨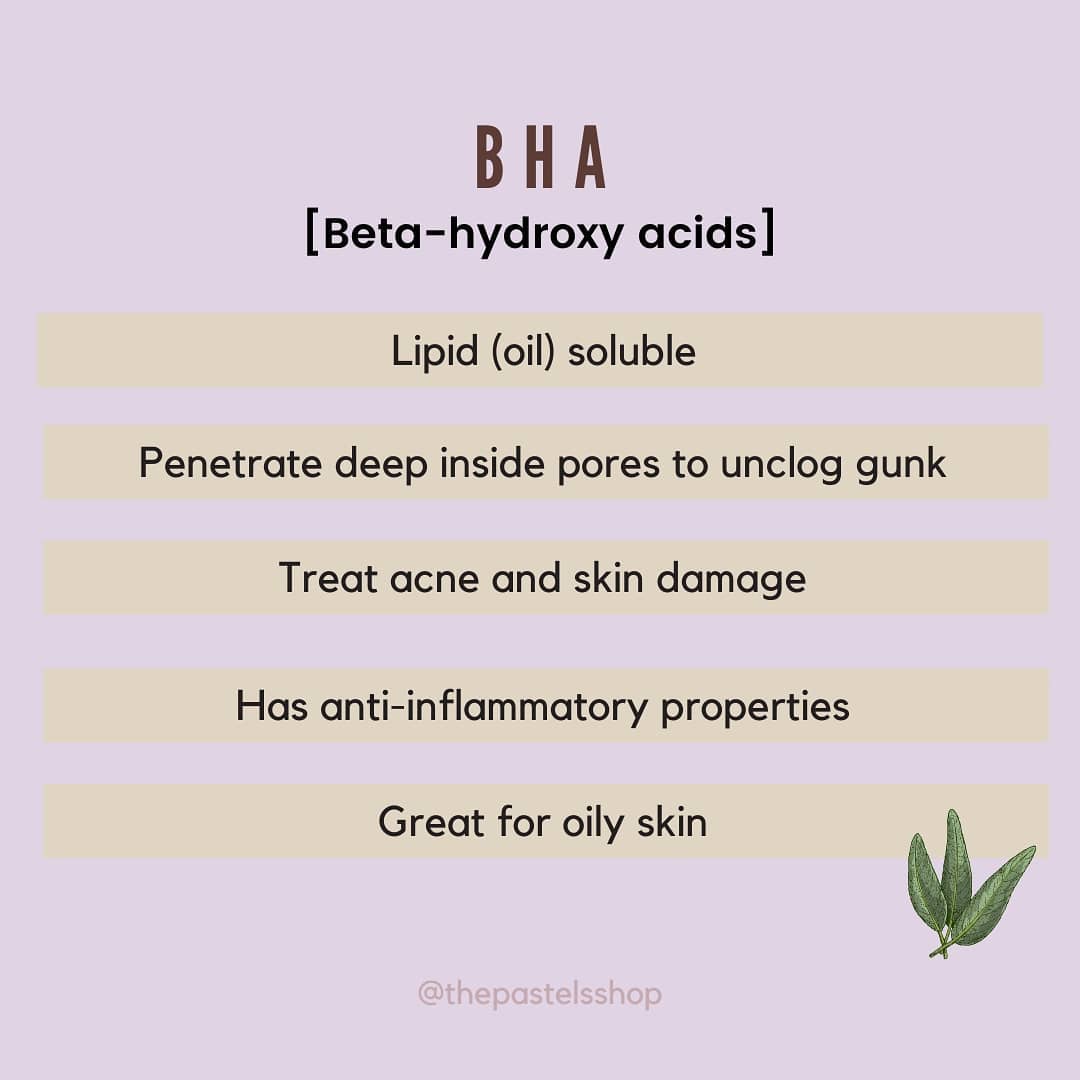 Ingat lagi tak, Pastels pernah cakap kalau kulit kering, jangan pakai Salicylic Acid aka BHA?

Semalam ada yang bertanya kembali, "jadi kalau nak exfoliate, kulit kering...nak pakai apa ya?"

Jawapannya : gunakan Lactic Acid! Ia adalah antara pilihan terbaik dalam keluarga AHA utk kulit kering.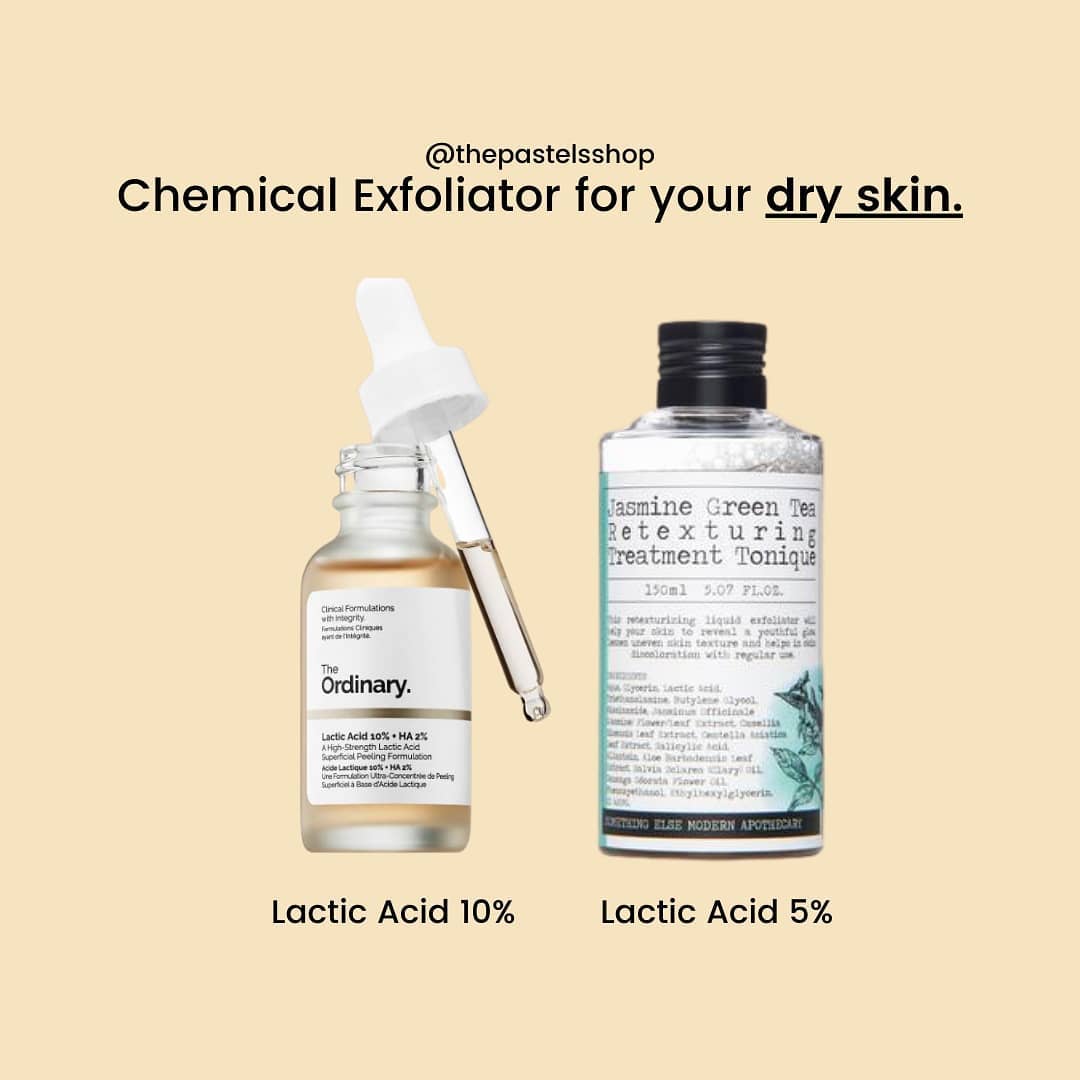 Koleksi Toner yang mengandungi AHA / BHA / PHA atau ketiga-tiganya sekali! Lebih menarik, semuanya sesuai untuk anda yang mempunyai masalah Fungal Acne✨

Untuk Exfoliating Toners, anda dinasihatkan utk menggunakan Cotton Pad ketika menyapunya. Namun, jangan tekan kuat-kuat pula, ya!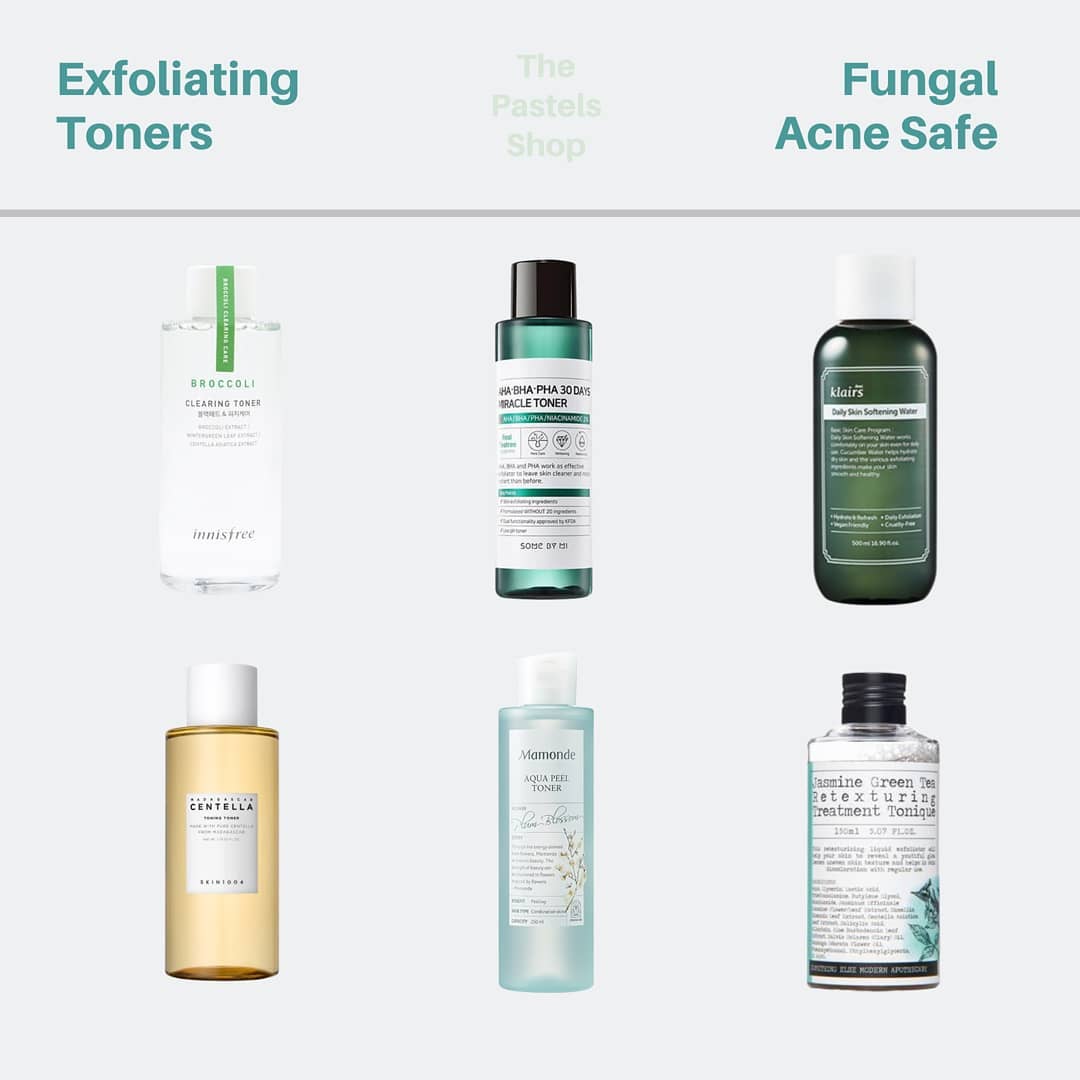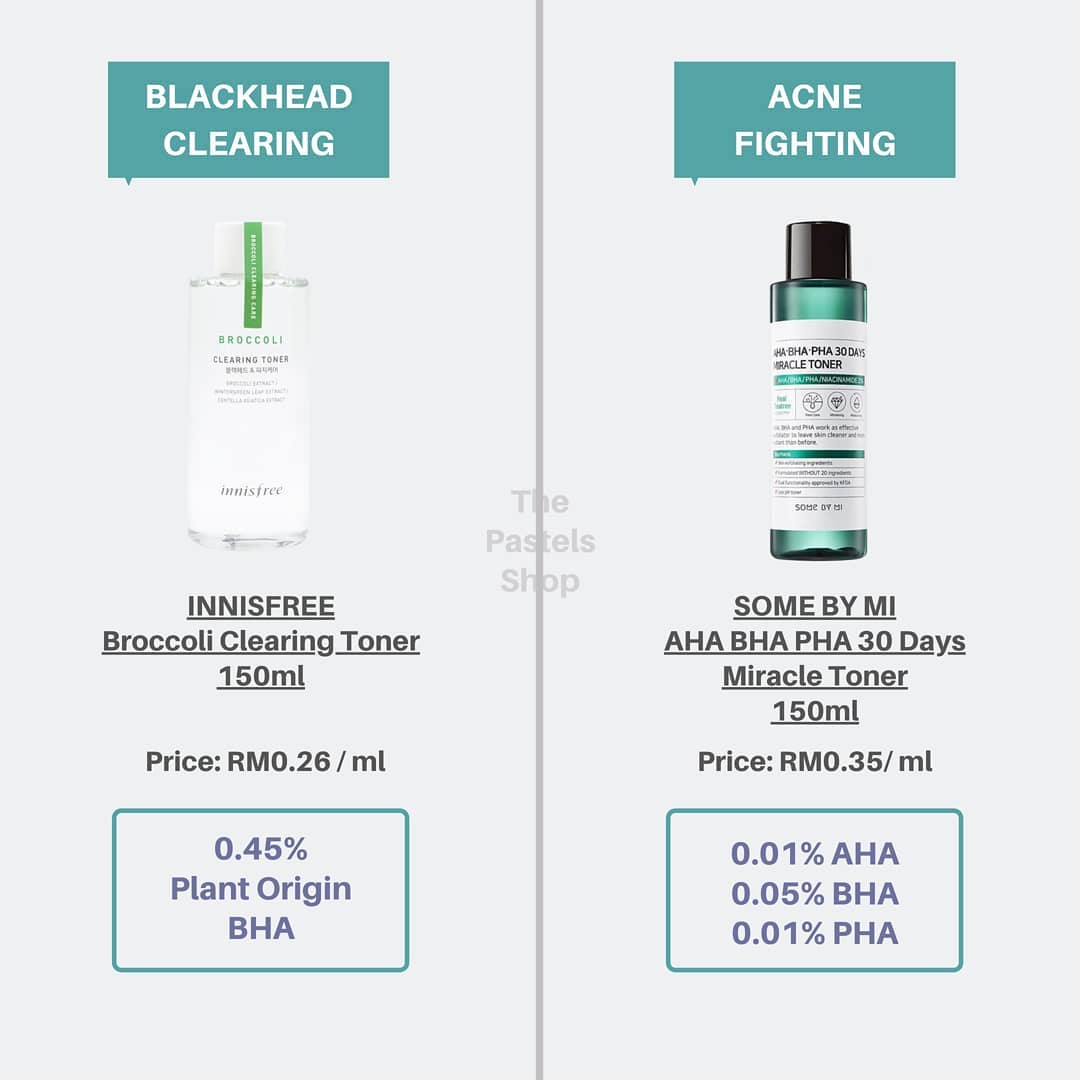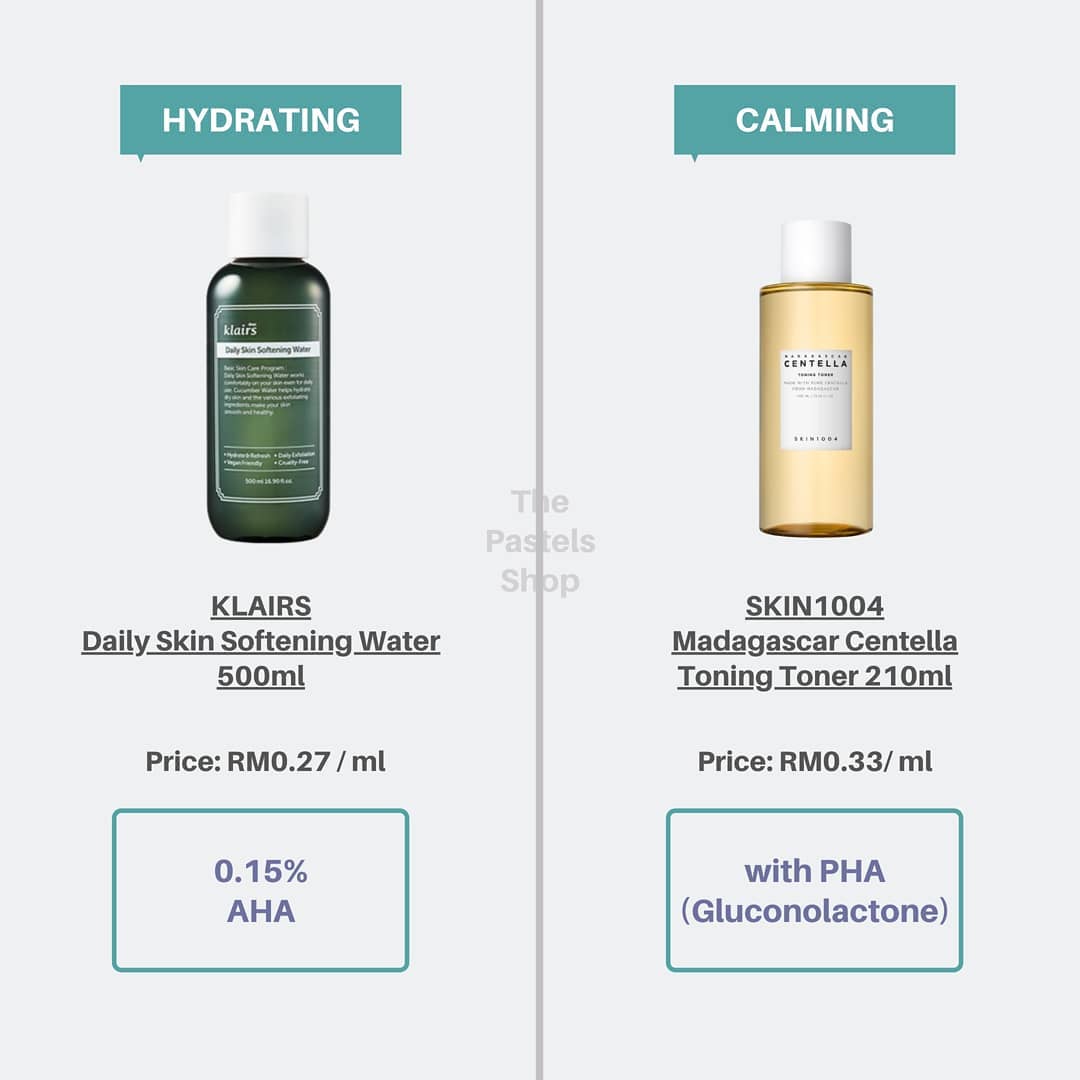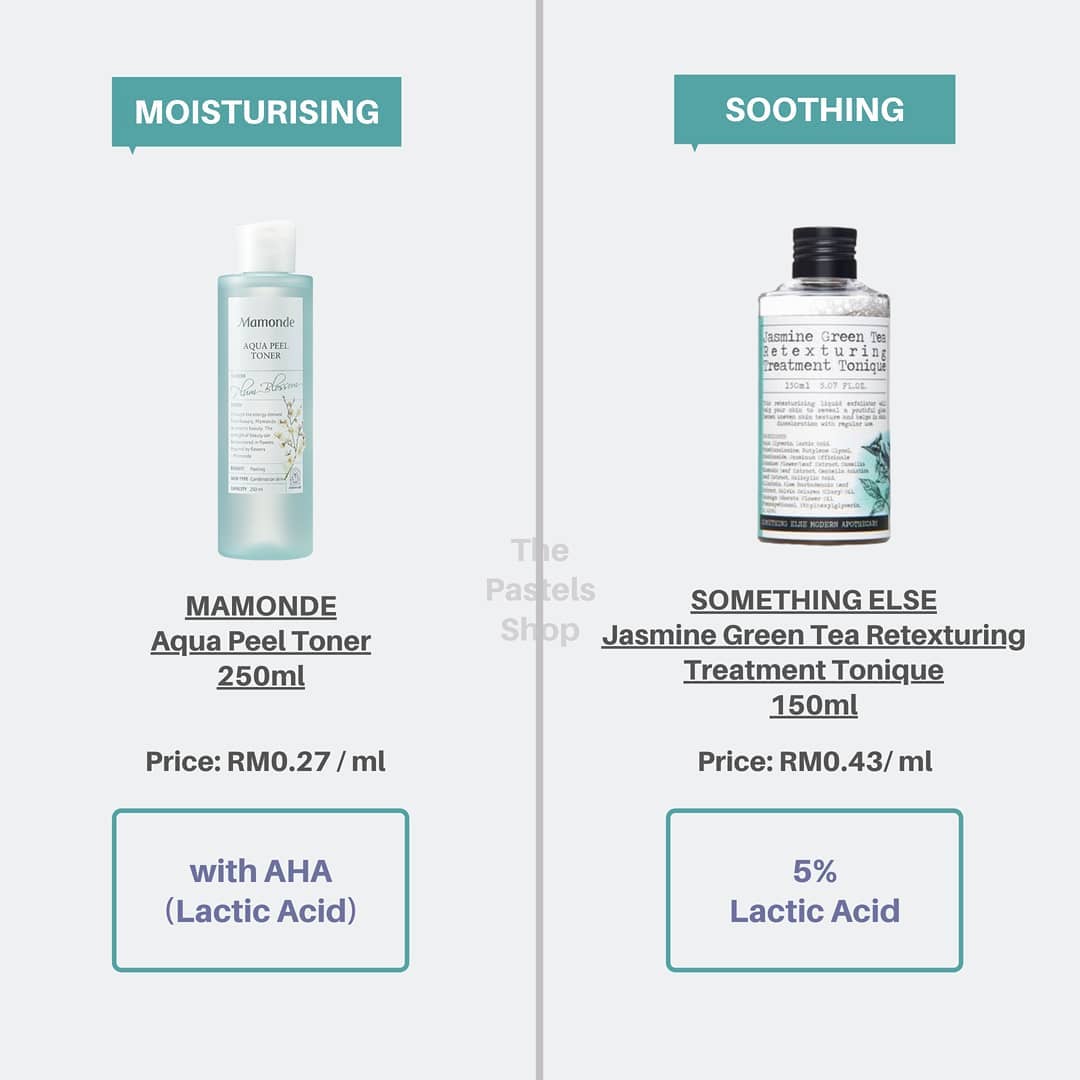 Yup, kami tahu apa 'concern' anda! Jangan risau, kami sudah sediakan satu carta khas untuk setiap jenis kulit ✨

Efek mungkin berbeza bagi setiap individu, carta ini dibuat berdasarkan bahan yang digunakan.

Walaupun sesetengah produk mengandungi peratusan Asid yang rendah, sentiasa ingat TIPS INI:

1. Pada permulaan anda terima produk, pakai 1-2 kali seminggu sahaja
2. Naikkan kekerapan kepada 2-3 kali seminggu
3. Penggunaan setiap hari tidak digalakkan, melainkan kulit anda benar-benar memerlukannya, atau dengan nasihat doktor/pakar kulit

Selamat menggunakan Exfoliating Toner! All the best!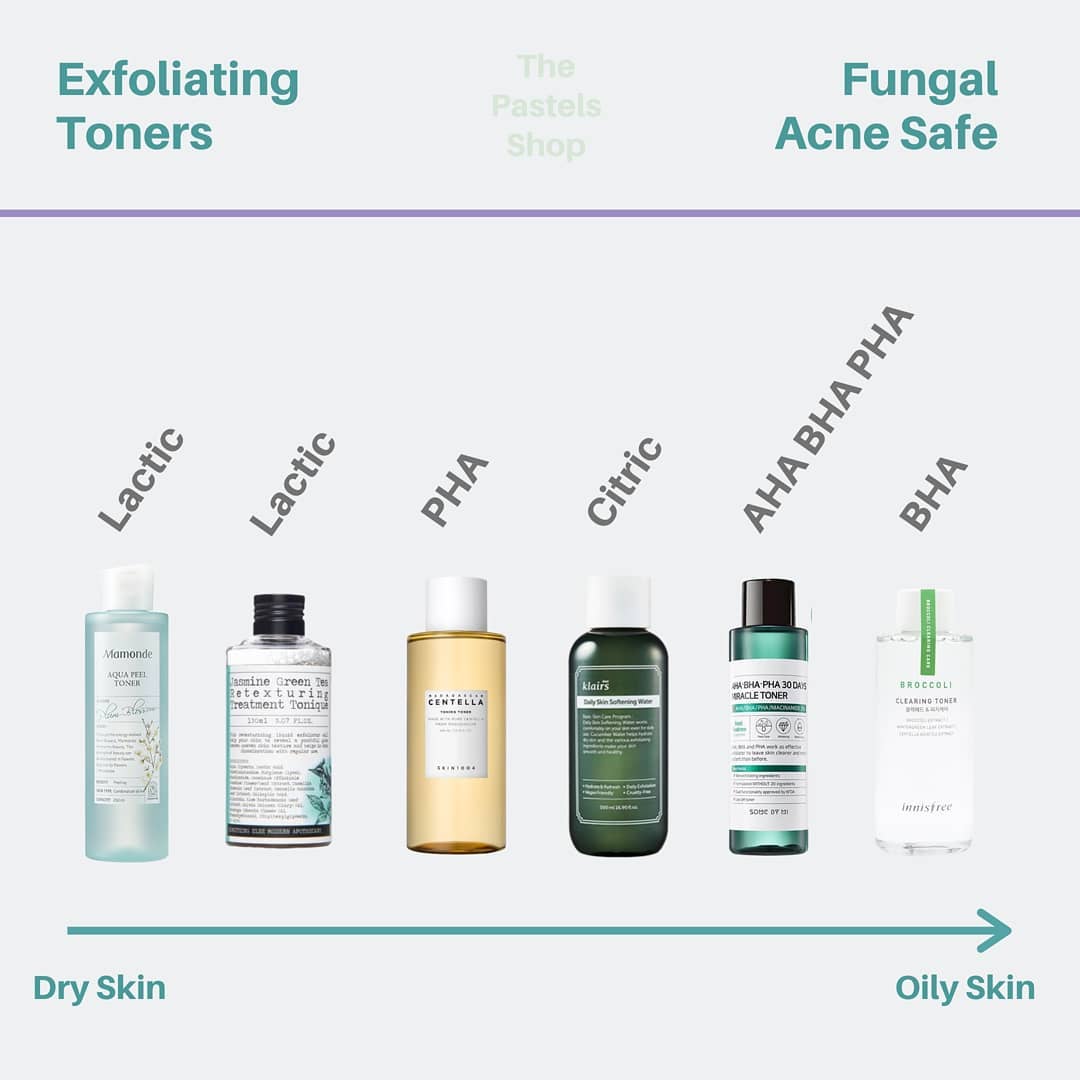 Satu Chemical Exfoliator untuk masalah jerawat, satu lagi untuk kulit normal 🧐

Tak semua orang menggunakan Chemical Exfoliator untuk mengatasi masalah jerawat, kan? Ramai di antara kita yang menggunakannya untuk mengatasi masalah hiper-pigmentasi, parut, anti penuaan dan sebagainya.

Pastels sendiri, tiada masalah jerawat namun tompok hitam kerap terjadi terutamanya apabila usia meningkat 😭

Jom kenali 2 item baru di The Pastels Shop yang menawarkan kedua-dua fungsi ini. Mana satu sesuai untuk anda? 🤔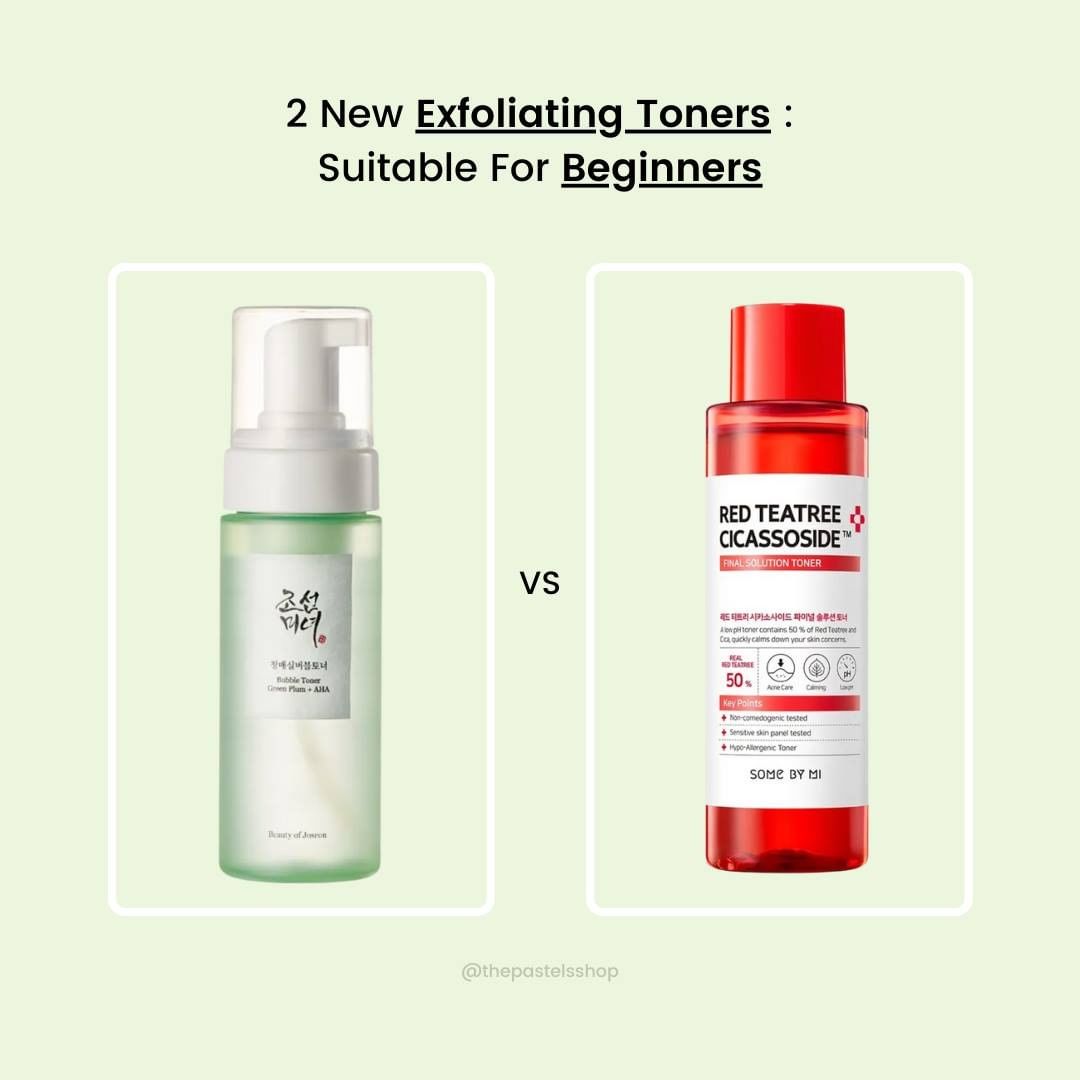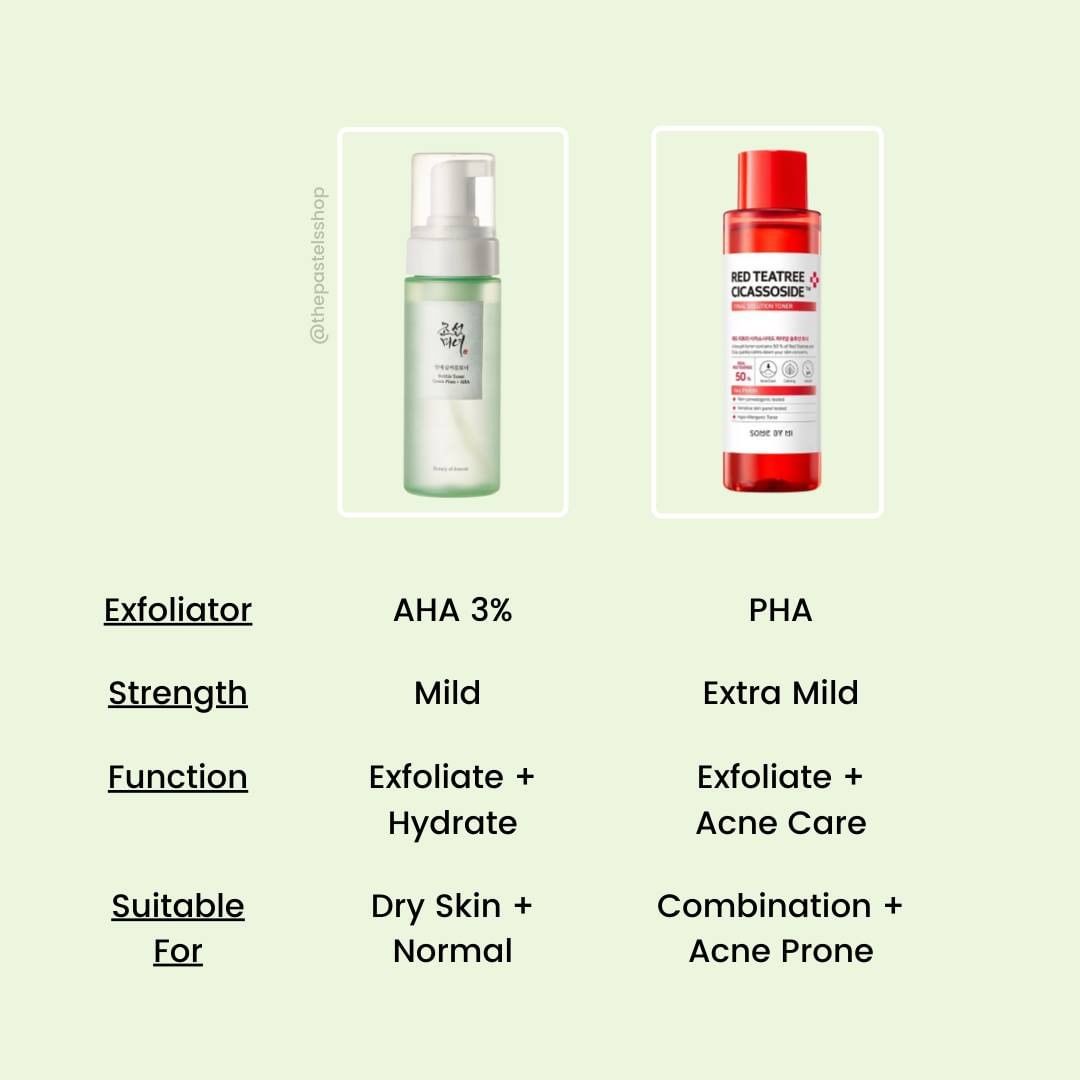 𝐓𝐇𝐄 𝐎𝐑𝐃𝐈𝐍𝐀𝐑𝐘 𝟏𝟎𝟏: 𝐋𝐀𝐂𝐓𝐈𝐂 𝐀𝐂𝐈𝐃 ❤

"𝙝𝙞𝙜𝙝-𝙨𝙩𝙧𝙚𝙣𝙜𝙩𝙝 𝙚𝙭𝙛𝙤𝙡𝙞𝙖𝙩𝙞𝙣𝙜 𝙨𝙚𝙧𝙪𝙢" dimana serum ini akan membantu dari segi pencerahan dan melembutkan kulit. 𝙇𝙖𝙘𝙩𝙞𝙘 𝘼𝙘𝙞𝙙 (AHA) akan eksfoliat kulit dengan lembut untuk mengelakkan kulit yang bersih dan berseri. 𝙃𝙮𝙖𝙡𝙪𝙧𝙤𝙣𝙞𝙘 𝘼𝙘𝙞𝙙 (Sodium Hyaluronate Crosspolymer) untuk memberi hidrasi kepada kulit supaya kulit plump, lembut dan halus. Manakala, 𝙏𝙖𝙨𝙢𝙖𝙣𝙞𝙖𝙣 𝙋𝙚𝙥𝙥𝙚𝙧𝙗𝙚𝙧𝙧𝙮 (ekstrak botanik) untuk mengurangkan iritasi kepada kulit apabila menggunakan serum ini 🤩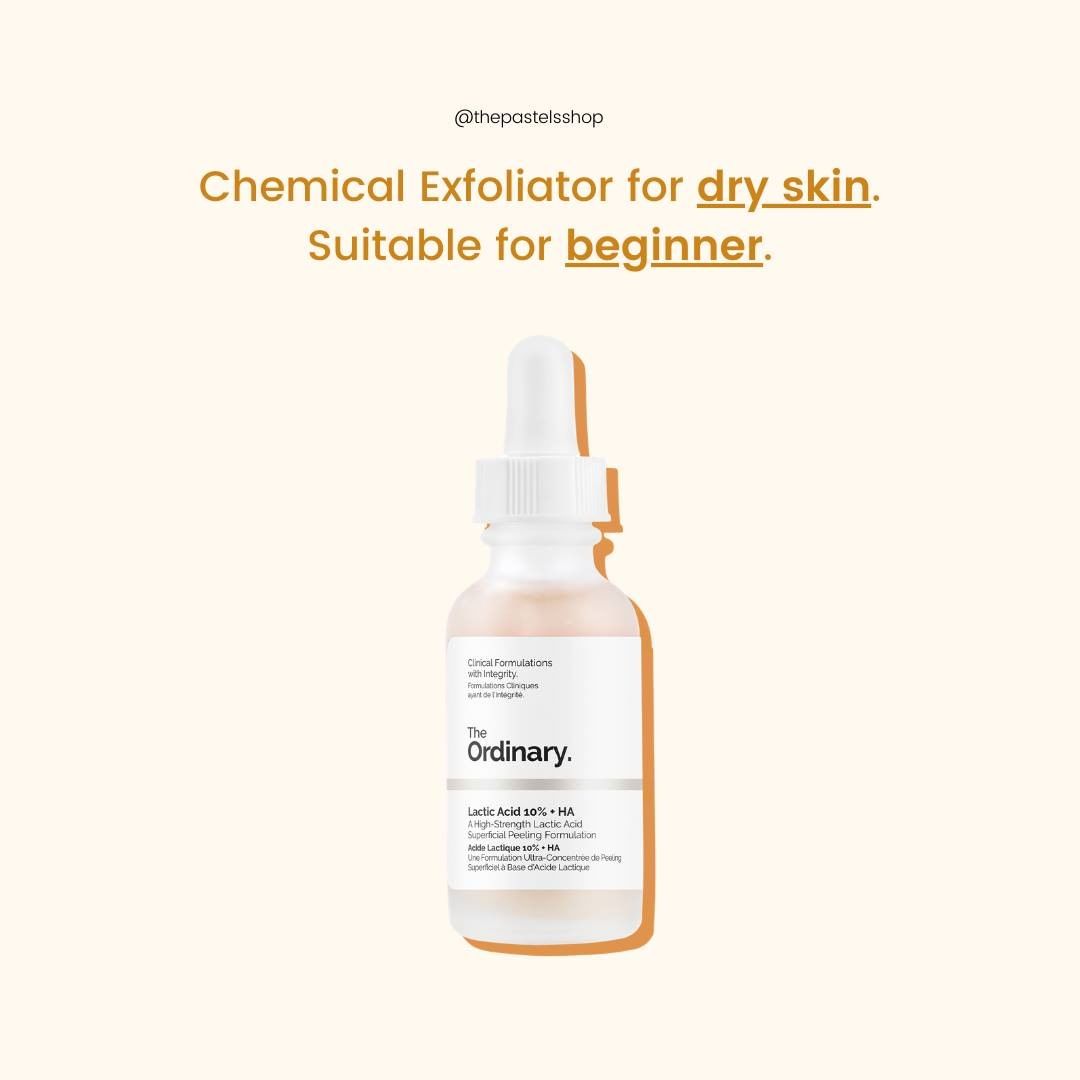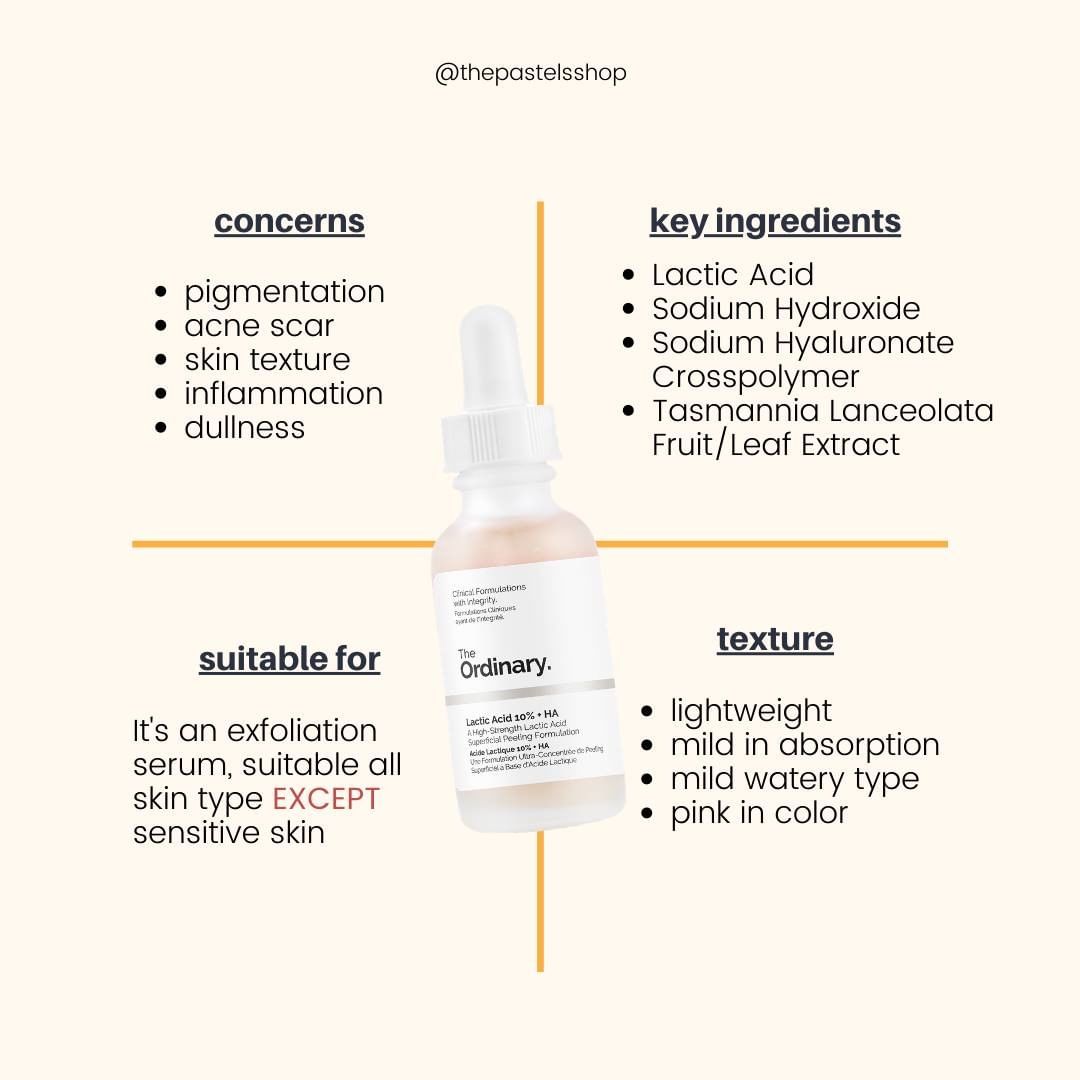 "#teampastels, kulit saya kering...kenapa bila pakai BHA terasa pedih sangat?"

"sebab pedih, saya dah takut nak pakai chemical exfoliator"

Sebenarnya, kami kerap menerima mesej seperti di atas ini 👆 Bagi kami, sangat penting untuk anda semua sedar dan tahu yang pemilihan produk haruslah bersesuaian dgn kulit dan tidak didorong oleh tips/produk viral semata-mata.

Oleh itu, bersempena dengan minggu #pastelschemexfoliationweek ini, kami nak kongsikan QUICK TIPS pemilihan Chemical Exfoliator mengikut jenis kulit.

Sangat ringkas, harap membantu anda semua dlm membuat pilihan selepas ini!