I know that physical scrubs are not trending anymore but there are days my skin craves for them. They are really good to clean and decongest the pores, but remember to use it gently.
I recently was given the chance by The Pastels Shop to try SOUL SISTERS MOROCCO Prickly Pear Face Scrub.
Let's jump right on to my experiences;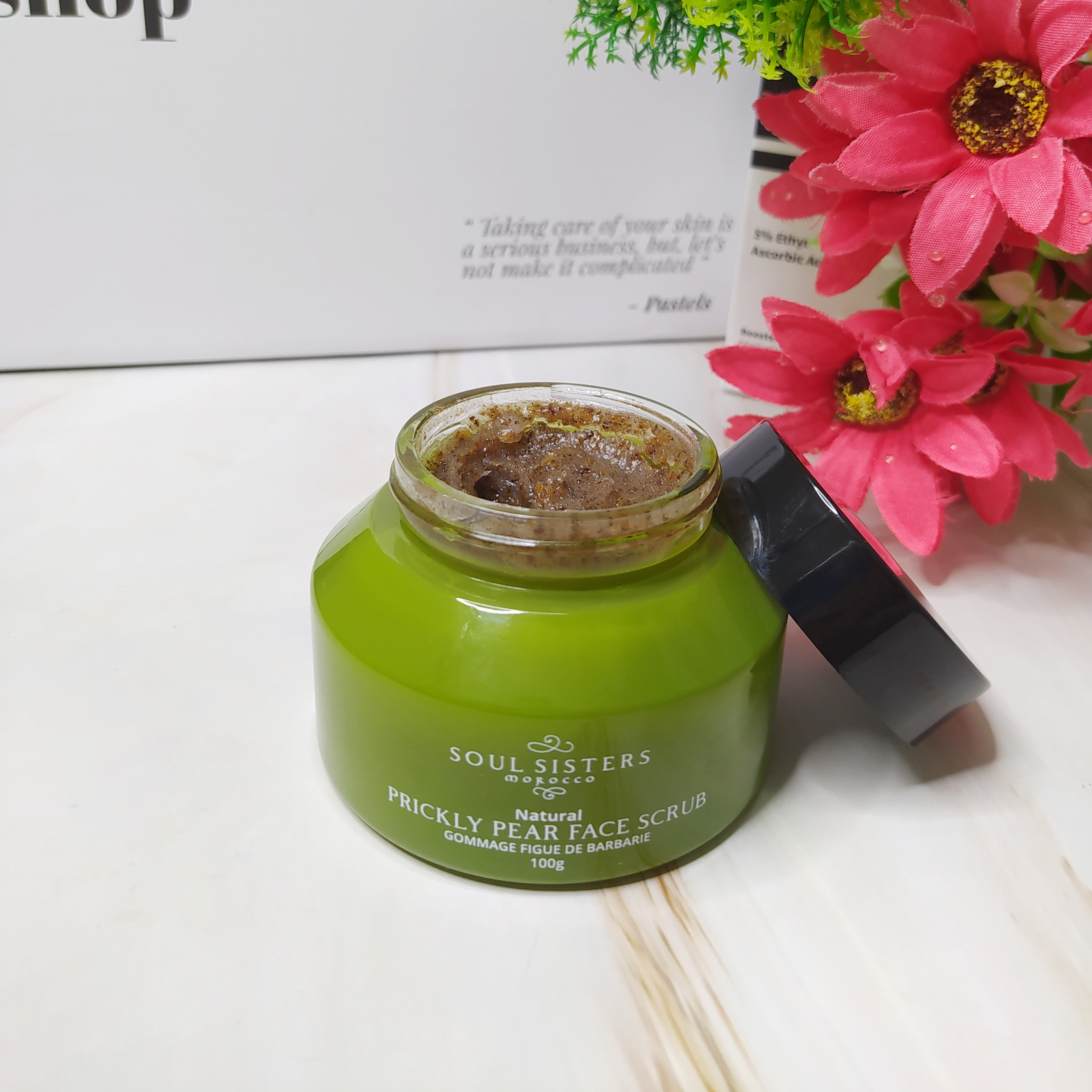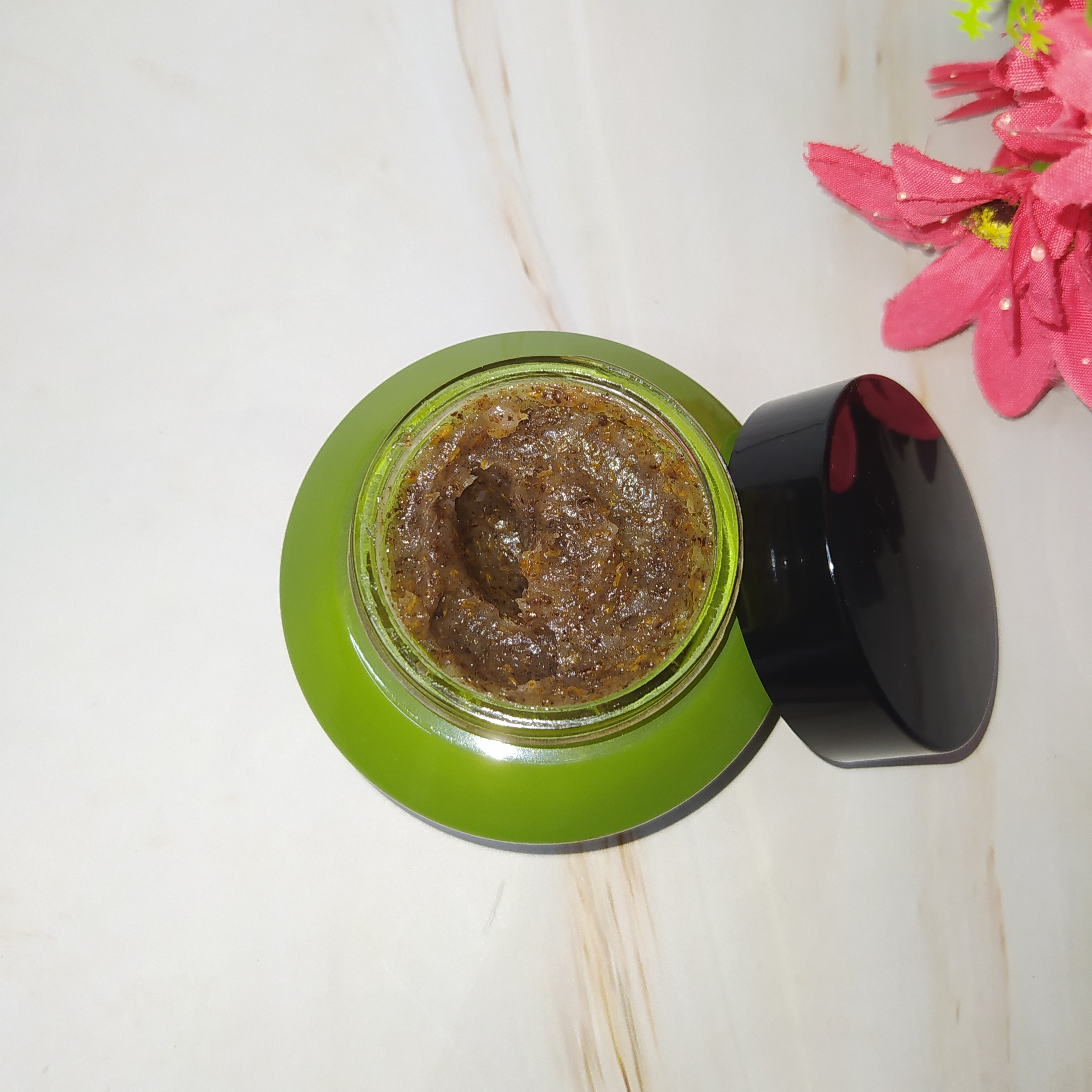 ✨ Product Description:
Prickly pear seed scrub is an exfoliating face scrub that is not too harsh or too drying, its miraculous properties buff away rough patches and eliminate dead skin cells and dirt buildup leaving your skin velvety smooth, supple and radiant. Plus it's fruity scent smells so good you'll want to eat it!
✨ Benefits:
Deep exfoliation
Reduces rough patches
Smoothens skin
Improves radiance
Magnet for your toxins
✨ Volume: 100 g
✨ How To Use
Apply the exfoliating face scrub on clean, wet face and massage softly then rinse off.
*Use up to 3 times a week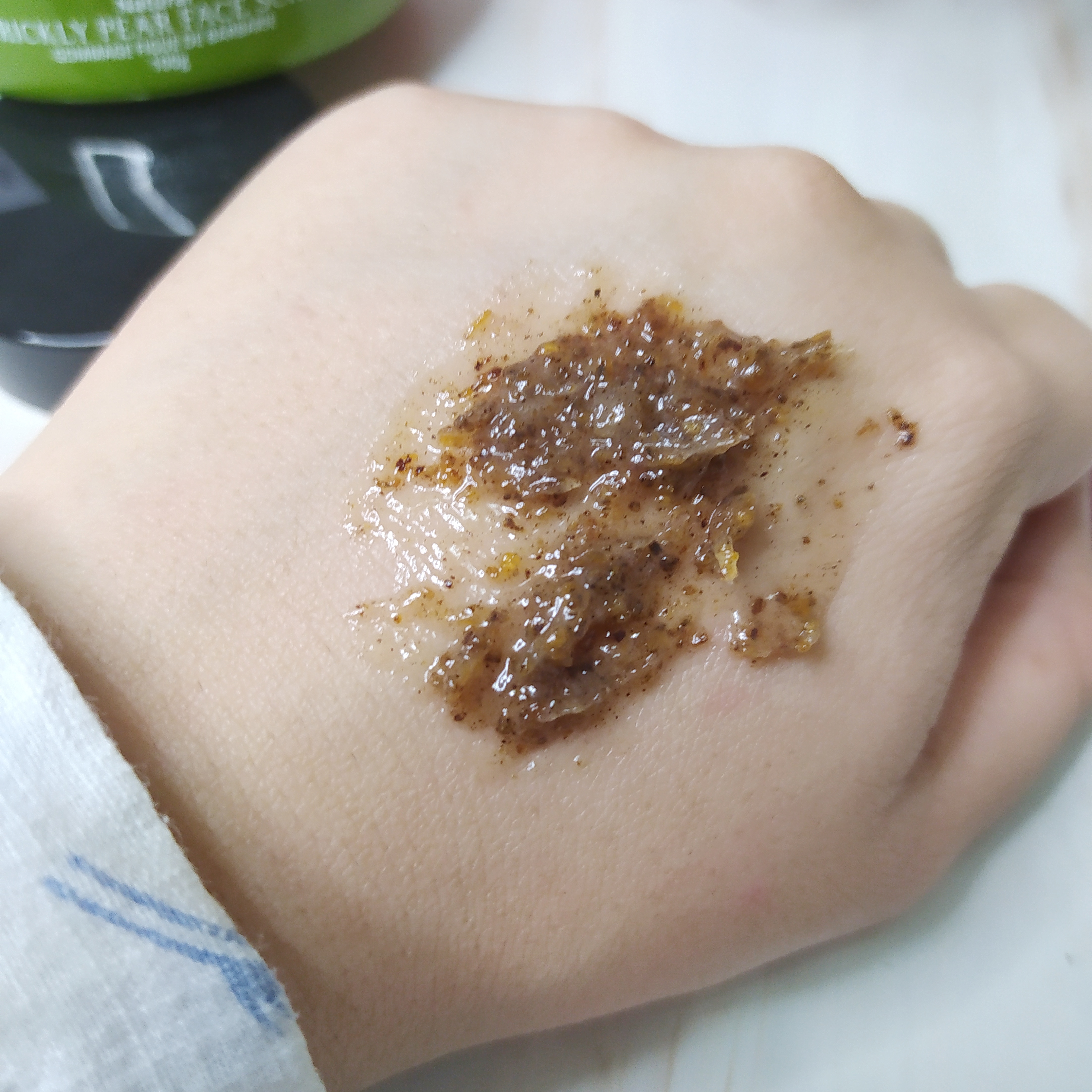 ✨ Ingredients:
opuntia ficus indica powder, almond dulcis oil, honey, argania spinosa kernel oil, stearic acid, acetyl alcohol, stealth 20, park shea butter, sera alba
Well,looking at the short ingredients list, it does contains great, moisturizing Ingredients to counter the possible dryness from scrubbing off your skin.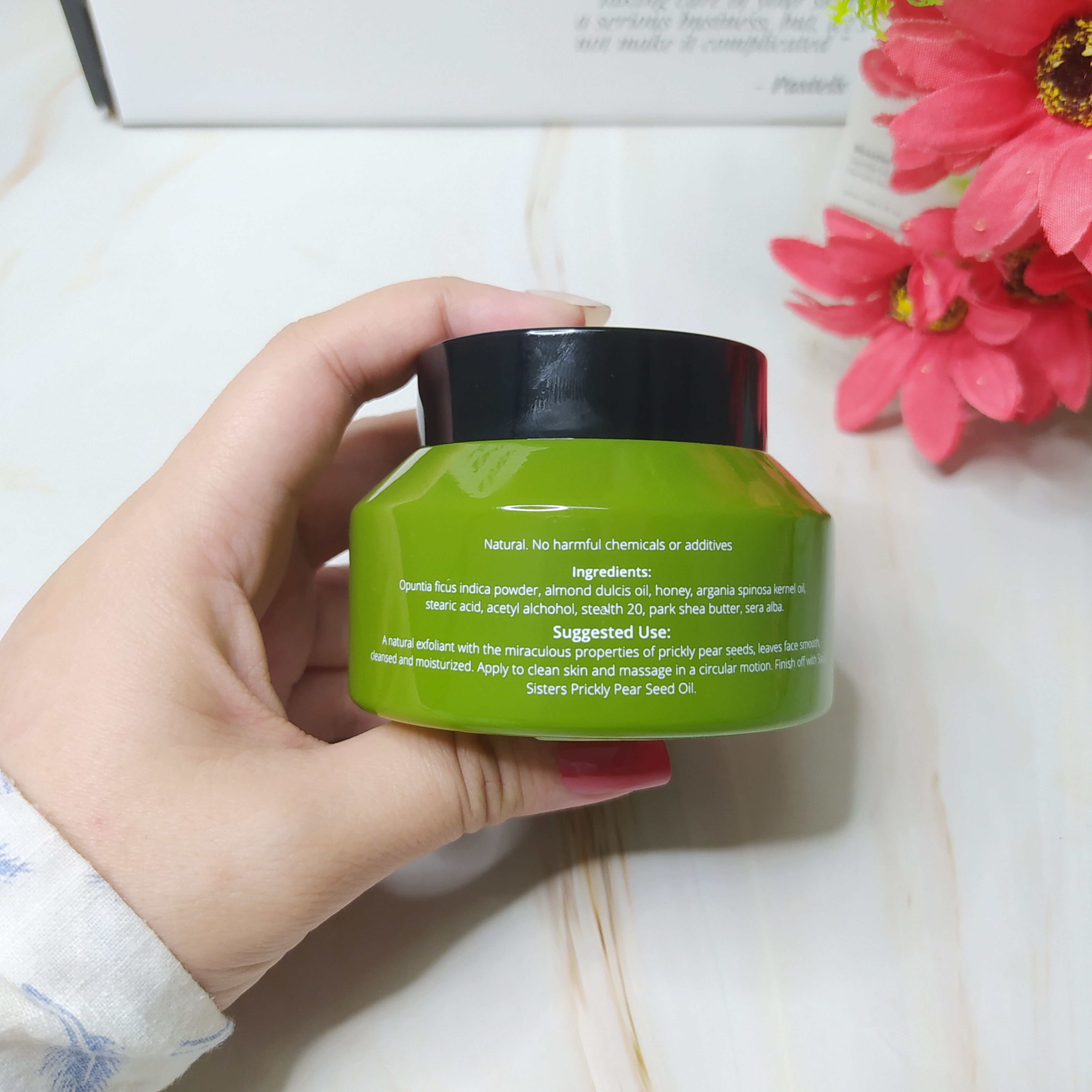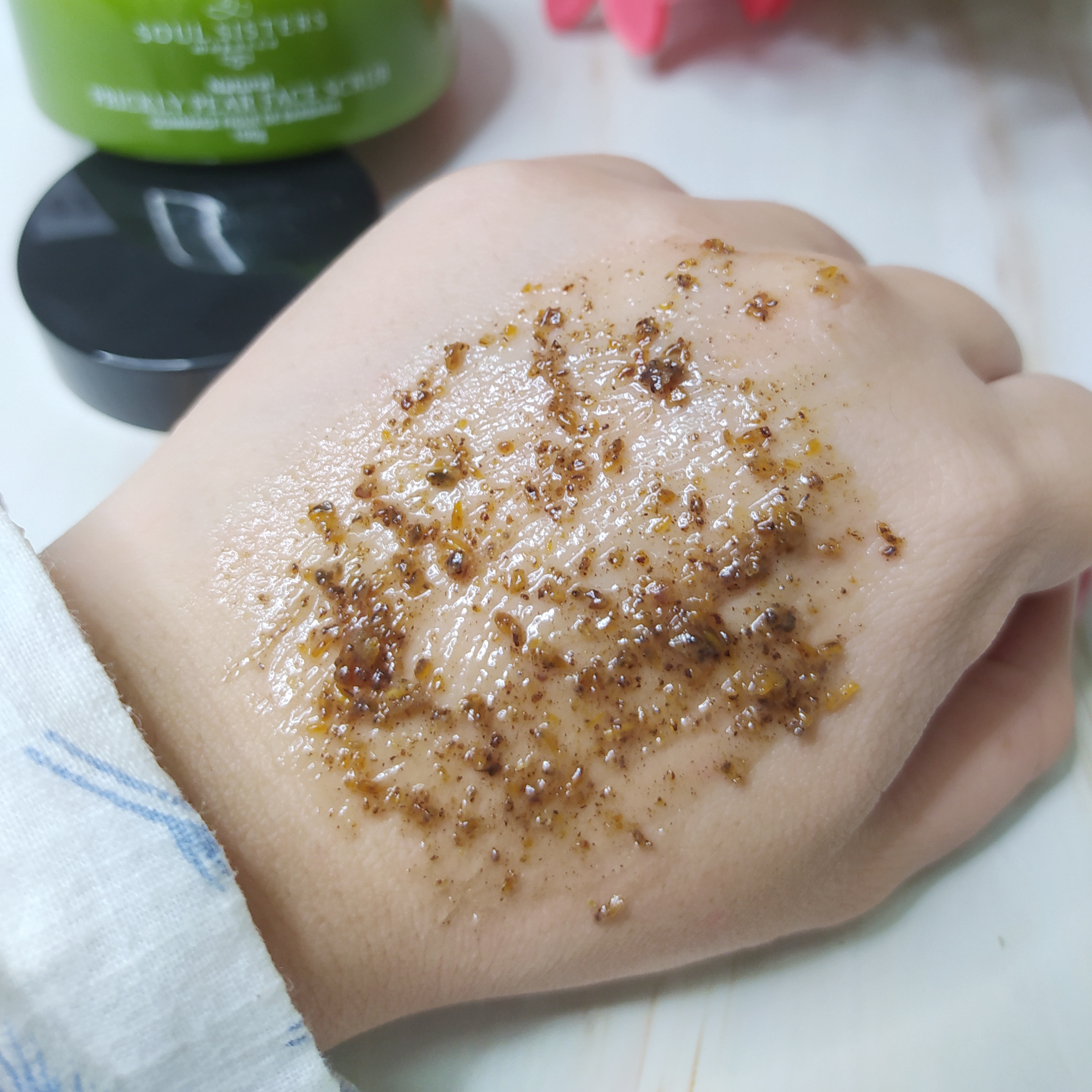 ✨Packaging:
The scrub comes in a bright green color, glass tub/jar with a black outer lid and second white inner lid inside. It's bulky and heavy which may be bit unfriendly for travelling,but you can just decant it into a smaller container.
Although it's not travel friendly, it is easier to recycle, so yes to our Mother Earth.
There are some information at the back of the tub; the ingredients list and instructions. The expiry date is available at the bottom of the tub.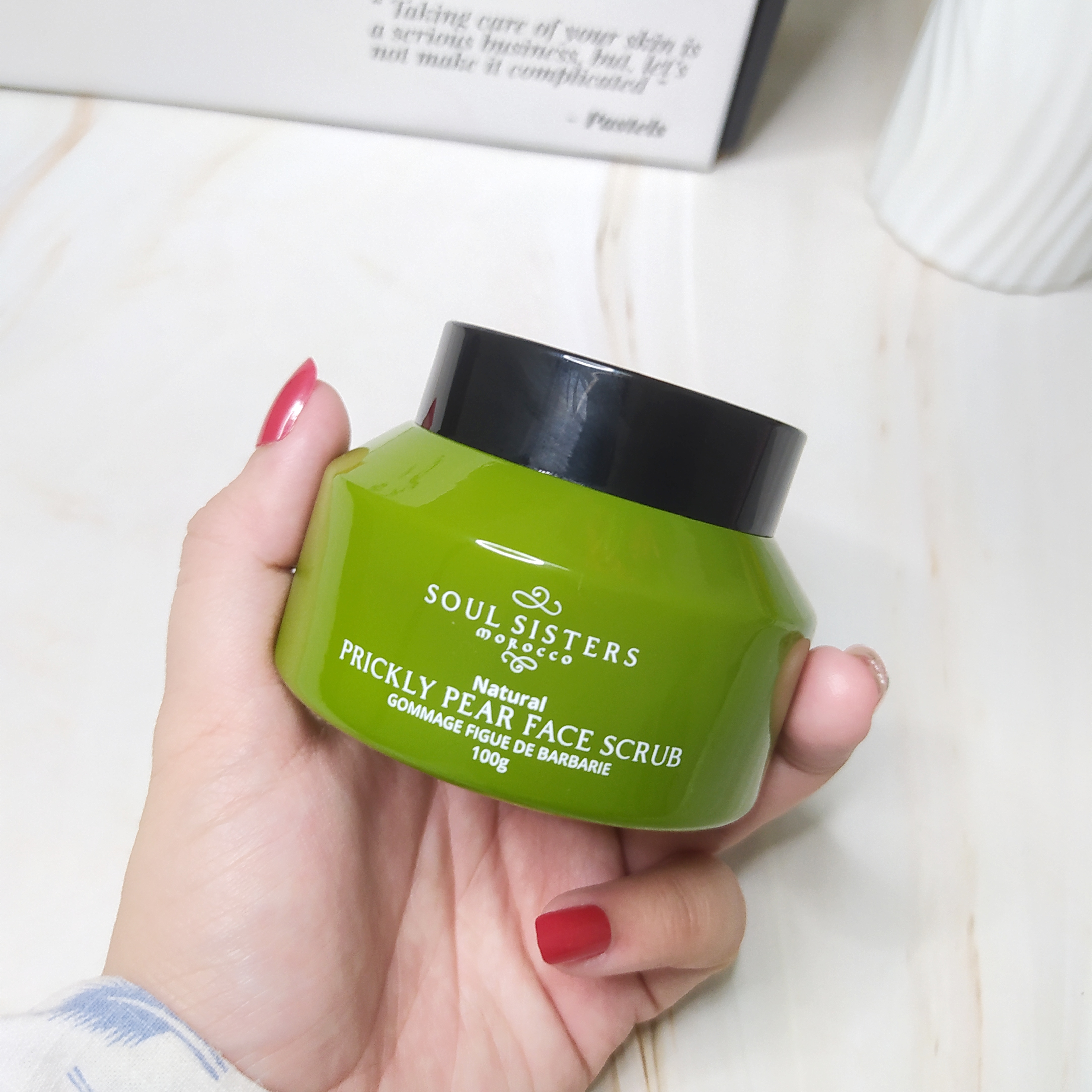 ✨ My Experiences:
One of the reasons I love a physical scrub is the heavenly scent of it. This one has a strong scent of prickly pear, which makes me hungry everytime I use it. Hahaha it gives out a pleasant fruity scent that I do enjoy.
The scrubs itself is the coarse type, medium particles/beads in size. Remember to spread the scrub on wet skin as it can be a bit abrasive to use on dry skin. With the nice scent, I really feel like doing a facial at the spa; Home Spa ❤️
As it contains some plants oils, it glides quite smoothly on my skin. Rinsing it off is hassle free too. The skin feels refreshed and pores are clean after using it.
As the scrub comes in a big tub, with 100 g of volume, I also use it on my body. Love the scent so much. It does lingers on the body though.
I didn't experience any adverse reactions (itchiness, redness, irritations) while using this product. All of the comments are based on my experiences and only my own. However, you may experience different reactions because our skin varies individually. YMMV.
✨Results:
I personally think this scrub does a good job at decongesting my skin, especially my skin is now prone to be congested due to over wearing of face mask these days. It lifts up the impurities in my pores with a gentle massage that's therapeutic.
My skin feels quite moisturized even after rinsing it off, since it does contains almond dulcis oil,, argania spinosa kernel oil and Shea Butter. I love a physical scrub that doesn't strip off my skin's moisture barrier. This is good for my oily skin.
✨ Tips: Mix the scrub in the creamy cleanser to avoid it being too abrasive on the skin. You may also add in facial oil for a smoother scrub experience.
✨ Rating: 4/5