Most of Vitamin C products need extra care especially the storage area in which may affect their efficacies. As for me, I love to incorporate Vitamin C products into my skincare routine but often, I'm disappointed with the short time of oxidation of the products even when I store them in a dark place or refrigerator.

When The Pastels Shop launched their very own Vitamin C serum, I know it is a must try. I am especially excited when they mentioned that I don't need to put in extra care for it as it has a stable formulation.

AA2G 2% HTS (Hyperpigmentation Treatment Serum) is a time-released stabilized Vitamin C in a gel formulation and gentle enough for daily use.
Here are another positive points for the serum:
Fungal Acne Safe
Pregnancy Safe
Minimal Ingredients
Silicone-Free
Alcohol-Free
Suitable For Sensitive Skin
Precautions:
Keep out of reach of children.
Patch testing prior to use is advised. If irritation occurs, cease use and immediately consult a physician.

Storage:
Store at room temperature, avoid direct sunlight.

Claims:
Inhibits production of melanin
Lightens eumelanin and improves pigmentation
Protects from skin damage caused by UV lightsensation

Price: RM 42.00 for 20 ml

How to Use:
Apply a pea-sized amount on cleansed skin day & night. Use alongside sun protectors during the day.

Key Ingredients:
L-Ascorbic Acid 2-Glucoside (AA2G™):
A stabilized form of Vitamin C which is a potent antioxidant, boost collagen production which increases firmness in the skin, and helps to lighten dark spots and brighten the skin.
Aloe Barbadensis Leaf Extract:
Promote wound healing, soothes and reduces skin's irritation

Full Ingredients:
Water, Glycerin, L-Ascorbic Acid 2-Glucoside (AA2G™), Dipotassium Glycyrrhizate, Phenoxyethanol, Xanthan Gum, Sodium Benzoate, Ethylhexylglycerin, Aloe Barbadensis Leaf Extract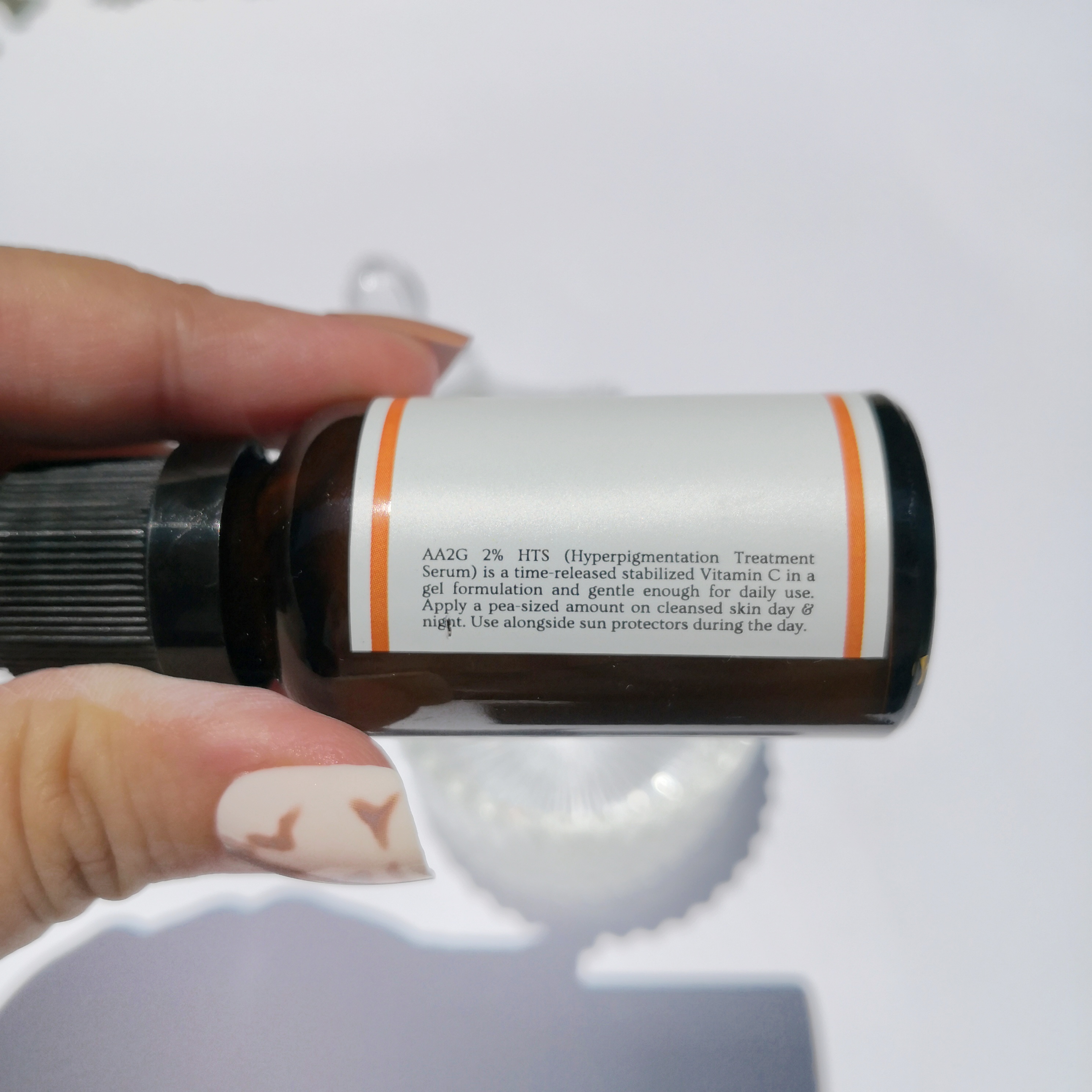 Packaging:
The AA2G serum comes in a glass bottle with a pump. It is easy to dispense out adequate amount of serum from the pump.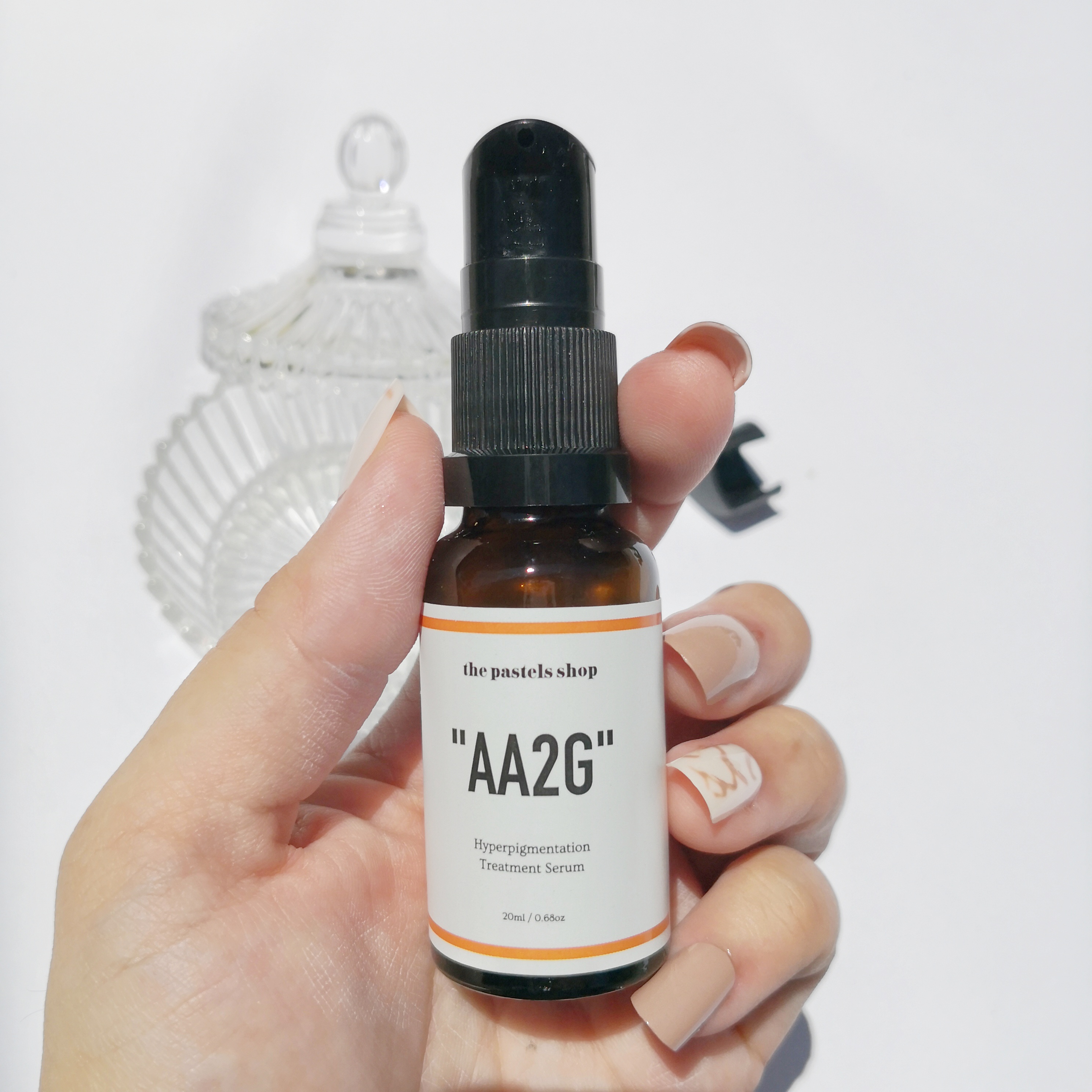 There is a space to write the opened date. So it's convenient to check when the PAO ends.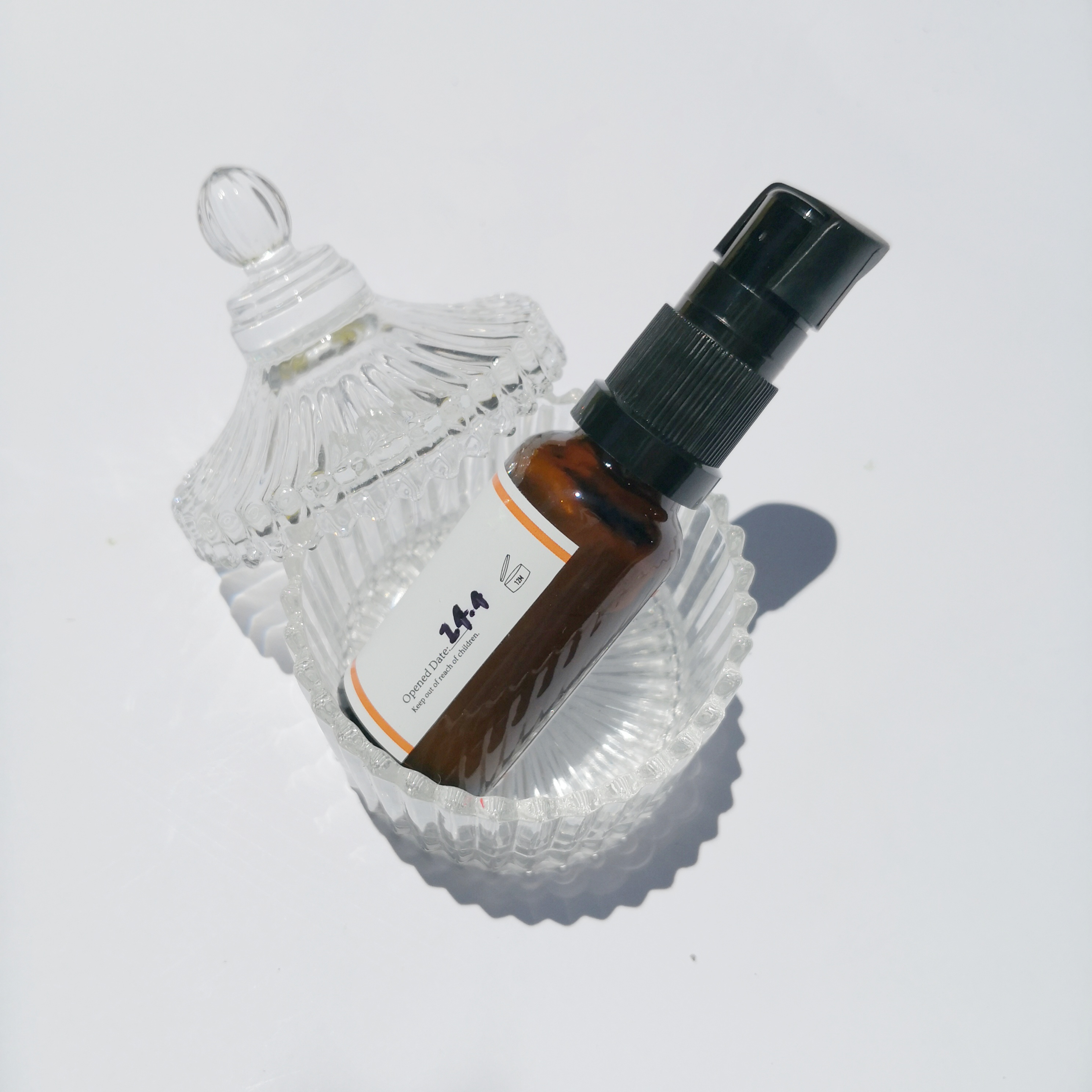 My Skin Type & Concerns:
Oily, Acne Prone skin with uneven textures,blemishes and Post Inflammatory Hyperpigmentation (PIH)

My Experiences:
I have been using this AA2G serum for only 2 weeks. So I'm sharing more of my first impression on it since Vitamin C products usually would show visible result for Hyperpigmentation after 2 months of usage.

The serum has no specific scent but it does has a subtle sour like scent, probably from the overall formulation of the ingredients. It subsides after the serum has fully absorbed into the skin, so I don't mind it at all.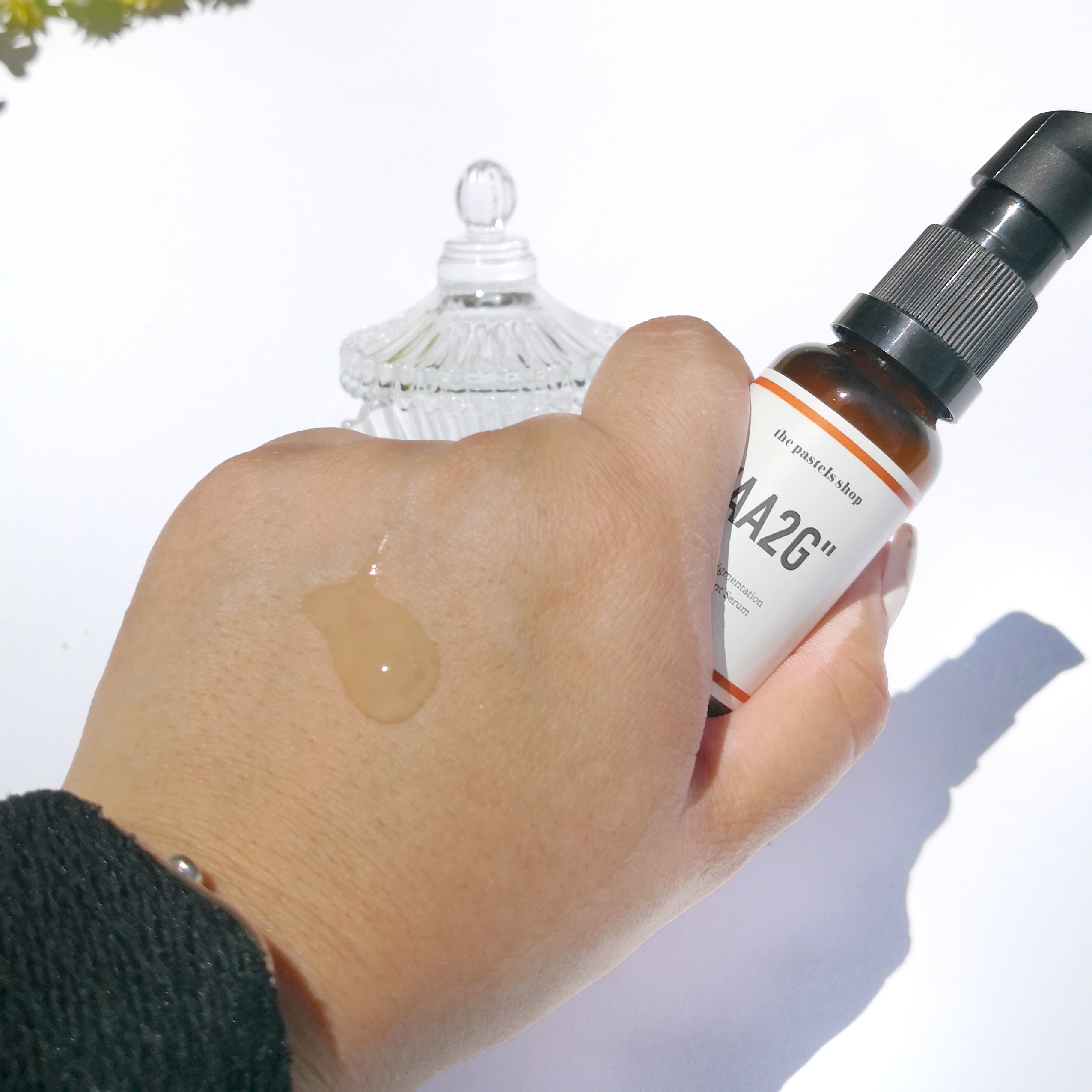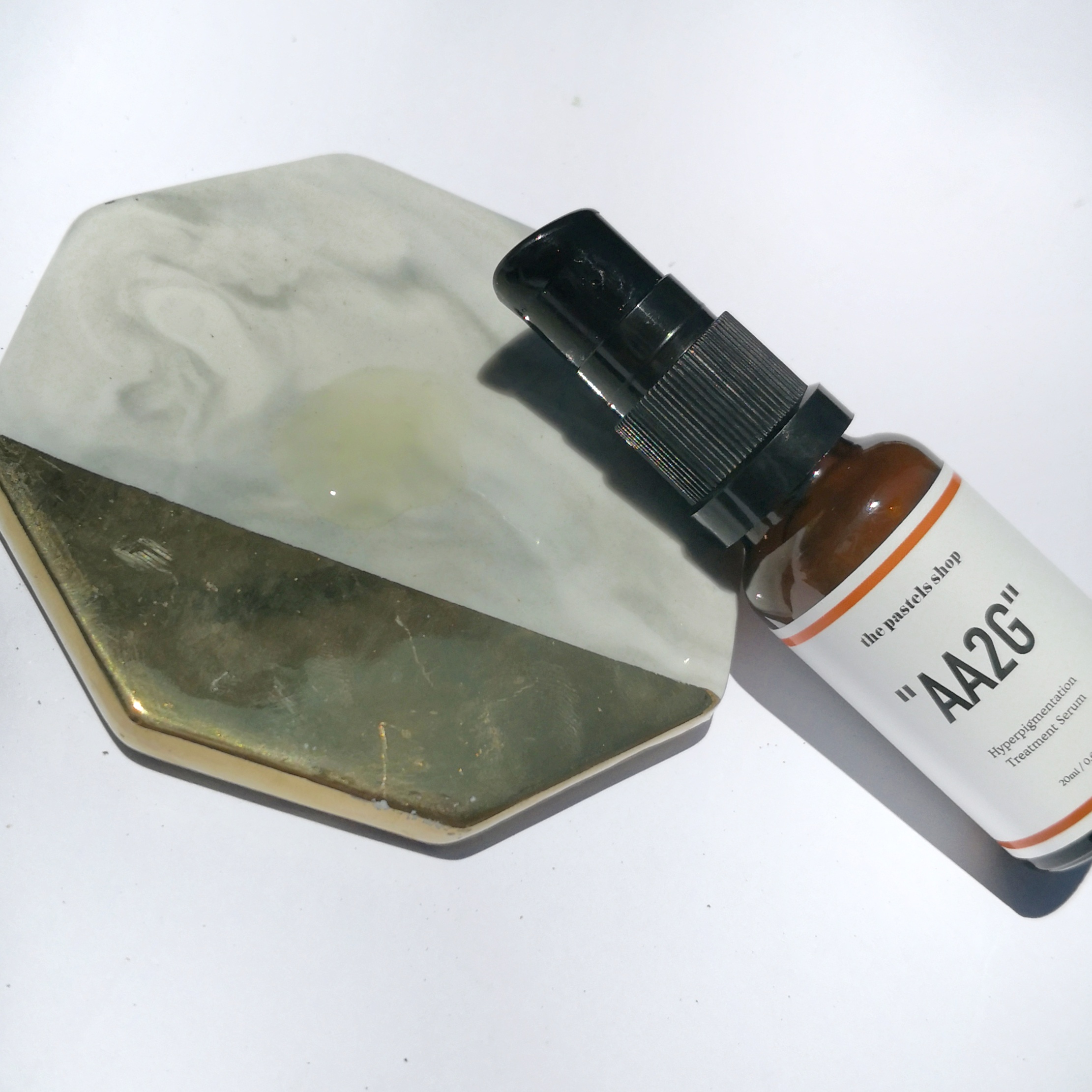 It has a soft gel-like consistency which makes it easy to permeate into the skin in short time. Thankfully it doesn't leave any residual layer on the skin nor any tackiness. It feels hydrating and non-drying to my skin. It has a pale orange colour to it as in the photo below.

Over the period of 2 weeks of using the AA2G serum, I can see some improvement with the PIH I have, especially the new ones seem to fade faster. As for the old dark spots, it takes slower time to fade but I do see some lightening effect.

I do need to use it for longer period of time to check if there is any good improvement on my Hyperpigmentation.

As of the current time, I do enjoy having the serum in my routine. It is easy to incorporate and I have not experience any adverse reactions to it.

Rating: 5/5

Friendly reminder:
Remember to put on sunscreen of SPF 50+ whenever you have Vitamin C product in your routine before heading outside as Vitamin C may make your skin sensitive to the UV rays.