Product Claims

The Pastels Shop "Holo" Sea Cucumber Rejuvenation First Ampoule 15ml
A triple function first ampoule made from natural origin Sea Cucumber that helps to reduce acne, rejuvenate skin texture and helps toning up skin pigmentation or dark sports. Use daily right after toner, before essence or serum as first layer of treatment.

The Pastels Shop "Holo" Skin Hugging Sleeping Mask 20 ml
An overnight mask that gives the skin hydration, well-rested appearance the next morning for a fresh look and youthful skin.

Packaging
The ampoule comes in an opaque airless pump. The packaging is simple and hygienic.Although, the bottle is opaque and I can't see how much product I've used. Let me tell youthe secret of the airless pump bottle.
Tip: Buka penutup di bahagian bawah botol untuk periksa berapa banyak produk yang telah anda guna. Tiada masalah kan?
So far, Idon't find any problem with the packaging. It pumps out just a perfect amount of product. Ican also write the opened date on the given space at the packaging label after opening theproduct. The period after opening is 12 months.The sleeping mask comes in a tub glass packaging. When I open the tub, there's a second lid to prevent the mask from spilling. As these two come in trial version, the packaging is convenient for travelling.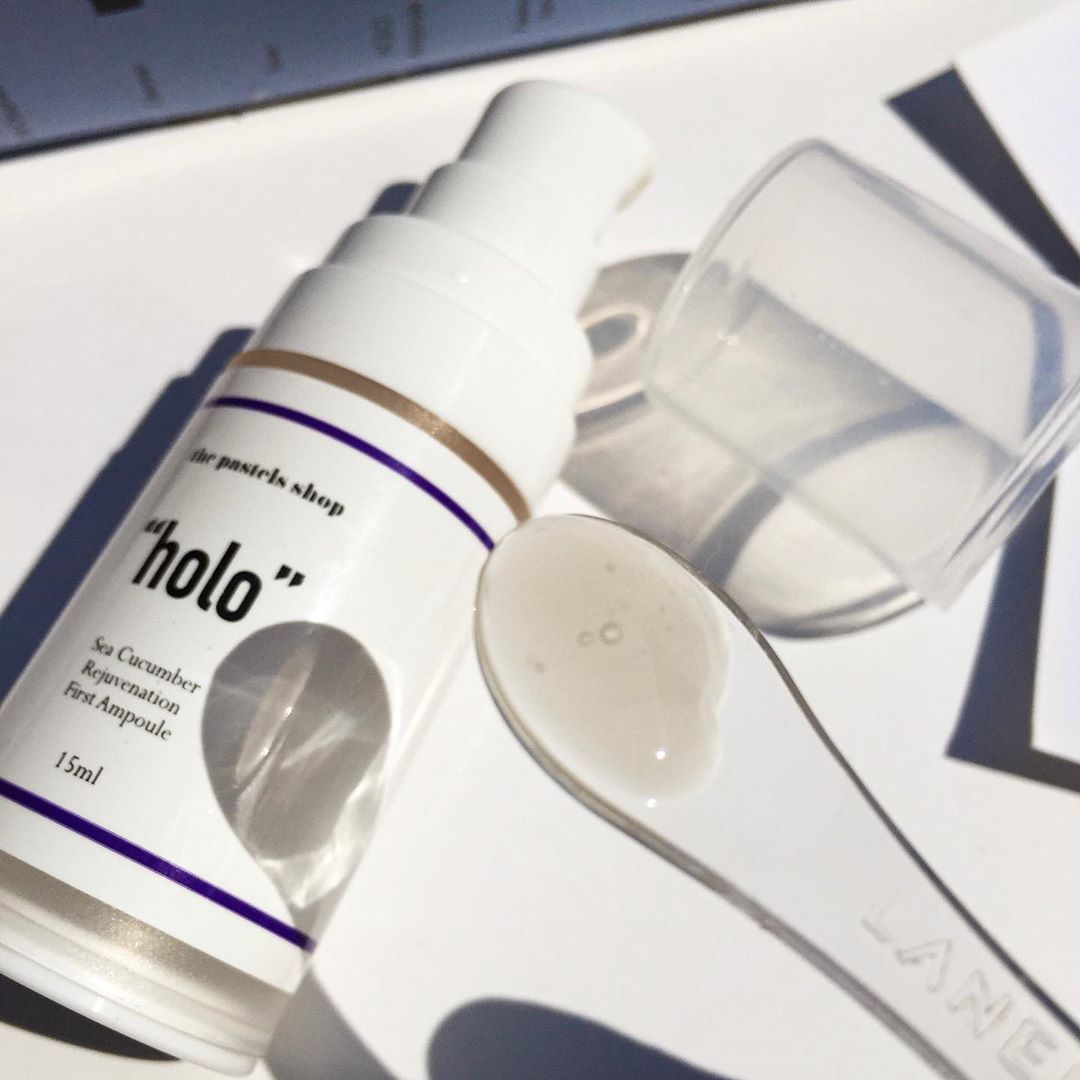 Texture and Scent
The ampoule has clear water-gel texture that spreads like water when in contact with skin. I don't find any noticeable scent. I'm amazed it doesn't smell like traditional gamat ointment. I believe the team went through a lot of hard works to eliminate the scent which can be uncomfortable to some people.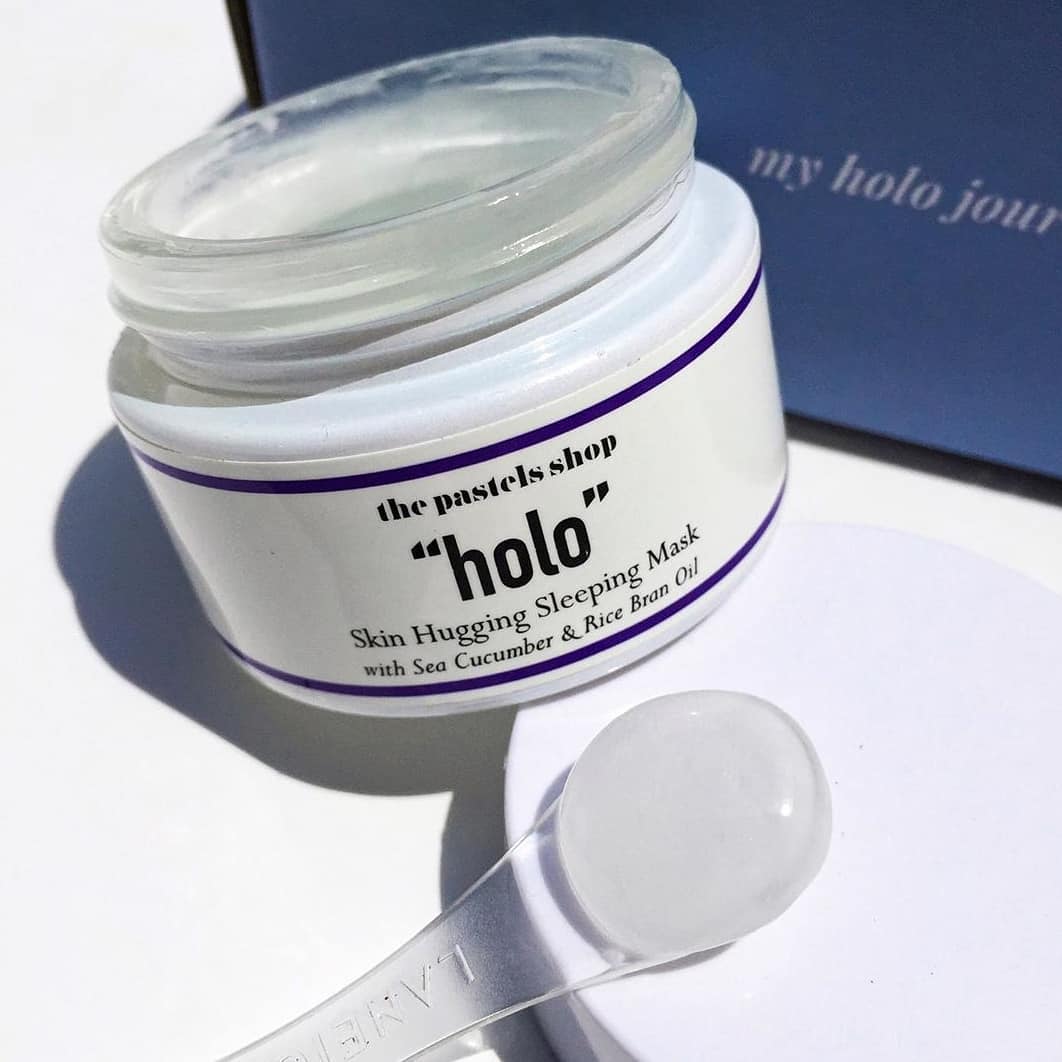 The mask has jelly-slime like texture. Sticky at touch before it sits nicely on skin. Don't worry, it won't stick to your pillow case because it dries up quite fast. It is colourless. I noticed unfamiliar scent at first, but for sometimes later I'm getting used to it.

Full Ingredients

"Holo" Sea Cucumber Rejuvenation First Ampoule
Aqua, Glycerin, Cucumaria Frondosa Extract, Hamamelis Virginia (Witch Hazel) Extract,
Fome Officinalis (Mushroom) Extract, Camellia Sinensis Leaf Extract, Alpha Arbutin,
Ascorbyl Tetraisopalmitate, Aloe Barbedensis Leaf Extract, Allantoin, Acrylates/C10-30
Alkyl Acrylate Crosspolymer, Phenoxyethanol, Ethyhexylglycerin

"Holo' Skin Hugging Sleeping Mask
Aqua, Oryza Sativa (Rice) Bran Oil, Panthenol, Cucumaria Frondosa Extract, Niacinamide,
Sodium Hyaluronate, Helianthus Annus (Sunflower) Seed Oil, Anthemis Nobilis Flower Oil,
Allantoin, Xantham Gum, Phenoxyethanol, Ethylhexylglycerin.

#alcohol-free
#fragrance-free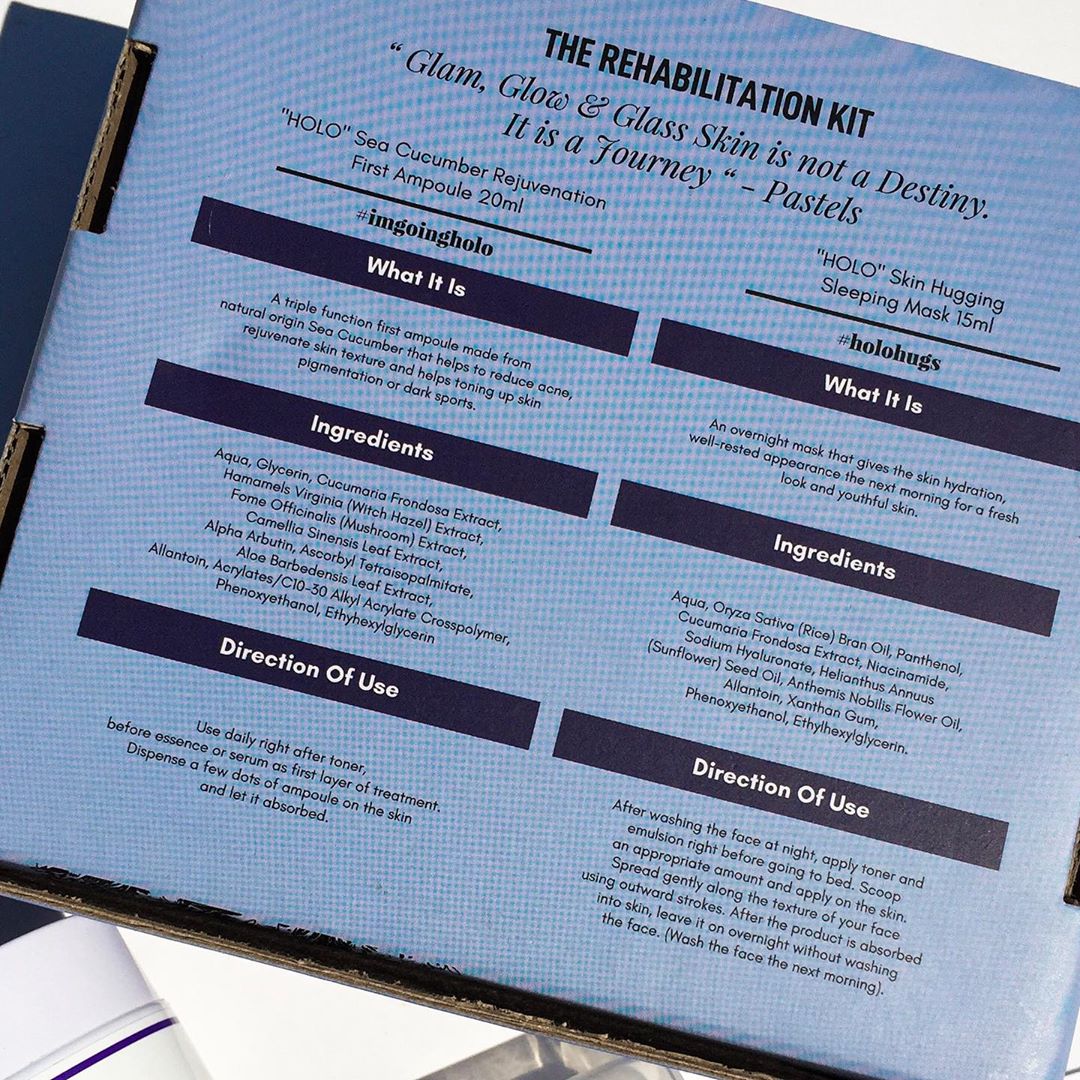 My Experience (Note: I have sensitive and oily skin)
I've been trying a lot of new PR lately and among them, some products have been unkind and caused flared up. I experienced breakout and on a more serious note, it left with acne marks. Thankfully, The Pastels Shop sent me this kit. I've been loving it since the first day I introduced into my routine. I noticed a reduction in redness and those acnes shrunk within two days. While my skin has been enjoying this duo, I carelessly trying new product again. Yeah! Déjà vu.
I wasn't panic this time around because I knew the gem to calm down the trouble. I'm very happy with the progress and I just need to repurchase full size to achieve clear skin. I'm almost running out of the sleeping mask. I can't believe I've used that much. I agree the mask really hugs and tightens my skin, but in a nice way. 5% D-panthenol is there for soothing and cooling effect. Although on the most sensitive part, I sometimes feel a little bit sting.
Loving the ampoule too as I can see PIE (red acne marks) start fading because of the 2% Alpha Arbutin. It also contains witch hazel which is good to control sebum production. In my opinion, the ampoule is a good treatment for acne-prone skin as it soothes down the inflammation whereas the sleeping mask is good for dehydrated skin or those who have damaged skin barrier. It helps to retain moisture from leaving the skin.
Congratulations!

Both of you have made into my staple team. Plus point for the minimal and sensitive-skin
friendly ingredients.

PROS
Alcohol-free
Fragrance-free
Convenient for traveling

Easy to get #LocalProduct
Affordable (you get two products in one kit)
Skin feels soft after masking and stay hydrated.
The ampoule is a gentle spot treatment for acne-prone skin.

CONS
The sleeping mask becomes piling if I apply way too much.
They should provide a spatula for the sleeping mask or tube packaging would be better.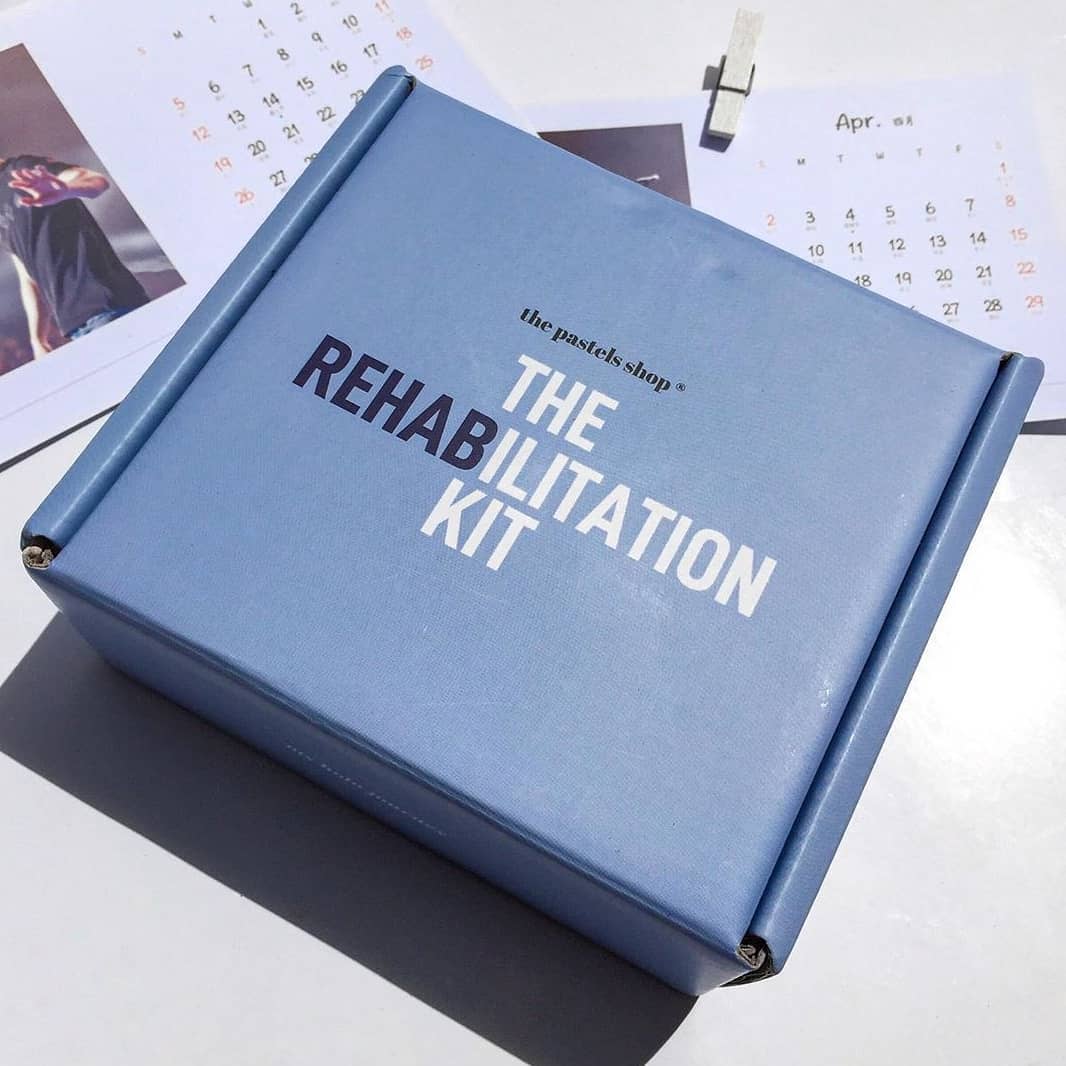 Price: RM 69
Where to buy: thepastelsshop website / shopee

Love,
Amiera Alojid
Instagram: beauty_tribes